So this week saw a birthday – mine ( 67 if you were wondering ! )- and a trip to the dentist – but fortunately not on the same day … Monday was my birthday and with everything pretty much – bar construction – on lockdown it was a pretty quiet and laid back day.
We had a couple of good friends drop by late afternoon for a quick glass of champagne – and during that time two other dear friends dropped by with a big plate of sushi and some delicious salmon – such a treat and such a surprise ! It made the day feel very special …..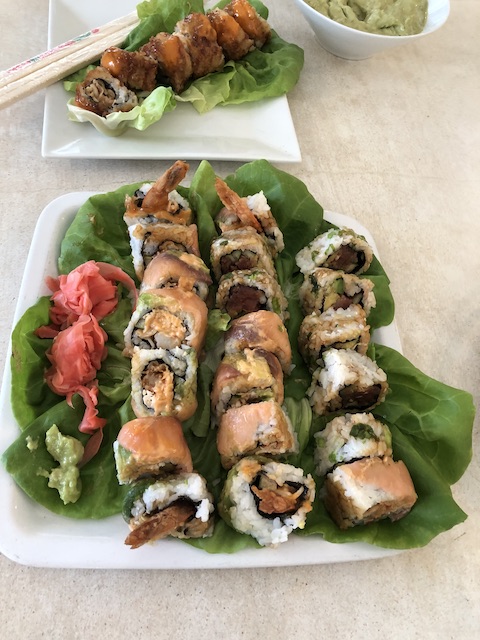 Earlier in the day I had a birthday message from Bob's daughter Sami which included a fabulous illustration done by our very talented grand-daughter Genevieve and her boyfriend James – such a fun thing – can't wait to print it out and frame it ….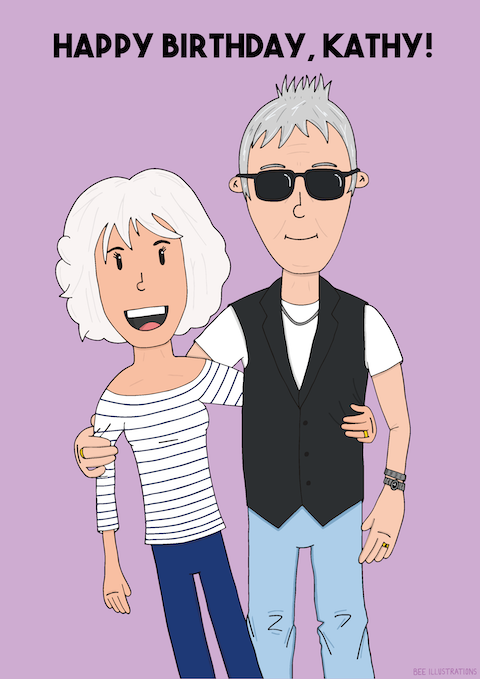 Around the beginning of May I broke a tooth – fortunately it wasn't in the front, nor was it sharp or painful – so pretty lucky in the scheme of tooth breaking – but I knew that I had to get it fixed eventually. Long story short I finally got an appointment with the dentist up in Spanish Wells for the day after my birthday. Eleuthera itself was on a lockdown day so I made sure that I had permission from the police inspector that it was OK to go….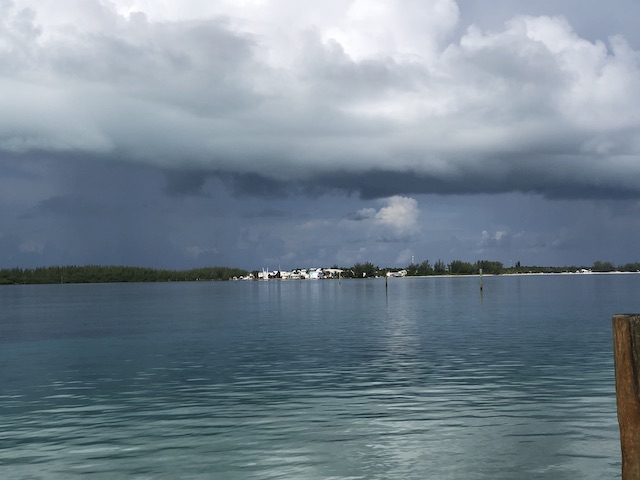 The drive up was bizarre as there was next to no traffic – well I know it's never that busy here on the road but everything is relative – right ? When I got to the dock at 9.20 I was told by a very nice man filling up propane tanks that the last ferry had left at 9am and there wouldn't be another until 3pm – yikes…. But fortunately he gave me the number of a man who I called to arrange for a special trip over – a bargain charter at $20 !!
The young woman who is the dentist – Dr Chelsea Sands – did a very meticulous job and gave me a good temporary crown. Apparently their porcelain crowns are made in Canada – but go through Nassau – however with Nassau on a major lockdown at the moment she didn't want to risk anything getting lost in the system. So I will make do with the temporary one until things get sorted out and wait it out ……
A quick zip around the food market up there – then another charter back to Gene's Bay dock.
So actually one of the more exciting days during the last few months – I had forgotten how long it was since I had driven any distance as far as that – quite a treat to be in a nice car playing seventies music through my phone but coming out of the car speakers !!! Singing along very badly but enjoying it ……
At the moment Spanish Wells is fully open – they have had no cases there at all – so they are operating as normal. Eleuthera has shops and banks still open Monday Wednesday and Friday – but lockdown apart from that. New Providence and Grand Bahama continue to have more cases so are on a much more stringent lockdown – a bit all over the place if you get my meaning……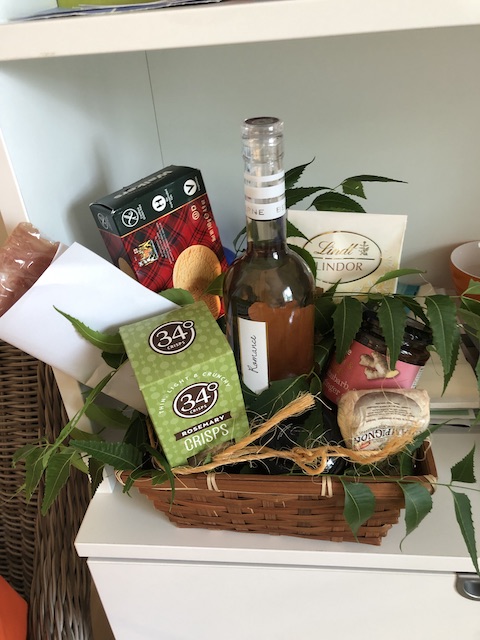 On we go – being as patient as we can – being kind to ourselves and others and appreciating the fact that although we think we have hardships – we are safe in our homes, we have food to eat and we can communicate with each other – unlike the people living in war zones or Beirut after the massive explosion there. Take some time to count a few of your blessings – health, family, friends, nature and waking up every morning…..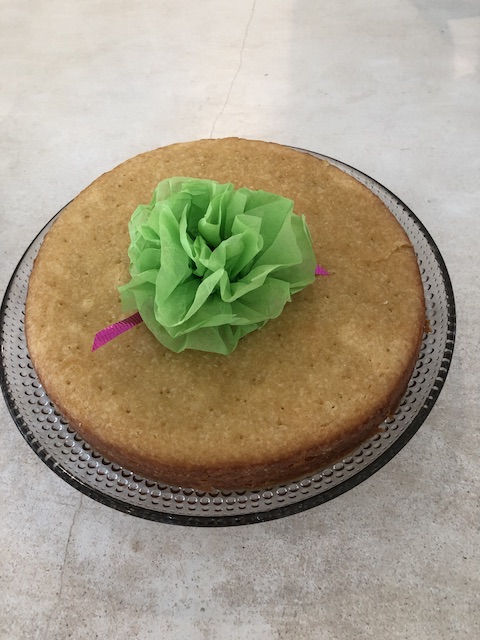 Oh and don't forget to share some of your recipes for favorite foods and good programs to watch – I know it's not just me who is bored to death with their own repertoire of meals and scrolling through plenty of mindless programs looking for a gem to make you smile !