This past week we have been adopted by a new kitten which I am going to tell you all about plus plenty of pictures of Sprawling Towers. We also had our usual Halloween visitors – lots of small children mostly brought out by their Mums and Dads – on Saturday. Fortunately I half thought that they may come on Saturday and not Sunday so I was well prepared in the candy department.
Just over a week ago a sweet but tiny little kitten appeared at Colman Towers. She was brave and feisty and seemed determined that this was where she was going to live from now on. I started feeding her of course and was amazed to see that she was spending the nights up in the leaves of the large date palm trees at the front of the house. She nearly gave me heart failure when I saw her up there – I honestly thought I was going to have to get a ladder to get her down – but no – she scrambled down and came trotting up to get her breakfast. She was very cautious at first of coming too close to me but within a couple of days I was surprised when she hopped up on my lap while I was sitting on the outside sofa beside where I was feeding her.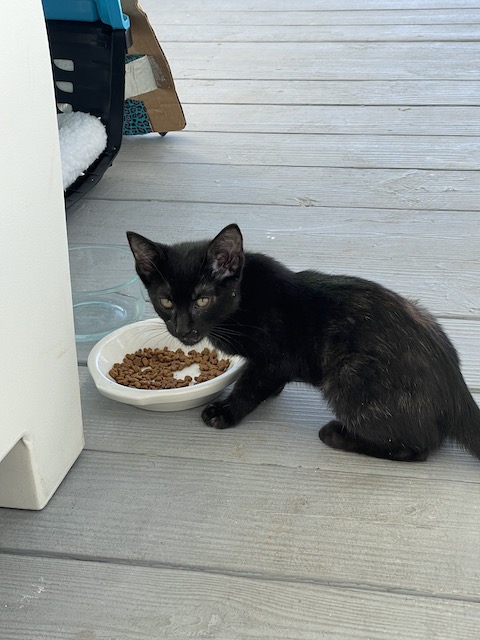 Tuesday this week I took her to the vet – Noah's Ark Animal Center – in Rock Sound to get her checked over and was told that she was between 6 and 8 weeks old. She had her first shots and was also de-wormed and her sex as a female was confirmed – I wasn't sure at first as I couldn't get hold of her – and also when they are that young it is not easy to always examine them accurately.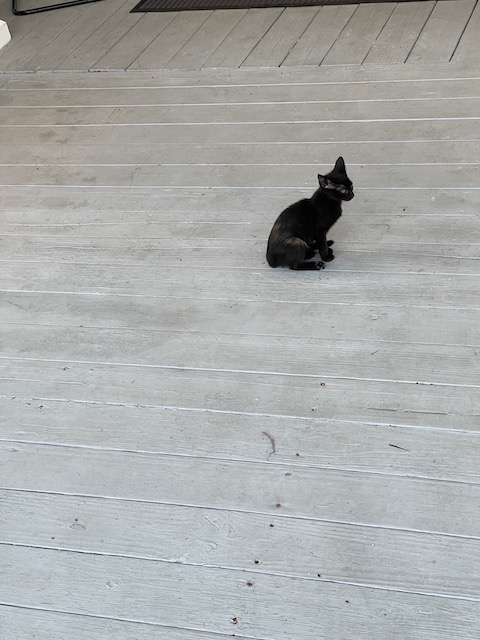 Rudge has seen her through the windows but hasn't met her face to face yet – I want him to see her around and get used to her being there before I bring them together. That will come shortly. Word was obviously out on the street that a kitten couldn't get a better gig than with the Colmans at the top of the hill and she jumped right in.
It was heartbreaking when dear Ceci was killed in August but I do believe that you need to keep your heart open and risk being hurt again. I have often spoken to people who had a cat or a dog that they lost in some way and they decided that they wouldn't put themselves at risk of heartbreak again – but of course that also means that you lose the joy that having a beloved pet can bring. So here we go again – falling in love with this gorgeous funny little morsel – and her name I hear you ask ? Well it is Brian – I called her that before I knew she was a she – but it suits her quirky nature and she answers to it already ! They were surprised at the vet's when I told them and they have her registered as Miss Brian !
She was around on Saturday evening when streams of children were coming in the gate and she took all the visitors totally in her stride – sometimes even allowing the children to pet her ! my new witches hat went down a treat and I must say it was perfect with it having a veil – it totally kept the very abundant bugs away from my face – I may wear it more often ….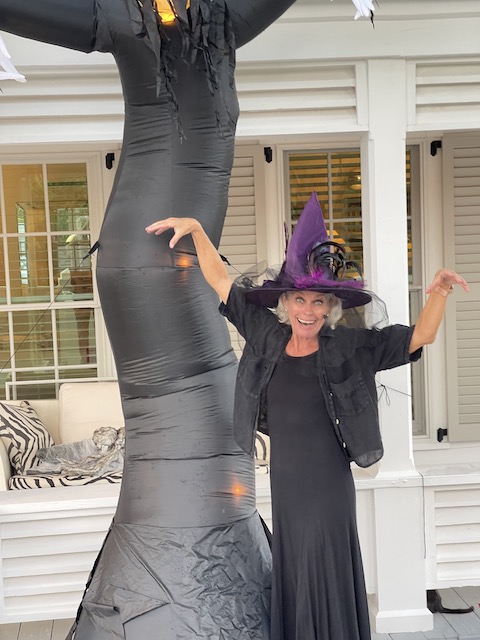 Now on to Sprawling Towers – the plywood is going down on the roof – which will then be covered with a TPO finish . TPO is short for Thermo Plastic Polyolefin in case you were wondering and all I am interested in is that it never leaks ! More information on that as we come to it.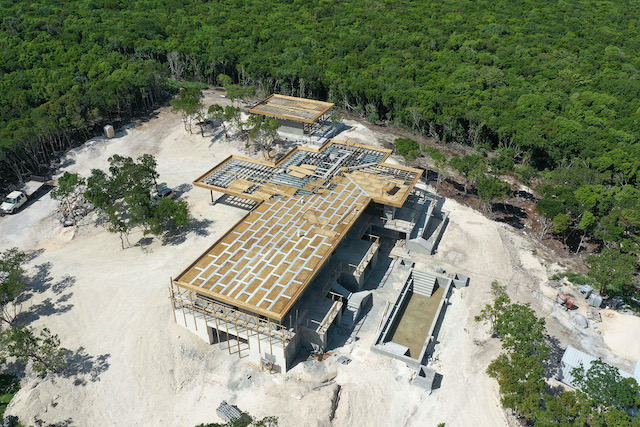 The roof area is pretty huge as you can see from the drone shots – and it is very exciting to be in the various rooms now that they are covered in.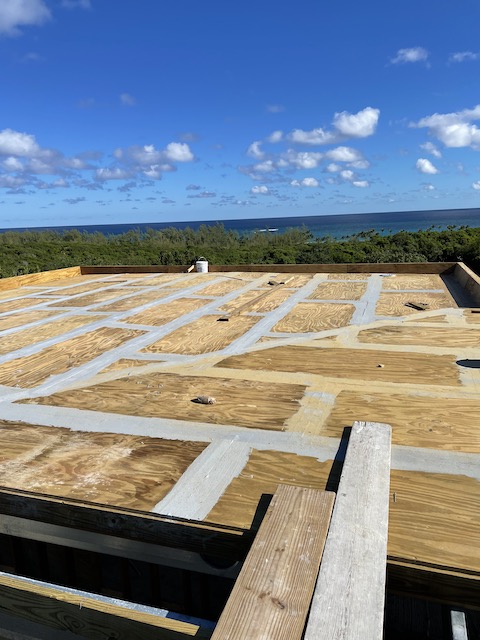 I climbed up the ladder to have a look up there and it was wonderful – big but wonderful.