The Harbour Boutique – right here in Governors Harbour is the latest place to feature in my Best of Eleuthera series.
It is on Cupid's Cay – sitting right in between Paul Simmons Customs Brokers and Judy Simmons Waterfront Cafe in the block overlooking the harbor. The Waterfront Cafe is the perfect spot to sit and enjoy a delicious ice-cream while looking out over the harbor.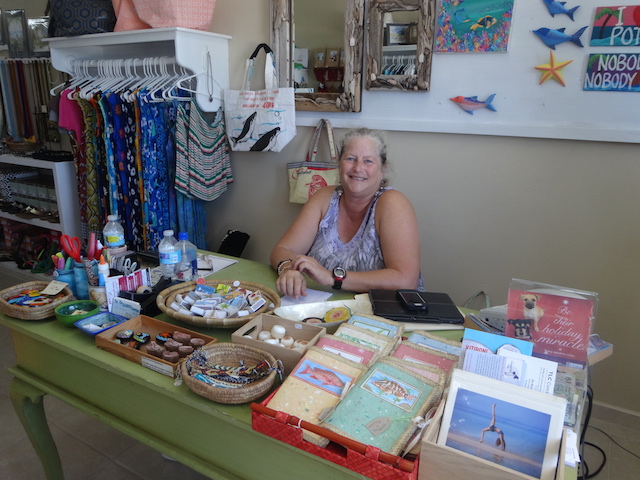 The Harbour Boutique has been open for 2 years – it is owned and run by Martina Carroll. Martina specializes in sourcing as much of her stock as possible from Bahamian suppliers on various islands. Most of the clothing comes from India or Bali – but there is some which is sourced in the Bahamas.
The boutique stocks a good range of Abaco Neem products – a great mosquito deterrent  as well as curing many ills – check out the link to find out more information.
There are Ipanema sandals from Brazil, driftwood mirrors made here in the Bahamas, shell jewelry , and many other delights waiting to be discovered. Clothes , shoes, lamps , picture frames, artwork – the list goes on and on !
Martina's family on her father's side date back to the late 17th century in the Bahamas but her Swedish mother Joan has a wonderful story about how she finished up here…..  Joan first met her late husband Ronnie at a beach party in Nassau – he used to arrange them. She was working on a cruise ship that sailed from the US to Cuba and the Bahamas. Over a period of time they fell in love so when Joan was in Havana in 1959 and Castro took over – the captain of the cruise ship asked all the members of staff where they wanted to be repatriated to – and of course Joan said Nassau ! Readers – she never really left ! She had a daughter – Martina – and a son – Lars – all they all now live in Eleuthera. They moved here 10 years ago after many years on Paradise Island and have all made this their home……
Check out the Boutique – I can guarantee that you will not leave empty handed !
They are open Monday – Friday from 12-5pm – however if you call in the morning then often Martina will be in the office upstairs and will come down to serve you.
Saturdays 10.30 – 5pm during the busy season……. The phone number so you can check on times is 332 3888.