This week you will hear about a reopening and new opening and the best birthday treat I have seen for a long time. The reopening is Sweet and Savory – the great food truck outside Burrows Food Store – owned and operated by Stephanie and Johnathan Mariscal. They opened on Monday – with a new phone number – 242 827 0668. But they now have a much more efficient service –  and quick as well so calling in advance is not necessary now.
I had a marinated tofu sandwich with guacamole and corn – it was absolutely delicious. Bob had a grilled shrimp wrap – also delicious. First you pick whether you want a salad, wrap, sandwich or corn taco. Then pick your protein, then pick your veggies and extras or dressings – plus any sides and it is made right there in front of you. It works a treat let me tell you. Fast and very tasty – and fabulously fresh and healthy. just what we all want in a lunch – right ?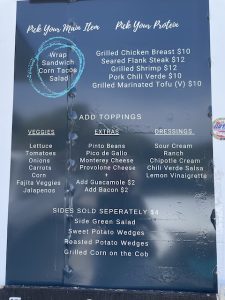 Staying with the Burrows family, the new opening is of course 4 Your Convenience run by Susan and Teddy Charlow. Julian King did the great mural on the front and it looks really fun and of course is extremely well painted. He tells me that he would like to have an exhibition of his work later in the year. Watch this space of course for news of that. The store will be really useful for renters coming in on the later flights after all the other food stores are closed – not a huge selection – it is a convenience store remember ! – but there will be the basics that stop you gnawing at your suitcase from abject hunger …..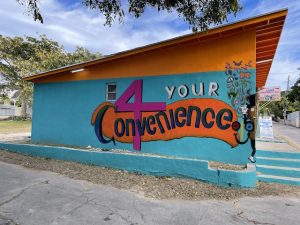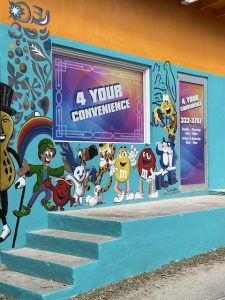 Now the great birthday treat I wanted to share with you. I have written on a couple of occasions about the lovely Anya Ferguson who lives here in Governors Harbour. She is – amongst other things – the mother to her son Bryson who is as bright as a button and very engaging in his enthusiasm and knowledge about the many things that interest him. One of his particular interests is big trucks – all sorts of big trucks – so she arranged for a collection of big trucks to be outside his school last week on the day he turned 4 years old. Not only that but she provided safety helmets and goggles with Hi Viz bands for all the children at the school. To see them all dressed for the occasion and excited beyond belief was such a joy. They had a wonderful time looking at all the trucks and seeing some of them in action – so heart lifting to see their excitement and innocent happiness at what was being laid on for them – but of course none were quite as delighted and happy as dear Bryson – happiness personified.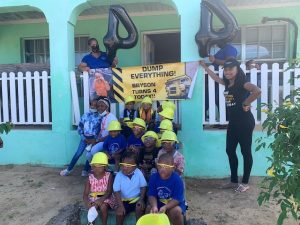 Click on this link to watch the best video to make you feel HAPPY !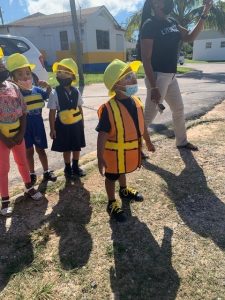 I did want to know how she would top that next year if he said he wanted to see inside a nuclear submarine !!!
We are getting on with building the deck area around the new pool at Colman Towers – of course there will be plenty of screening from the road as well and some strategic planting. I am actually looking forward to being able to use the pool myself once all this is done.
Dom Cant took some more fabulous pictures of the progress at Sprawling Towers – take a look below.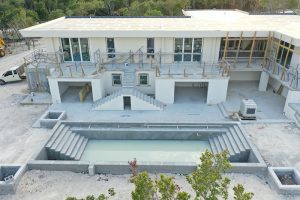 The roofing materials should arrive in Governors Harbour next Monday all being well – so making the roof watertight will be the next big step.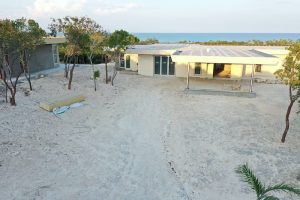 Have a good weekend and look for the heart lifting moments that are there if we look for them …..