It is so lovely for me when I can write about good things happening here in Eleuthera and this last week there have been a few ! Firstly as you should remember from last week I wrote about the Eleuthera Community Healthcare Clinic – the lovely Dr Arlington Lightbourne's place – well I have been brought up to date with news on the much needed generator.
It has already been generously donated by Bahamas Ferries – through Craig and Michele Symonette. They live in Nassau but have a home here in Eleuthera as well – so they really understand the value of the facility we have here. Many grateful thanks to them for such a great donation – and no doubt it will arrive on a Bahamas Ferry along with all sorts of welcome produce that they bring in every week…… The attitude of helping out here for the benefit of the community is something we all value and treasure – huge thanks again to all concerned.
The Art in the Park show was a great success last Saturday – the talent around is great to see….. One of the things that caught my eye was artwork done by by Stella the pig ! Yes really ….. Apparently she does abstract paintings with her snout – I saw them myself ! – check out her https://www.facebook.com/bahamapiglet/ Facebook page here ! You couldn't make it up you know…..
Later that evening we had the fundraiser for the Special Olympics events this year. Sorry Stella the piglet – but the pig roast went down very well. I don't eat meat so my conscience is clear – but apparently everybody enjoyed it very much. Thanks to Julian Carey from Tarpum Bay for doing a great job with that. There are many people who I want to thank for their tireless devotion to our cause ……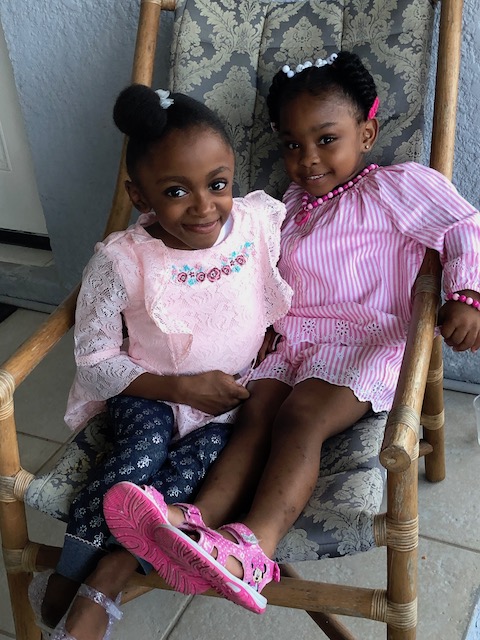 Tony Crean does the most amazing job – backed up by his lovely wife Karen. His enthusiasm and drive inspire lots of people to help him in his endeavors. They are both members of our fundraising board. Next the wonderful Agatha Bethel of Hailsham's Law office. She too is a brilliant organizer and board member – you remember I write every year about the sensational Christmas Party she organizes for the less fortunate children here. She has a huge heart – and again along with her husband Lorenzo they continue to make a difference here. The picture at the top shows Agatha on the right of Tony along with me and Liz…..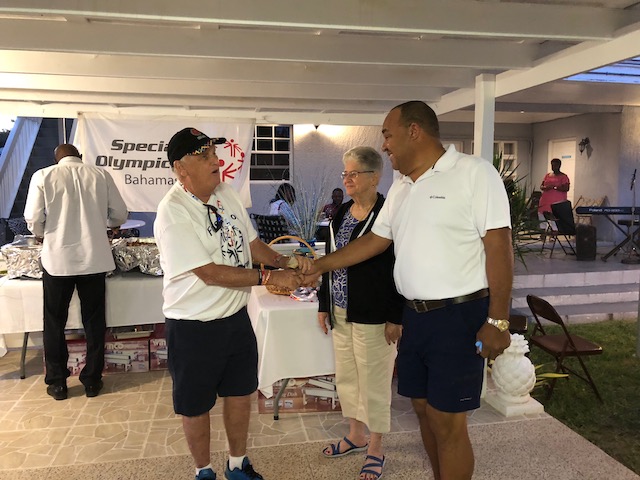 Carl who works alongside Julian as ace barbecuers are also both board members as am I – so that's the 6 of us. Special thanks as well to Peter Fletcher from Nassau – also a homeowner here – who quietly and without any fuss manages to get a generous charitable donation for us – he is one of those men that likes to stay in the background – but we see him lurking there and applaud and recognize his kindness.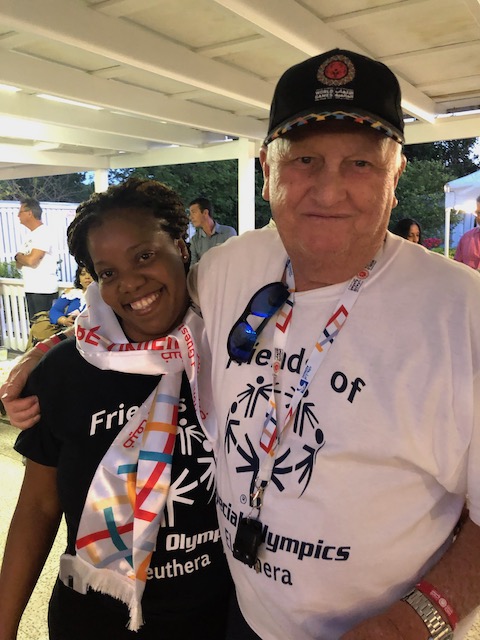 I want to thank Sidney and Todd Vendituoli and Liz Cairns who generously gave of their time and skills to run the bar which was partly sponsored by Bristol Wines – always there to step in with a donation for a good cause. Sidney, Todd and Liz were great – making margaritas as well as dispensing wine and beer and managing to look like they were having a great time as well ! Don Bouchet and our own Rob Atwood played music and finally a lovely lady called Antonette who is the home economics teacher at Central Eleuthera High School. She worked all day cooking the delicious roasted vegetables and roasting 10 chickens donated by the Market in Rock Sound. It was truly a community effort and heartwarming to be a part of……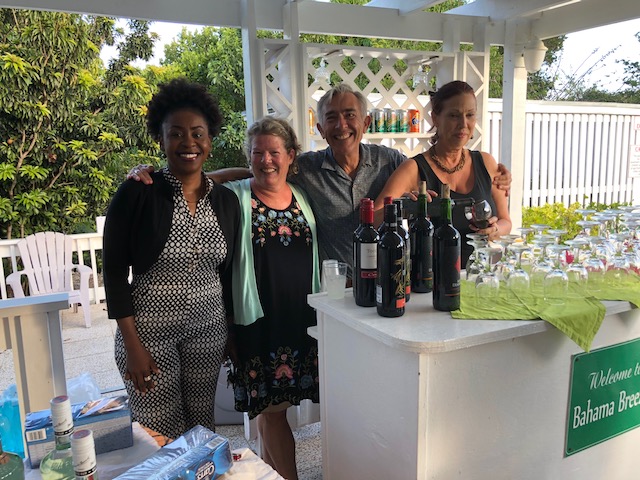 I am also this week going to write about the Village Laundromat – right here in Betsyville in Governors Harbour. I have been meaning to do this for weeks – but I always run out of space – but not this week ! It is very well equipped with both mega size washing machines and standard as well as plenty of driers. We use the laundromat – owned by local entrepreneur Sonja Gardner – to do much of the laundry for both Governors Estate and Anchor Point. They are fast and efficient and fold the sheets beautifully – as few creases as possible – just how I like it. Even if you have your own washing machine here – it is the perfect place to take a large bedcover that is too big for your own machine.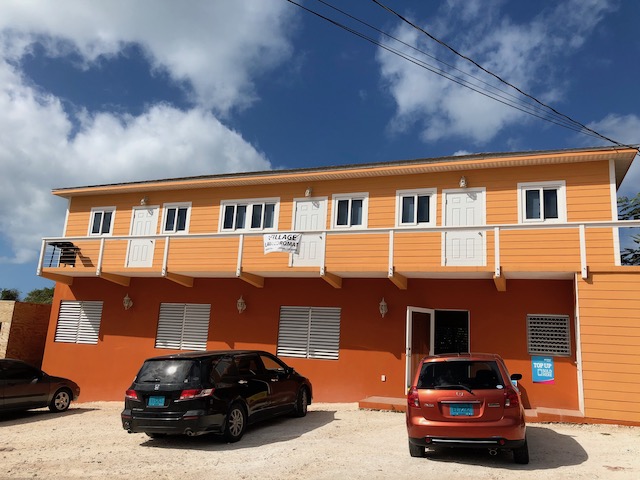 You can either do self service or have a service wash – which is what we do. The place is immaculately clean and the staff are both friendly and efficient – it is a real asset to locals and businesses alike. Turn right on the uphill where the Buccaneer is then follow the road round to the left. You will see the orange building on your left hand side……
Finally thanks to Dan and Larry for another delicious meal last week – they are amazing generous hosts – just a quiet night for 12 when we went last Friday !!