So after last week's warm up here is the news on travels to Toronto with Kathy and Bob !
What a great city – friendly, clean, safe and very visitor friendly. We flew with WestJet from Nassau – just under 3 hours – an airline I vowed I would fly with after seeing their Christmas promotion a couple of years ago. Watch it on Youtube.
A taxi ride into the city reminded us how lucky we are to live in Eleuthera and not see traffic congestion ! The hotel in the center of Yorkville where we stayed was an ideal base. There were shops galore – and it was very close to Bloor St where all the swanky shops are !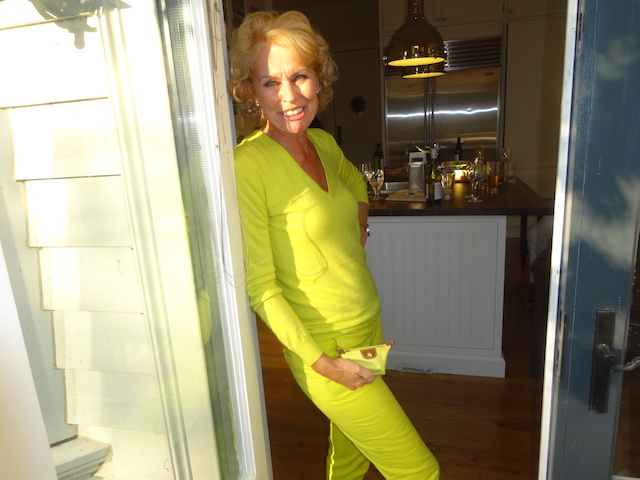 Plus there were lots of great restaurants in easy walking distance.
Saturday night we ate at Sassafraz – a very stylish and delicious restaurant close to our hotel. We met our friends Maithili Wilson and Andrew Best there – they were terrific ambassadors for Toronto and gave us a personal tour of the city. The weather that Saturday night was terrible ! – raining , windy and extremely cool but we didn't go for the weather did we ! I ate a delicious blackened cod dish – one of my favorite fishes and of course not available in the Bahamas – and Bob ate seared tuna. Everything was extremely tasty and beautifully presented.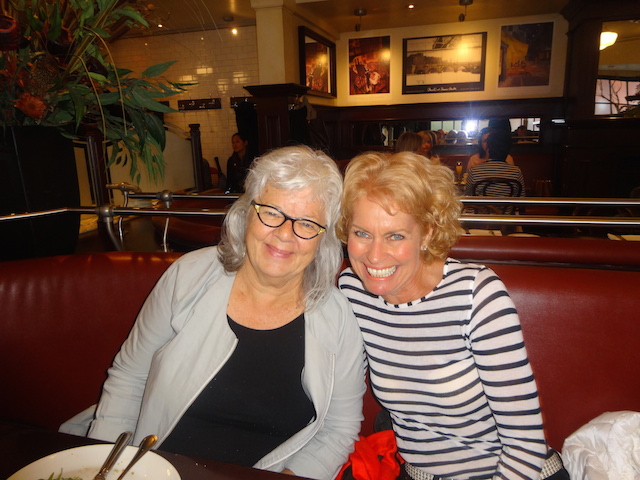 On Sunday we met Drs Eileen and Ian Gray – who also have a home here in Governors Harbour – for brunch at Le Select. This is further south in the city – just a short taxi ride away. It is a French Bistro – a favorite place of theirs with good reason. One of the things I really loved about this place was the butter !! – French unsalted butter I could almost eat by the slice – and spread on top of their warm crusty bread it was divine ….. We spend a good few hours relaxing and chatting and eating of course – they gave us a great guided tour as well going back to the hotel – Bob particularly took note of their recommendation of a tool and hardware shop and we visited it the next day  – Lee Valley if you are interested !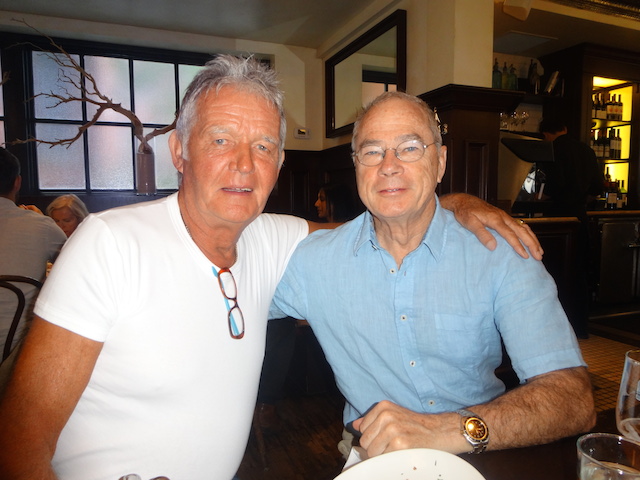 Sunday afternoon we caught a short glimpse of the PRIDE parade – sadly the weather was pretty dismal and the crowds made if difficult for a small person like me to see much – but it was great to see such support out in force and those on the parade itself were having a ball…….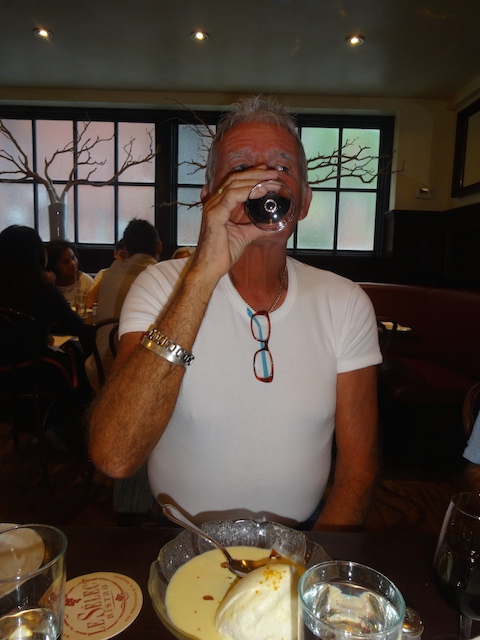 Sunday night we ate what was probably my favorite meal of the trip. We went to Little Sister – a small unassuming Indonesian restaurant on Yonge Street – it is casual, laid-back , busy and fabulous ! We went with Maithili and Andrew – another of her top tips – and shared some extremely tasty dishes. Want to know what ? – well I am going to tell you anyway – we ate prawn crackers and dip, chicken satay skewers, nasi goreng fried rice, fried cauliflower salad , shrimp coconut curry, and sweet chili grilled chicken. We shared a dessert as well but as usual I don't remember the sweet things – sorry !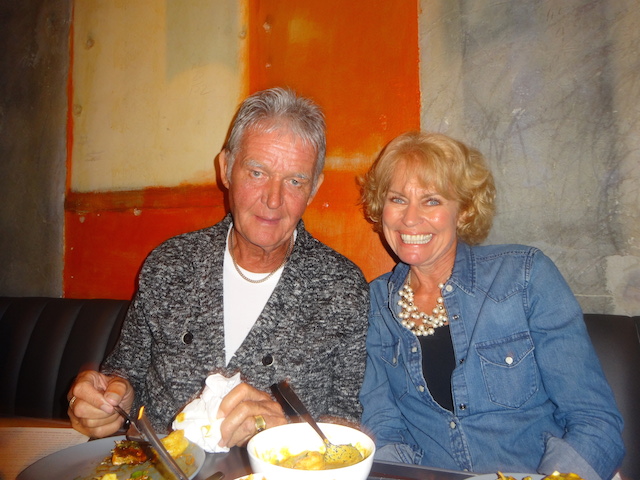 There is some beautiful architecture to see in Toronto – so lovely to see old buildings well preserved as well as new stuff as well. Monday we had a good walk around and saw the controversial Daniel Libeskind addition to the Royal Ontario Musuem and also the Frank Gehry work to the Art Gallery of Ontario. We only saw the outside facade as it was closed on Monday – but we will go back on another visit to see the whole thing properly…….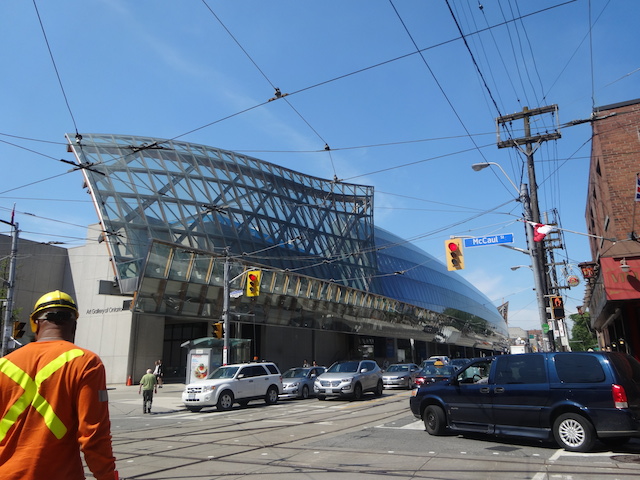 One of the other highlights for me was discovering an amazing food store called Pusateri's right opposite our hotel in Yorkville. I could have wept walking around the store at all the delights to be found there – but I didn't and instead stocked up on some cheese, fish, tandoori chicken, Ontario lamb for my Mum, white truffle paste and other assorted goodies !!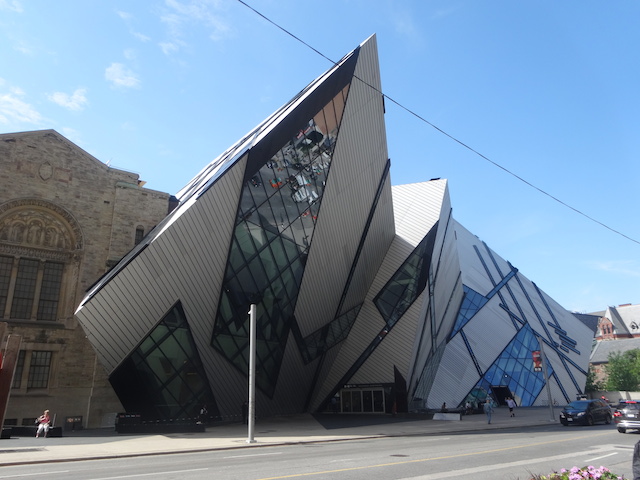 We also had a great lunch at a pub in Yorkville called The Oxley – I drank a Pimms and we sat out on the courtyard garden at the back – Bob ate fish and chips and I had a gorgeous mushroom pithivier – mushrooms ,potatoes, cheese and puff pastry  – not exactly a light healthy lunch but plenty of time to walk it off !!!!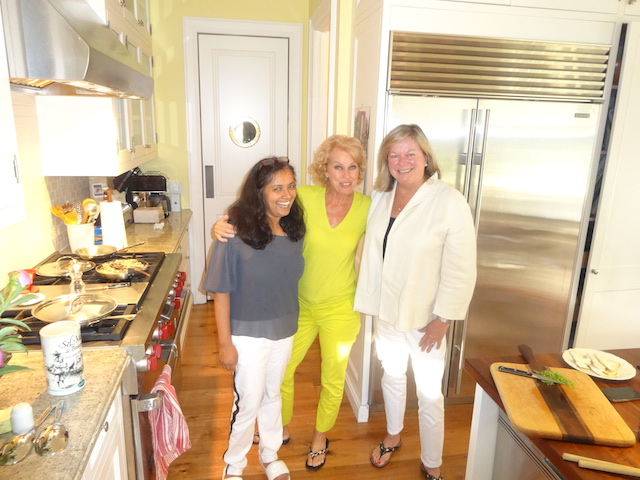 So it was a short trip – but a lovely introduction to a great city – we caught only a few glimpses of the lake, the tower was only partly visible occasionally – but the people were friendly and welcoming and so proud to be a part of their adopted or native city.  Toronto we will be back……