Lakia's Variety Store in Palmetto Point -another hidden treasure I want you all to know about in my Best of Eleuthera series……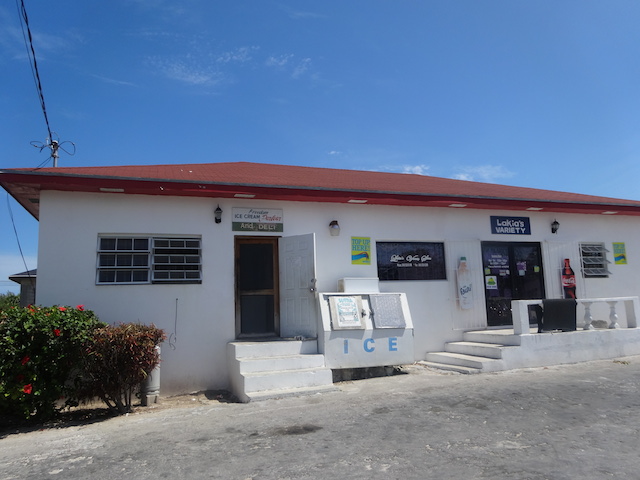 Run by Lorraine Thompson and open since 23rd March 2006 it is named after one of her 4 daughters. Don't you think it's great the way Lorraine wrote the date in the cement of the step at the back of the shop !!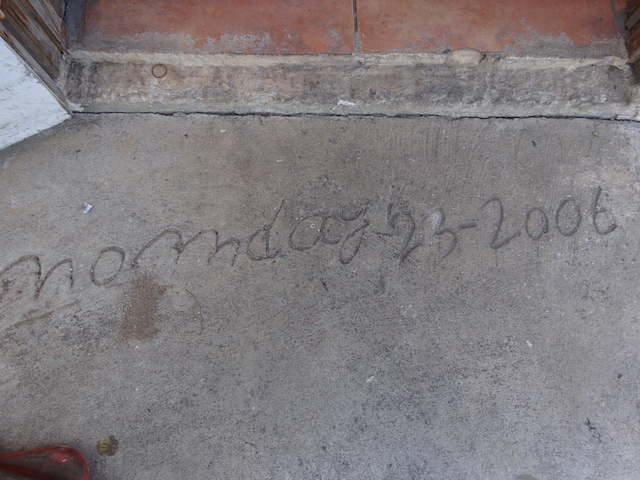 To find the shop from Governors Harbour take Queens Highway heading south to Palmetto Point. Turn left onto what is laughingly called I95 !! – it is the first road on the left after Unique Building Supplies – just before the first gas station in PP – follow this road until you see the I95 Sports Bar on your right hand side – it is on a corner – tun right here and Lakia's store is there on the left…… Easier to find than I make it sound !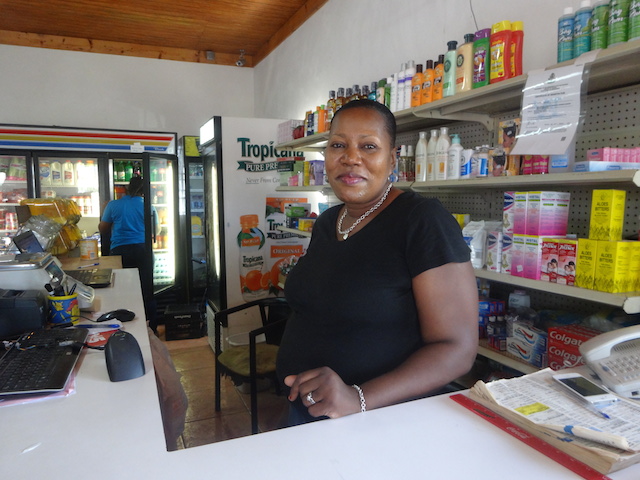 I love this shop because it has a great selection of fruit and vegetables – very useful when I am doing juices and smoothies. It looks very ordinary from the outside but a close look round inside reveals all sorts of goodies !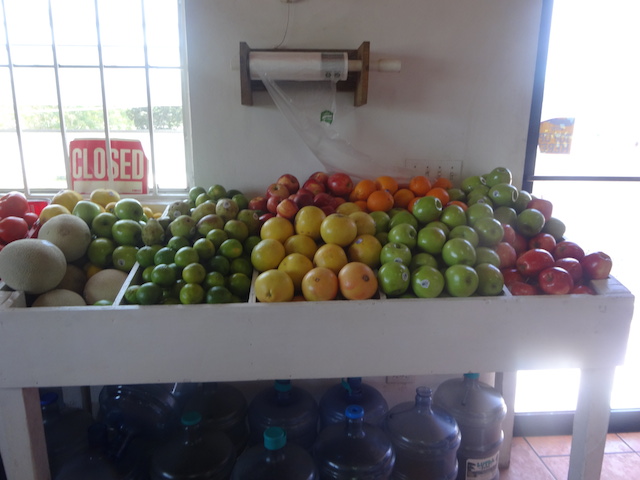 Lorraine and her husband Wayde – he is the manager at the Ministry of Works in the south of the island – have their 2 elder daughters in medical school in Jamaica. The elder one is training to be a doctor and the younger one is training to be a nurse, so both parents are driven to make a success of the business to help finance the girls' education. They listen to what people tell them they want and they respond. With the coming of VAT and the new computerized systems like many stores they find queues quickly build up at peak times to pay – but Lorraine has already instigated getting a second express till – so helpful if you only have a couple of items to pay for. A step forward that many other stores need to pay attention to.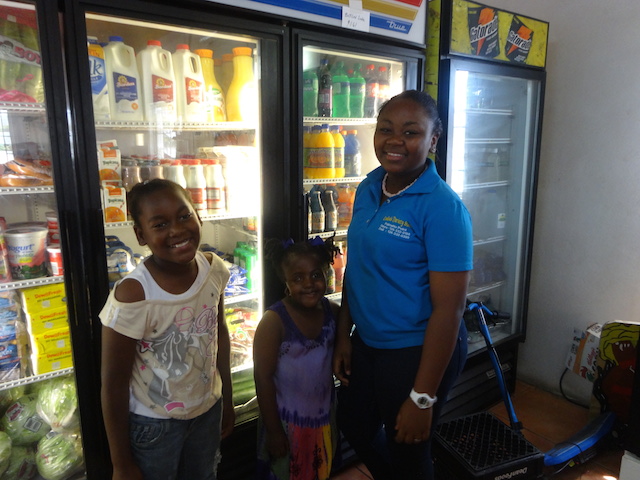 All the girls help out in the store – the elder 2 when they are back at home and the younger 2 after school and at weekends. The shop has long hours filling a need for both the local community in Palmetto Point and people from further afield who know they can rely on the shop being open – 6am – 9pm Monday to Saturday and 6am – 11am and then 3pm until late on Sundays……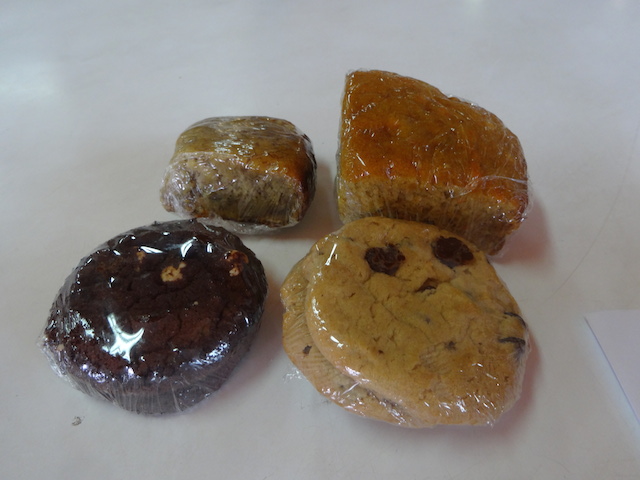 Lorraine's sister Paula Pinder runs the deli adjoining the main shop and bakes wonderful cookies and cakes that are sold there. Chocolate chip, double chocolate chip, carrot cake and banana bread were just some of the items I had to sample in the name of research !! believe that and you will believe anything !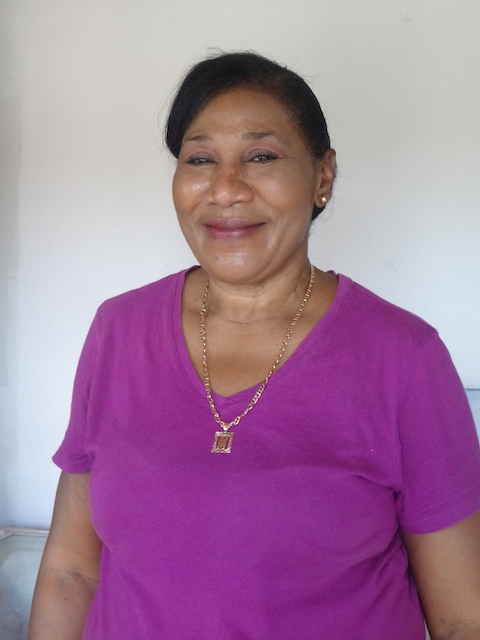 In the deli they always have a special dish of the day for lunch and dinner if you feel like a takeout. Paula will also make to order fresh coleslaw and macaroni cheese – yummy ! Oh and pizzas as well !
This is a prime example of a really good local business that deserves to succeed – please support it when you can.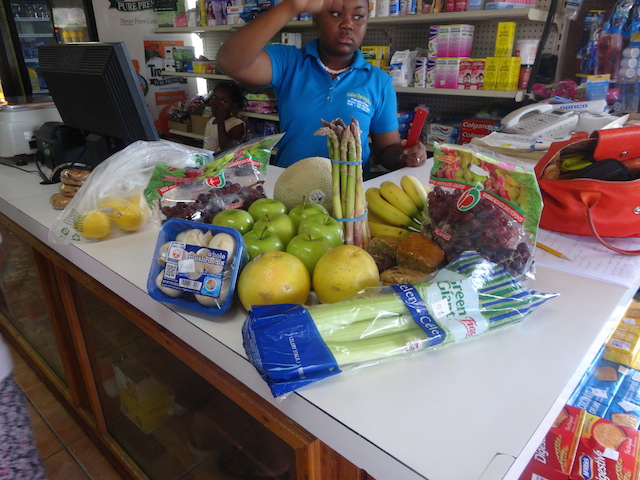 Here is a selection of what I bought this week….  Lovely big onions from Long Island. Fresh asparagus – so tasty when lightly cooked and then doused in butter and lemon juice. I eat this on it's own but it is delicious when added to a salad or in a risotto.