Hello dear friends and readers. Sad news this week of the death of my Mum , Mary Pattison.
But it was also a blessing and she is suffering no more.
As you know I took a break from blogging because my sister Jane and I were taking care of her. She died at home, which of course sounds lovely – but some of you will know the reality is extremely hard and awful and nothing like it is in the movies. But death is a part of life for all of us and experiencing what we both did was a huge mixture of emotions and has left both of us absolutely exhausted – physically, emotionally and mentally. But we will take the time we need to recover and we have each other to share the experiences with. Restorative walks on the beach and swims in the ocean will help us through it all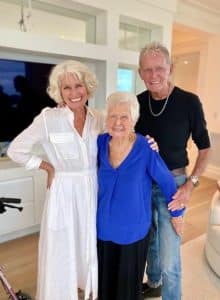 Mary came here in September 2005 with our stepfather Theo. He lived for 5 1/2 years before he also died here on island. They had a wonderful few years together with much laughter .  After he died Mary was totally determined to continue her life here on island and only returned back to the UK once , in 2013. She never did enjoy traveling and was content to live the rest of her life here.
She had enjoyed very good health until 2020 when she began to be unsteady on her feet. Gradually her health declined ,  until January of this year when she had a fall. Nothing was broken thank goodness but it did cause a much faster deterioration. She thoroughly enjoyed a visit in early March by Bob's daughter – Sami, her husband Billy , their daughter Genevieve and her partner James along with our gorgeous baby great granddaughter Cece. From the end of April the decline was rapid and she developed dementia with a frightening speed. It is a cruel and hideous disease as some of you will know.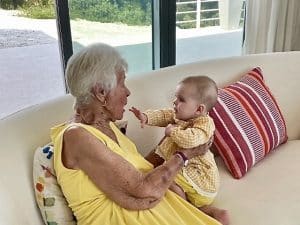 Anyway she finally died on Monday 24th July 2023. May she rest in peace ….
We all want to thank you for the kind messages that you sent when I published the last blog. Even those of you who never had met her were so kind and caring. It means a great deal…..
And thank you to the good friends here on island who have helped us through this time.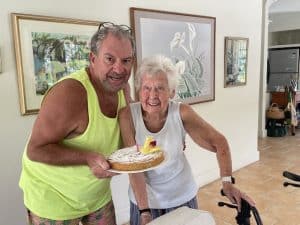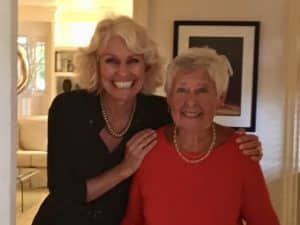 Mary Pattison 20.02.1927 – 24.07.2023