Keeping the houses in tip top shape here at Governors Estate means upgrades every now and then – the Yellow House just underwent one. The downstairs bedroom is often used by the older or less mobile so it made no sense to have a deep tub in the en-suite bathroom. As we had a 2 week break between renters we decided to get the tub taken out and to replace it with a walk in shower. Needless to say the particular white tiles that I had used there were discontinued but I used a larger one with a border of tumbled marble. Any of you who have stayed in our houses and apartments will know that white tiles and tumbled marble is a pretty constant theme of mine !  The work went well and we finished that on time……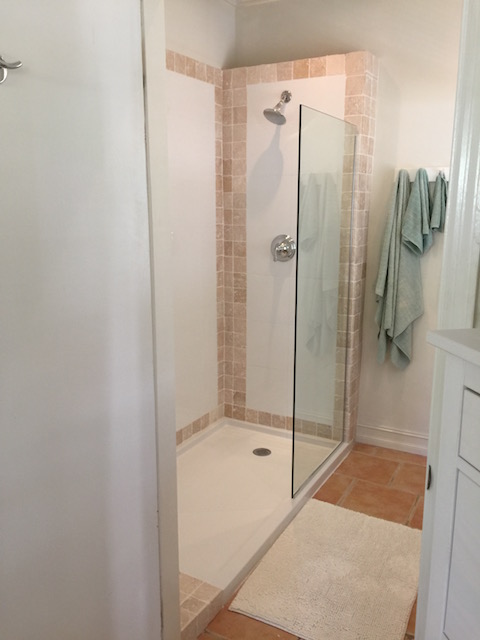 In one of the king sized suites upstairs we also had a tub. The amount of water that is used when having a good soak in the tub is considerable and the supply of water here is a constant problem We do collect rainwater into our cisterns but troubles with the (non) flow of city water mean that I often have to buy tankers full of water when supplies run low and the rain is not falling. Coupled with the water problems we have had several incidents of the tub overflowing and of course messing up the ceiling below. So again it was out with the tub and we replaced it with a new double vanity where the tub used to be and the creation of a small area for make-up and hair drying where the previous single sink was.  I decided to use corolina tile here – I love the natural finishes of these stone tiles and I love the finished result – even where we had to patch in a line of tiles on the floor….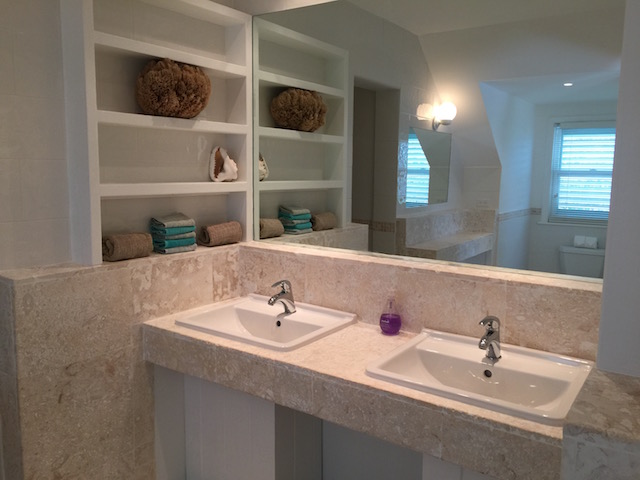 Natural finishes on the tiles always look good over here and there is the added advantage that you can add to it later and it still works.  A large mirror above the sinks and shelves either side finished it off. Now it just needs a few nice pieces to make it look good…… It was a good chance to do some decorating as well – the houses do take a toll with people carry heavy cases up and down the stairs – huge amounts of dust from sanding down but my great team of cleaning ladies made a terrific job of getting it ready in the nick of time …..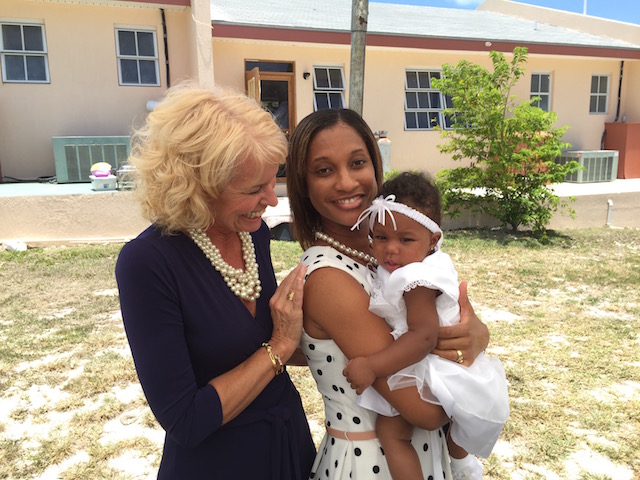 At the weekend I was delighted to take on the role as one of the godmothers to a beautiful baby girl – Nadiyah Eunique Chanell – she is the daughter of Nakesha Symonette Rolle – who some of you will have met – she works in our Colman Design office here in Governors Harbour. Nadia was a total star and never once uttered a sound during the 2 hour service – I'm sure that won't always be the case – but on that occasion she was perfectly behaved. Afterwards we all went back to Kesha and Bert's house to enjoy some lovely food. Brilliantly cooked Bahamian food at it's best !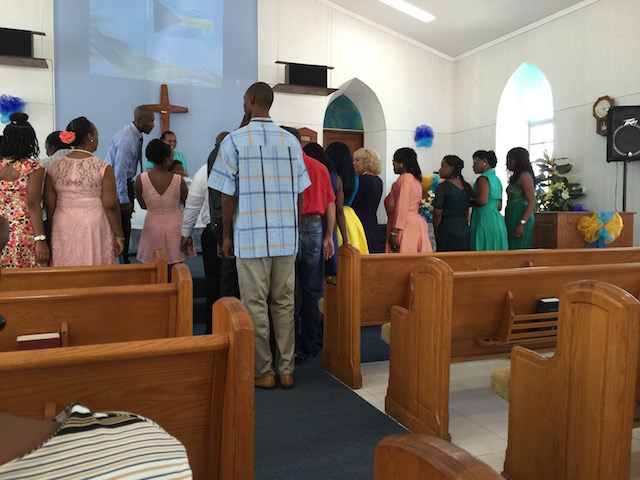 I have several godchildren here in Eleuthera – but the great thing with Nadiyah are the regular updates and pictures I get to see of her because of working with her lovely Mum every day ……..