Although it is a few weeks to go yet we celebrated a 90th birthday treat in Eleuthera with the inaugural swim by my lovely Mum – Mary Pattison ! My equally lovely husband Bob suggested back in July last year that we should build my Mum her own swimming pool – and heat it ! – so that she could use it year round – what a birthday present eh ?  The job has been fitted in around our busy work load and finally this week it was finished and the heater was turned on …..
My Mum has always loved swimming and much to her disgust none of her three daughters have taken after her. We flounder around a bit but daily swimming as a form of exercise and enjoyment has passed all of us by. But for Mary it is a great treat – and the perfect exercise on a daily basis to keep her healthy and fit…. Walking here is difficult because the roads and driveways around Governors Estate are constantly being eroded by rainfall, plus we are at the top of the hill – so wherever you walk you always finish up having to walk up a hill – not ideal when you are nearly 90!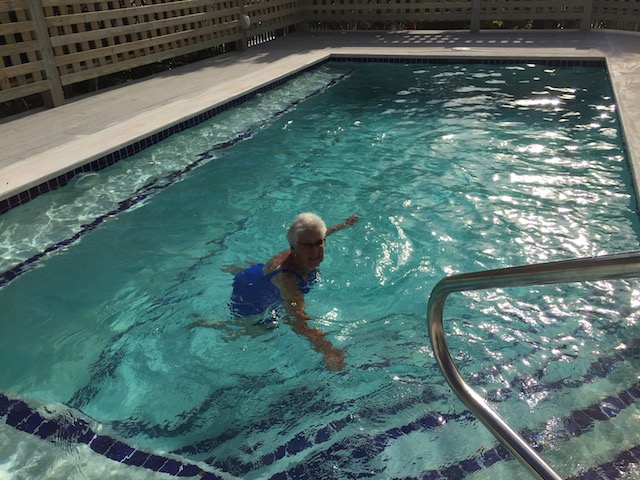 So now she has her very own pool to use as often as she feels like it – 3 swims on the first day !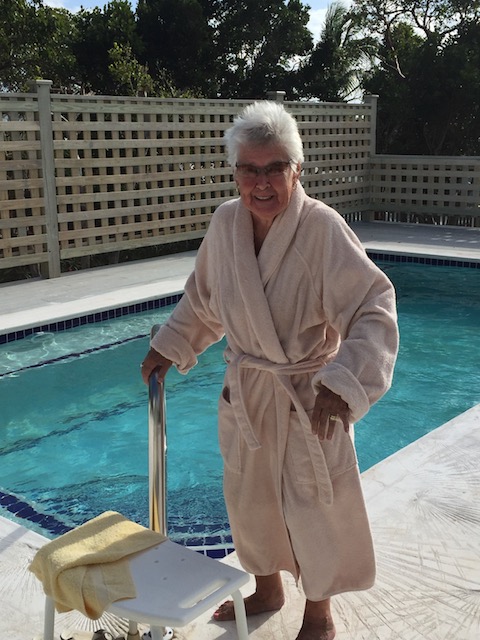 After my father died, when Mary was only 56,  she trained to teach babies and toddlers how to swim – and did so until she was about to turn 70 – around the time when she met my stepfather Theo. She has continued to love swimming right up until now – but the pools with our rental houses have not been heated ( we are fitting heaters to them all during the next couple of months !) so it did mean that her exercise was restricted to the warm summer months – but no longer – she can do as many laps as she likes every day. Training for the next Olympics ????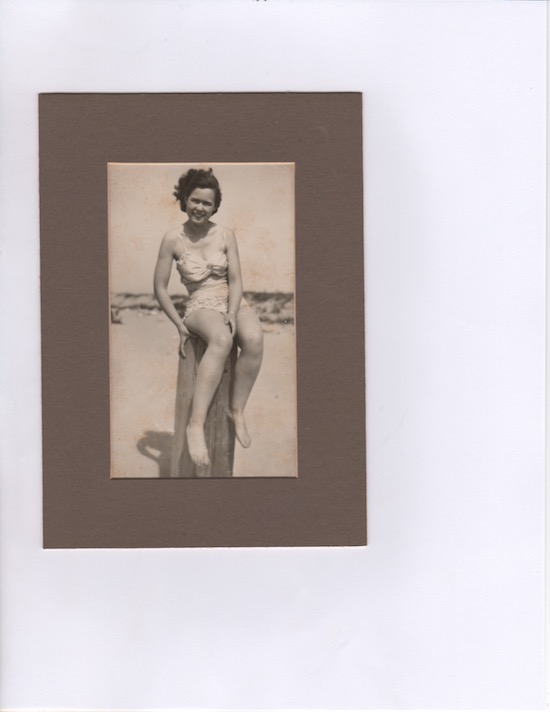 My own personal swimming career highlight occurred when I managed to come last in a local swimming gala at the age of around 10 I think – and I now publicly confess that even then I had to put my foot down halfway across !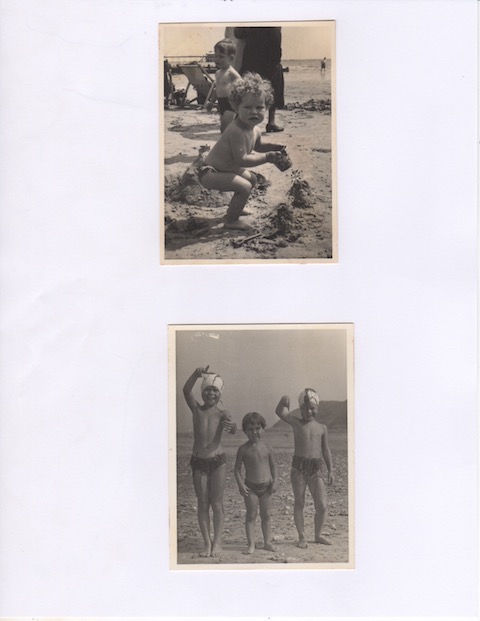 When we were children we used to spend our summer holidays on the Gower Coast in South Wales – it was where my father came from so we would visit my Grandmother and then go camping ( ugh – I hated that !) to the beautiful Gower Peninsula with it's spectacular sandy beaches. But it was the Atlantic. And it was COLD. And we were told that we had to swim at every opportunity – even in NOVEMBER.
Now I am a grown up and I can just be a warm water flounderer – yippee !
But I am so very happy to see my Mum getting such pleasure from her own swimming pool – and so happy that doing what she loves is making her fitter and fitter ……