Hello dear readers – and here is all the latest news from Eleuthera this week. I know I have been banging on about our fire truck for the last few weeks – but this is a very big deal. If you own a home here in the Governors Harbour area or indeed if you rent property here then you need to understand the significance of us actually having our own fire truck.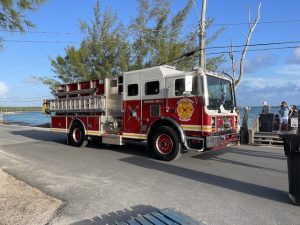 Whether it is a fire, or a traffic accident the fire truck and our amazing team are ready and trained to be there to assist you. Last weekend was a very emotional time for a lot of people involved in the project – a good few tears of joy and relief were shed by quite a few of the key group.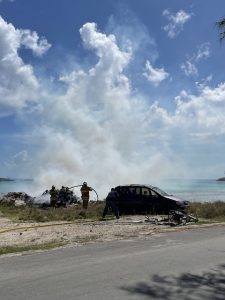 We had 2 members of Firefighters Without Borders from Canada come and stay for a few days – giving key training sessions to our volunteers as well as doing an amazing job on Sunday with the firefighting demo and the car rescue scenario. A huge thank you to Amber Rushton and Jon Pannunzio who were welcomed with open arms – and always will be in the future   for all that they have inspired us all with….. The organization has been so very generous in their donations of equipment as well as sending two special people into our midst. A very special privilege for us all to make this connection.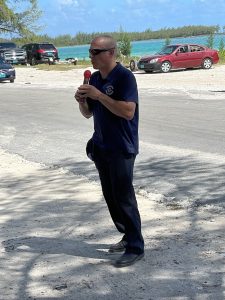 Do take a look at their website to find out about more of the wonderful work that they do – https://www.firefighterswithoutborders.org
The fundraising of course will continue for the shelter that needs to be built for the truck as well as keeping everything going smoothly. In Eleuthera you cannot take anything for granted in the same way that you can in many countries – we have to all take a degree of responsibility for emergency services. Pray that you never need them yourself but give thanks to all who have made this dream come true so that the response can be there for those who need it…..
We had a good trip to Fort Lauderdale last week – and I finally got my trichiasis sorted out ! That is my bottom eyelashes on my right eye were growing upwards and constantly brushing and irritating my eyeball. So I had them permanently removed – not something I would have chosen but there is no other option. And now the area is healing and soon it will all be a dim distant memory …..
Sprawling Towers is coming on well – take a look at our beautiful front door – made on island by the remarkable Claudius Culmer Construction. The glass is not in it yet and the door still has to be stained and varnished but we absolutely love it. Bob designed the door and drew up the working drawings for it and a huge thank you to him for that !
Both the main kitchen and the slut's kitchen or utility room have come on with islands in place and units installed – it is going to very exciting as we continue to progress with them.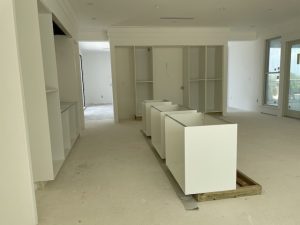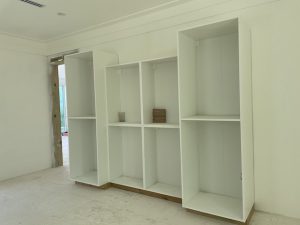 Gratitude and thanks to Claire Verden and her sister Philippa visiting from Devon in the UK who baked us delicious scones and even brought Devon clotted cream and jam for them. We had a small tea party with Dan and Larry , Claire and Philippa, Jane, Mum and me all scoffing generous amounts of the scones. Such a treat so thanks again ……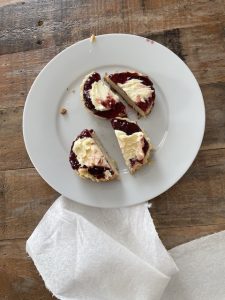 Well I think that's all for this week – have a great weekend and I just want to mention how lovely it was on Friday at Fish Fry when Kellie – one of the blog readers came and introduced herself to me. Such a joy meeting new readers who know so much about me when I know nothing of them ! So sorry Kellie – I don't remember your surname or where you came from but it was a lovely surprise to meet you !