So last week we completed on the sale of our lovely home heralding the end of the Buena Vista Years. We bought the house in July 2004 and have had a very happy time there.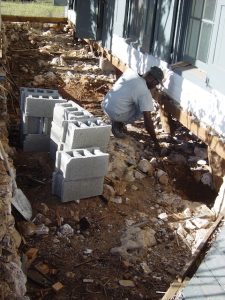 I have written before about how I feel that the spirit of the house has a female essence for me. I am not saying that the house is haunted in any way shape or form – but I do strongly believe that all houses have a spirit, and certainly a house that was built around 1750 has seen a lot of life and I'm sure death in it as well. All of that leaves some sort of imprint in the bones of the house and in my mind and I know that our years have had an effect in all sorts of ways.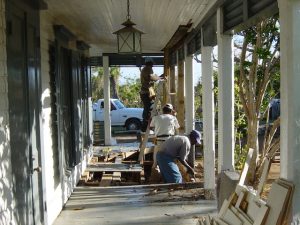 It is strange but absolutely OK to drive by the turning for Buena Vista – or Colman Towers as I have affectionately referred to it in this blog and instead turn into the entrance where Tops House is – that is where we are renting at the moment. We have settled in there very well and will be staying here until we move in to Sprawling Towers hopefully in early November.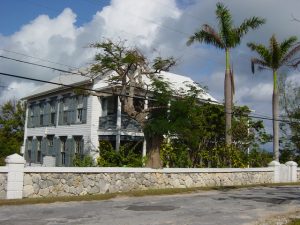 Of course we have done a lot of work to Buena Vista over the years – initially it was about structurally securing it as it was in imminent danger of collapse when we first bought it – but over the years we have added a veranda on the west facing side of the house, built an extension which filled in the missing part of the L shape it was when we bought it as well as opening up a lot of the ground floor interior to make the flow more easy. Then we added the roof deck with spectacular views of both the Atlantic side as well as down in to the harbour.  And now the new owners – Fran and John will weave their own magic in to the place – and plenty of people will be able to enjoy renting the property when it comes on the market.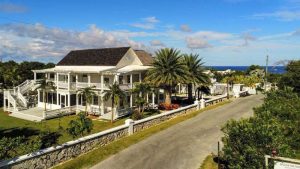 It is listed on the Governors Harbour Collection website – so do check it out !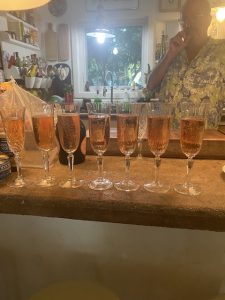 Last Friday we went to dinner with Dan and Larry on Cupid's Cay – such great hosts. Sam, Katy, Jane, Bob and I all pitched up for home made burgers with home made buns. Absolutely delicious – I had turkey burgers and everybody else had hamburgers – there's always one awkward customer – right ?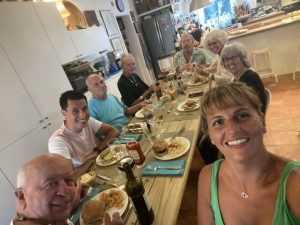 We always have a great time with them and this night was no exception. As I am always saying to be with good friends eating good food is one of life's greatest gifts and we never take it for granted.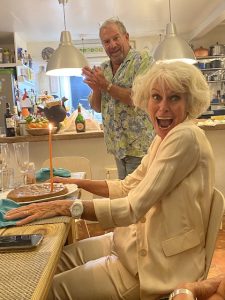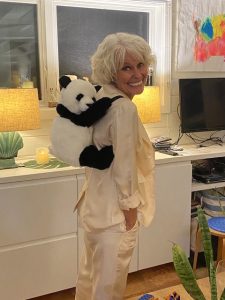 Mary, my Mum used to play an English pub game with Sam when he was a little boy – and believe it or not she still has that original Shove Ha'penny board and the 5 English ha'pennies used to play it, with her here in Eleuthera – so last week it was brought out and a tournament was played between them. Actually in reality it was one game but it was hugely entertaining to watch – Jane and I loved it ! As I have mentioned before I do not enjoy playing games at all – but watching this was good fun! Check out the link if you are interested in how to play Shove ha'penny. By the way – a ha'penny is half and old English penny – can't even begin to tell you how little that was ! By the way Mary was very competitive but gracefully (?) accepted Sam's win .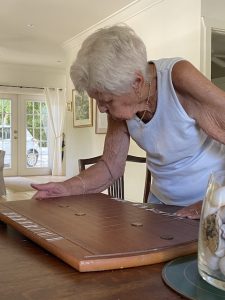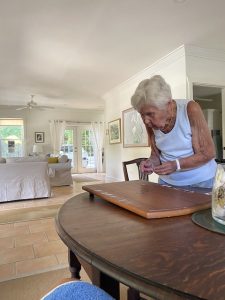 Sam and Katy go home on Friday of this week – it has been lovely having them around and Mary has been thrilled to see them every day…. We hope they are back before another 5 years elapse !
And so back to trying to find those elusive items that I have carefully packed away and now cannot find for the life of me …