This week I took a trip up to the North Eleuthera Shopping Centre or Burchie's as it is more commonly known.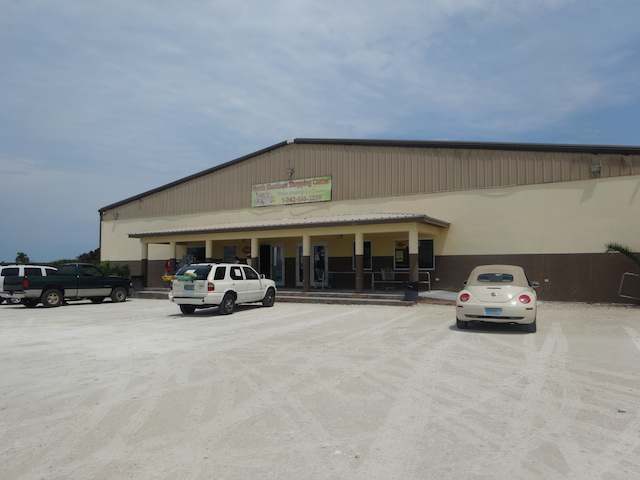 Burchie's is the closest Eleuthera has to a department store ! It sells groceries, fruit and vegetables, hardware, home goods, appliances, clothing and most other things you can think of. Fresh deliveries come in on a Friday or Saturday so weekends are a good time to visit.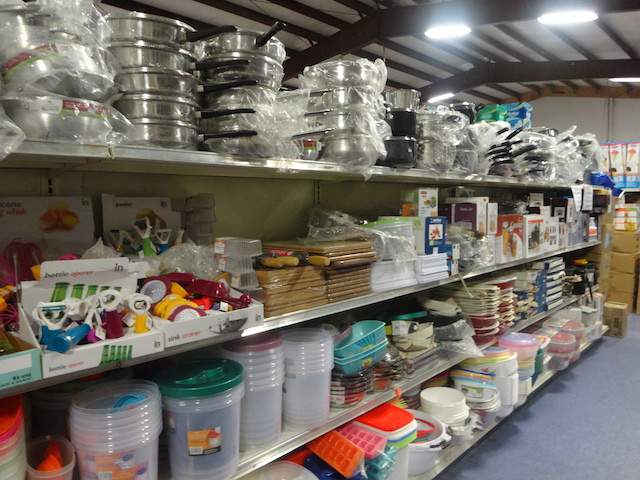 I went north with my friend Amanda to have a little jaunt and see what we could find……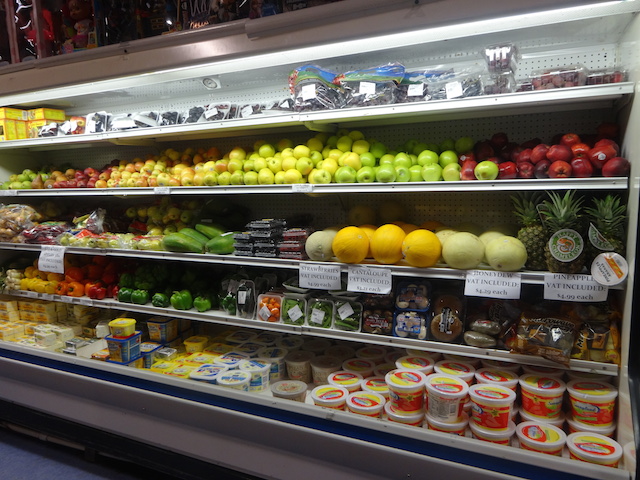 They have a great selection of fruit and vegetables – I love mushrooms and bought a pack of large portobello along with the usual white button ones. Snow peas, zucchini, baby plum tomatoes, fresh cilantro, mango, blueberries and blackberries were among the things I bought. The berries are perfect for the smoothies I like to make with local fresh coconut water and local bananas.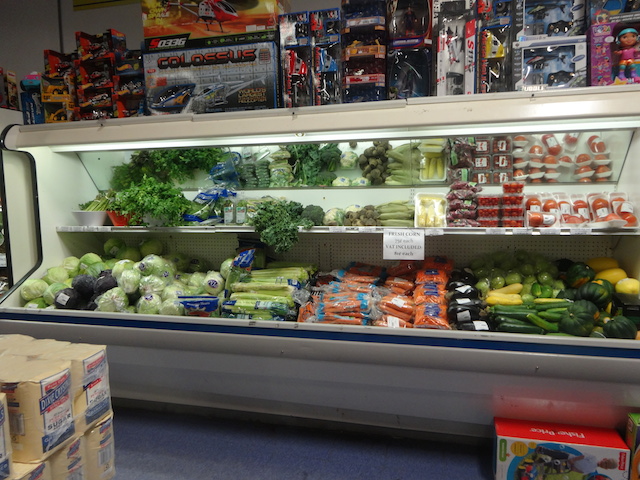 Household cleaning goods are another thing it is useful for me to stock up on for our rental houses – large sizes, good prices and a great selection made this visit a worthwhile trip…..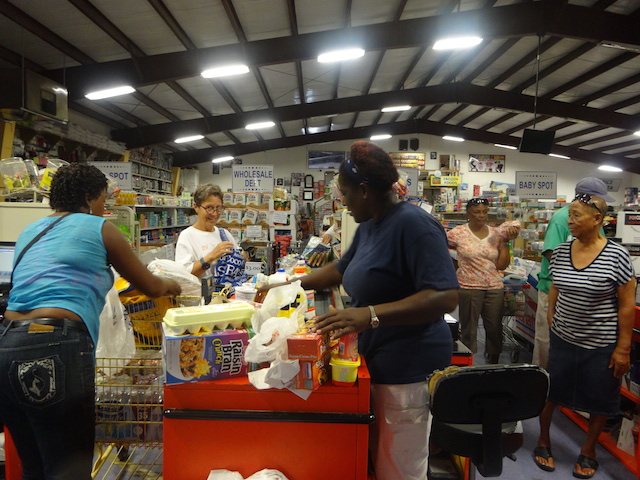 Burchinal Gibson along with his lovely wife Sophie own and run the store – they have 19 employees and some of those are family – it is very much a family run business.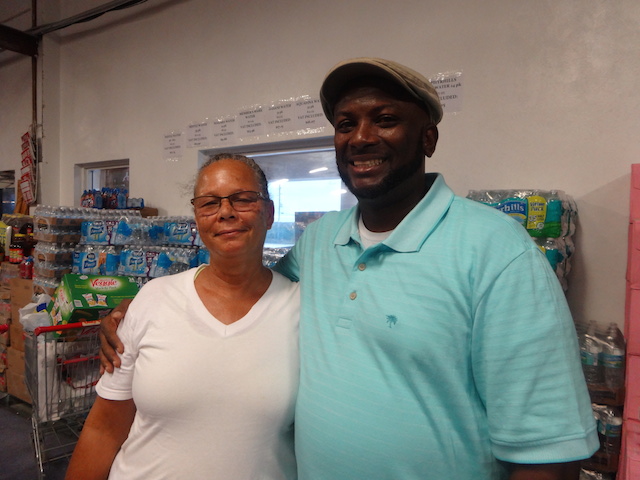 Burchie has worked on this site for many years – he worked for Sawyers who owned grocery stores throughout the island for 18 years – he then took over the store 11 years ago. The new current building has been here for the last 6 years – the previous building was lost in a fire……
The store is open 7 days a week – Monday – Thursday from 8am – 8pm, Friday and Saturday 8am – 9pm and Sunday mornings 8am – 10am
Contact them on 335 1880 or 225 0964 and ask about delivery of goods to wherever you are on the island !!!
Or email them at    neshoppingctr@yahoo.com
After loading up my little Beetle with LOADS of shopping Amanda and I made a stop for lunch at the Laughing Lizard in Gregory Town. I had a fabulous toasted panini with portobello mushroom, caremlised onions and avocado – delicious – and Amanda had a curried tuna wrap.  This is always a great stop off for lunch if you are traveling the island – Petagay the chef is a very talented and imaginative woman – it is always hard to choose as the menu looks so good !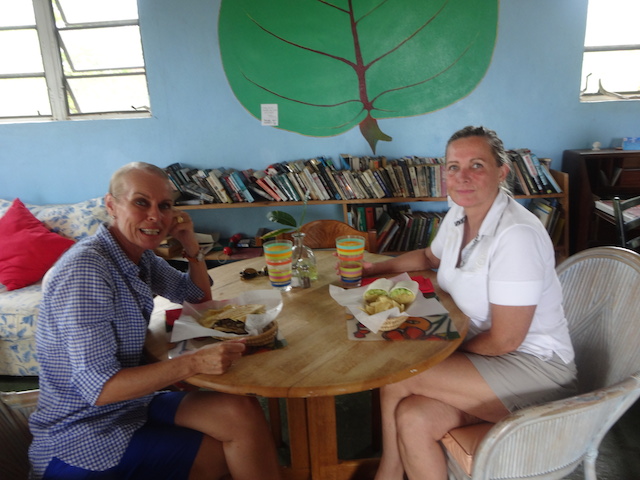 Last stop in Gregory Town was to the teeny weeny boutique called Cerasee. This was the first time I had been there – thank you Amanda for recommending it and I can tell you it will not be the last. Lots of beautiful things at very reasonable prices. It is owned by the very talented Amy Simmons – daughter of Pam Thompson who I did the blog about – The Island Made gift store – and I will be doing a full blog on Cerasee itself very soon…… I bought this lovely necklace and a set of 3 starfish dishes…..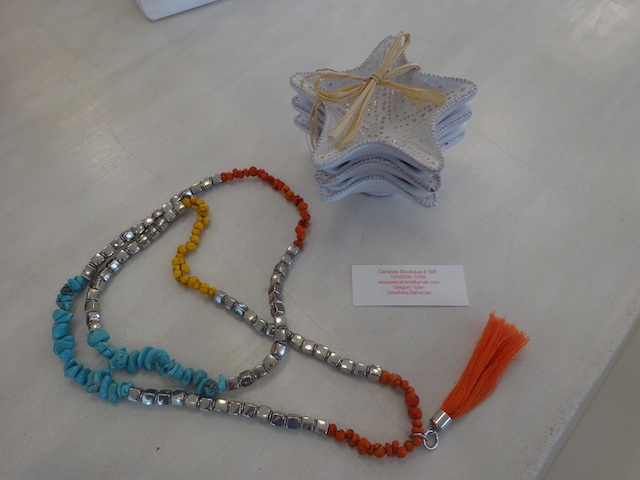 Then home and where the heck to I put all the stuff I bought at Burchie's ????