News this week of the rest of our trip to Florida including eating at the Surf Club and also news that Hot Buns is now open here in Governors Harbour. Hot Buns has had a quiet slide into opening. They are not quite fully operational but what we see so far is great.
Bob and I had a takeout sandwich on Monday this week and let me tell you – it was great. What I am hoping to try later is one of their rotisserie chickens – how useful is that to be able to pick up a ready cooked chicken on island. The outside dining area is really lovely and I have seen quite a few people eating there. Of course as is so often the case – it will take a little while for everything to be up to speed – but be patient and I am sure it will be firing on all cylinders soon…..
Now back to our Florida trip. All the appointments went well – orthodontist check up was fine. I had my first head to toe examination at the dermatologist for moles and lumps and bumps. Nothing to report at all thank goodness and he said that there was remarkably little sun damage to my face given that we have lived here for nearly 18 years. A great relief.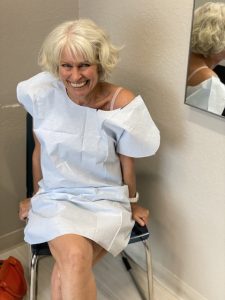 Now back to the serious side of things – eating !!
On Wednesday night we had a taxi from Ft Lauderdale to a restaurant in Surfside – which is actually north Miami. The place we went to is called The Surf Club Restaurant at the Four Seasons Hotel there. We booked a taxi because it is a good distance to drive there and back and I wanted to be able to enjoy a nice cocktail and a glass of wine with my meal. It is a Thomas Keller restaurant – he of the French Laundry and Per Se fame. And let me tell you it was very special.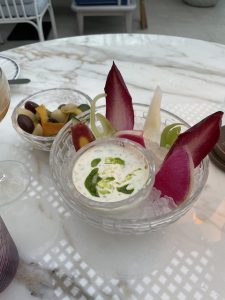 Needless to say I had studied the menu before we even booked the table and I had pretty much decided on what I would like to eat. Nothing disappointed at all. The whole experience was a delight – the staff were exceptional under the watchful eye of  Andrew Newlin – the general manager – kind, friendly and attentive. The room that we were in was called the Banyan Room – it is a glass conservatory – so when a tropical thunder storm broke it was really noisy – but to be inside in lovely surroundings enjoying our fabulous meal while mayhem raged outside was just a delight.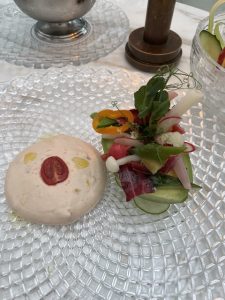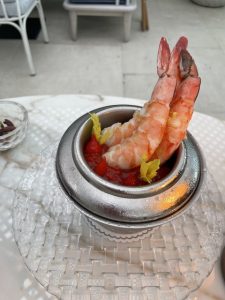 A place like this is very special – the attention to detail and the pride that the whole establishment takes in ensuring that you have a wonderful experience is a joy to behold. Which is why the night after our visit the restaurant was rewarded with a Michelin star. This is the first time that restaurants in Florida have been awarded the prestigious Michelin star – there were 10 apparently. I am putting a link – HERE – where you can see a list of all the restaurants that made the grade as well as some that received the Bib Gourmand. These are restaurants that don't meet the necessary criteria for a Michelin star but that are truly excellent in their field. We are looking forward to visiting an Indian restaurant on that list. We took an Uber  back home which I haven't used in a good few years – but it made the night out so much more relaxed than it would have been if I was driving.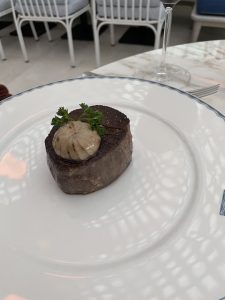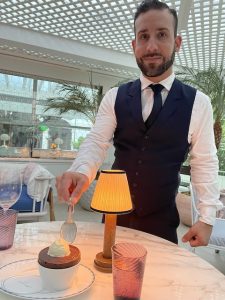 Friday night we ate at the restaurant Takato which is in the Conrad Hotel where we stayed. Although I had done my usual and studied the menu Bob decided the tasting menu that our great waiter Matteo recommended was the way to go. But beware if you do this because it is a chef recommended selection of dishes which are all full sized portions ! Of course we did it proud but you will end up very full – we finished up with a total of 7 dishes between us – which is a lot !!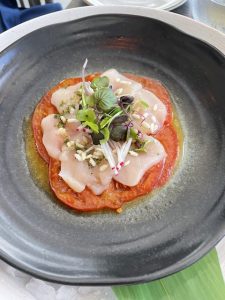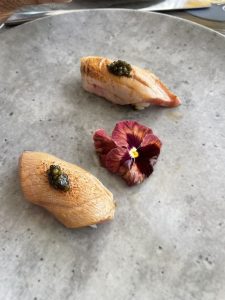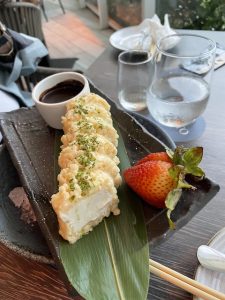 We flew back on Saturday – the flight was full so I finished up sitting up front with Don the pilot – I didn't particularly want to but nobody else volunteered apart from Bob and I didn't think it was a great idea for him to be clambering into the co-pilot seat. It was actually quite enjoyable – Don pointed out some of the waters that we flew over around the Berry Islands was only just over 3 feet deep !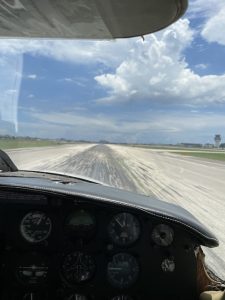 It is always great to arrive back home to a place that makes you feel relaxed with that first exhale after you have landed – traveling is fun and stimulating but to return home to a place that makes you feel peaceful, full of gratitude and contented is a great gift.
Now a timely reminder that the Educators For Eleuthera Summer Camp starts very soon so here is that all important link to make your donation too. I am sorry to hound you all so often – but this is a very important initiative for the community here – the children really do need this camp – it makes a huge difference to their lives. So no matter how small or large your donation do please consider helping the wonderful Educators For Eleuthera once more.
PayPal link is – educatorsforeleuthera@gmail.com
Have a great weekend ……