The other week as a member of the Rotary Club of Eleuthera I gave a brief presentation during vocations month about being an interior designer – and what I talked about was making an inspiration board.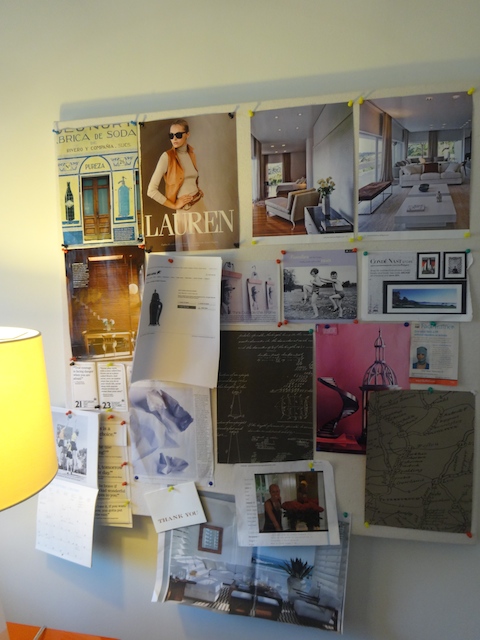 There are many types of inspiration boards – just take a look at Pinterest – the on-line version of what I'm talking about to see how varied they are…..
I have concentrated mainly on 2 types in my own home and office – ones for decorating projects and the other as pure inspiration boards – things I love , things that make me laugh  – they feature quite a lot !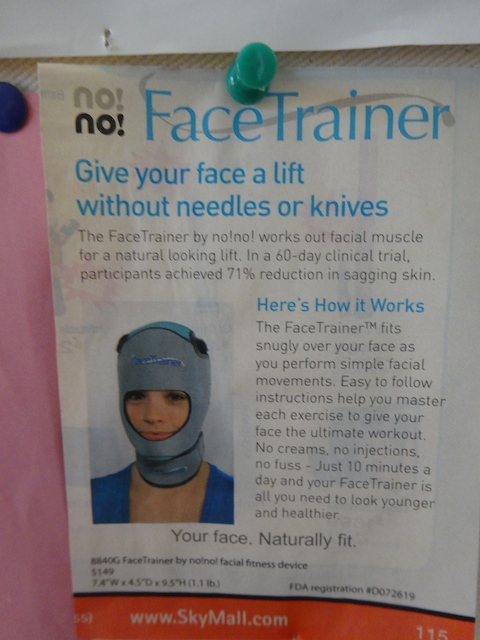 Boards can be very useful if you are planning a new decorating project but they are also a great device to open to your creativity and begin to find out what inspires you. I have several – a couple in my office and one at home as well. Many people don't really think that they have a creative side – but I disagree – all you have to do is keep your eyes and ears open to what makes you go – oohh – in appreciation of what you see around you – on the internet – in magazines – anywhere you look – even on the plate in front of you !  Start collating these images and you will see what you like and also what makes you laugh out loud …..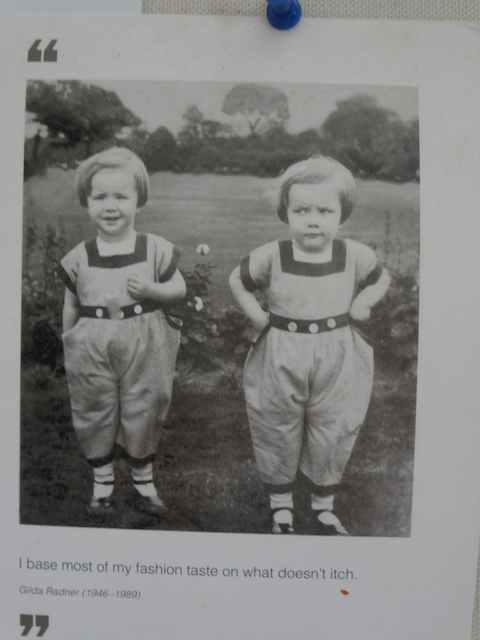 The idea is that you simply pin on them pictures, quotes , cards, magazine tear outs , color samples, photos –  all those assorted bits and pieces that lift your heart and your spirits when you look at them.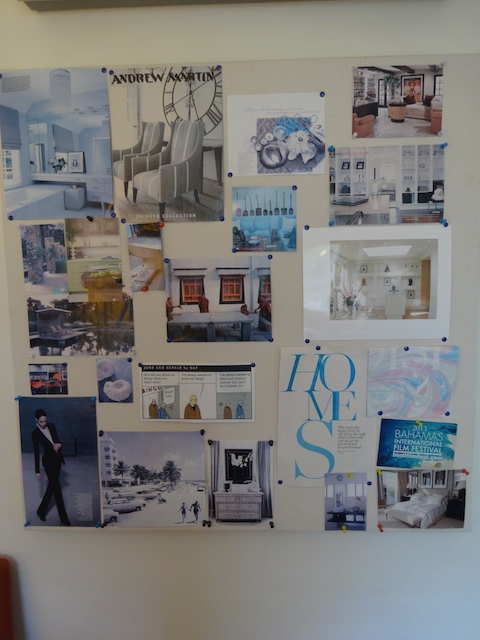 By their very nature these are works of art that evolve over time – you add to them and subtract from them as time goes on – but to have one or more of these boards in front of you gives you a real sense of fun and a sense of what makes you tick.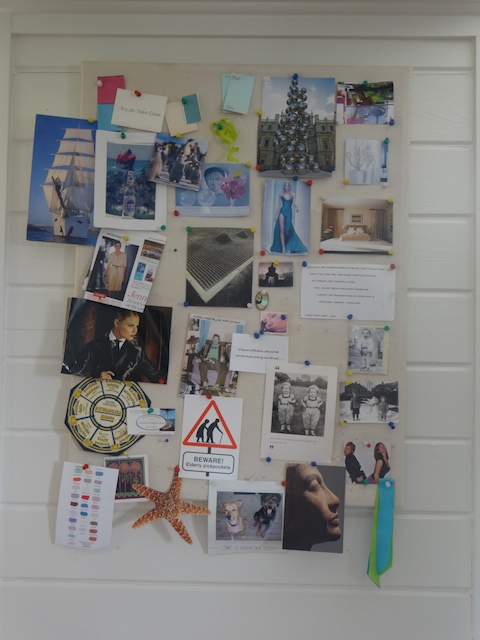 If you are planning a decorating project of course the idea is to be a little more focused. Start collecting images that appeal to you – don't over analyze at this stage – if it makes you go – oh – then print it out or tear it out of a magazine – or photograph it if you can. Just start collecting ones you like. It can also be very useful to have another pile of pictures that are ones that you know you don't like at all. This can tell you as much about what to avoid as the other pile does about what you like.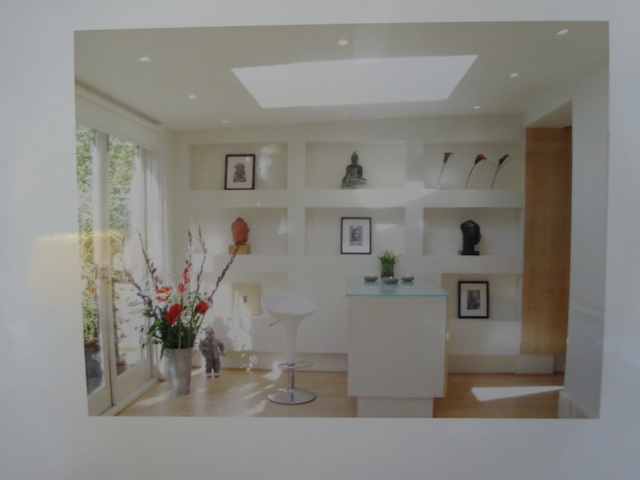 When you have collected enough images – spread them out over the floor or a large table and begin to look for themes. In my experience this often shows themes like – lightness, certain colors that keep turning up, and a lack of clutter – often one of the most recurring themes !
You can do the same exercise with the pictures that you dislike – very quickly you will find that this part shows you the things to avoid.
The inspirational parts will become more fun as you realize that these pictures are telling you how you would like to incorporate certain aspects into your own design scheme.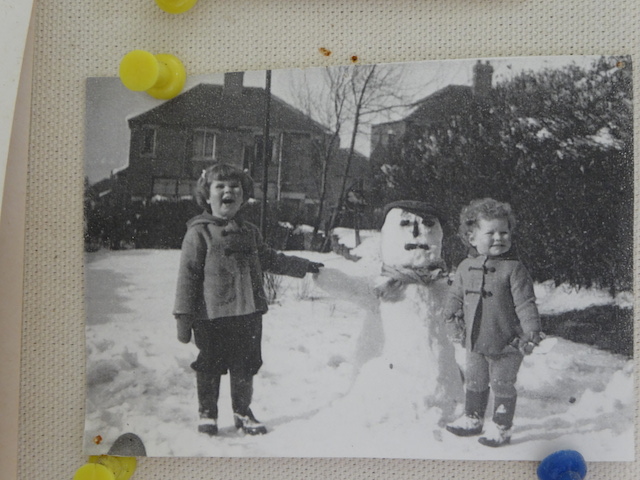 My own boards have themes of inspiring interiors, fashion, quotes I love , weird humorous things , colors,  the odd family photo, exhibitions I have seen and loved – so take note of what Mark Twain says below – and begin your own voyage of discovery…..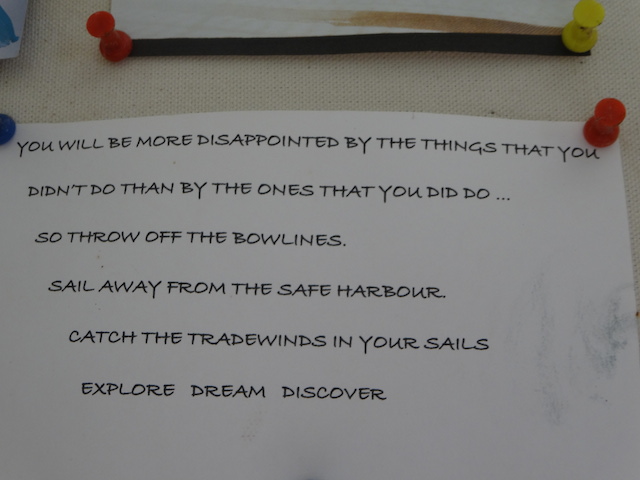 On a practical note – have a look at Ballard's for a good range of pinboards – or if you live in Eleuthera then check out Office General and my fellow Rotarian the lovely Juanita Pinder…..