More this week about our travels – with Kathy and Bob back in London after visiting Roussillon and Marseille in France.
For a lot of people who come to stay at Governors Estate in Eleuthera their vacation is about sun sea and sand – often there are family reunions and meeting up with friends. For us taking a vacation usually means family, friends and very importantly food !
Living in the Bahamas and particularly on the island of Eleuthera means that the range of foods available are limited somewhat. I like to think that I do make the best of what is available here and we do eat very well – but when we travel – all bets are off and I love to enjoy the wide range of cuisines that are waiting to be sampled and enjoyed.
So on this trip we have eaten the best English fish and chips – once at the City Barge in Chiswick and once at Geales in Notting Hill – a favorite haunt of ours.
We ate  a wonderful English breakfast at Claridges – who specially cook fried bread for us – not something you very often find on a menu these days ! This is one of the most beautiful hotels in London and breakfast there makes a great start to your day….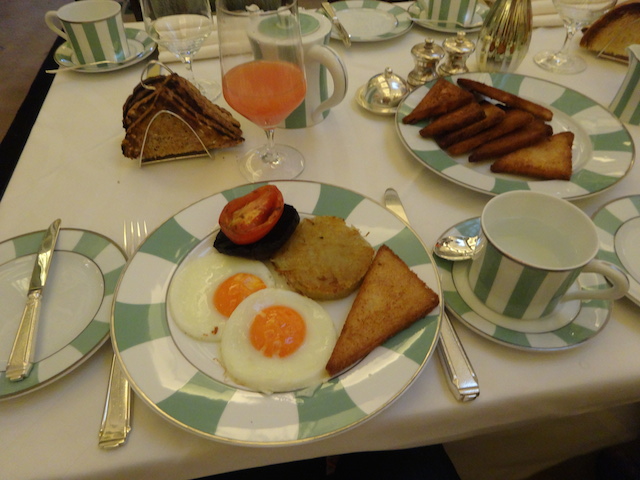 Last week I wrote about the Indian food at Dishoom which I crave when I am on island. A crab burger at Lucky Seven in Notting Hill was also a highlight and in Marseille we ate bouillabaisse of course !
One of the highlights of our travels is when we get a chance to experience a visit to Raymond Blanc's fabulous restaurant in the Oxfordshire countryside – the Manoir Au Quat'Saisons. This is a real gastronomic experience – you will remember a meal you ate there for years to come !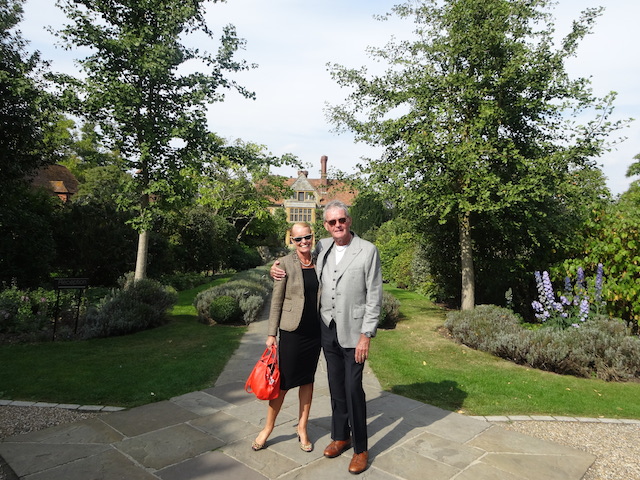 The weather was perfect for sitting outside to enjoy an aperitif and hors d'oeuvres whilst choosing from the menu.
Then into the conservatory part of the restaurant to savour the meal.
There was a terrific amuse bouche – literally a mouth amuser ! – which is not something you choose but is given to you before your appetizer. It was a small glass of tomato and cucumber gazpacho – so intense in flavor – along with a single oven roasted cherry tomato and a small spoon of olive oil jelly marinated with basil and garlic. It is like consuming the essence of the ingredients – tiny quantities but concentrated tastes….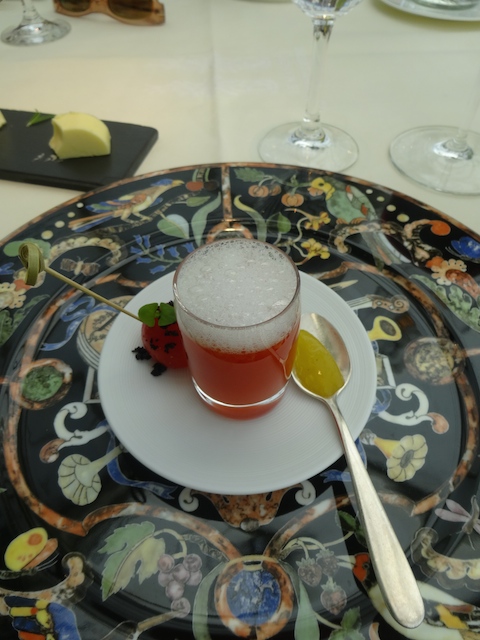 For appetizers I had crab with a bisque sauce – oh my goodness – how good was that ! Bob had foie gras with roasted apple….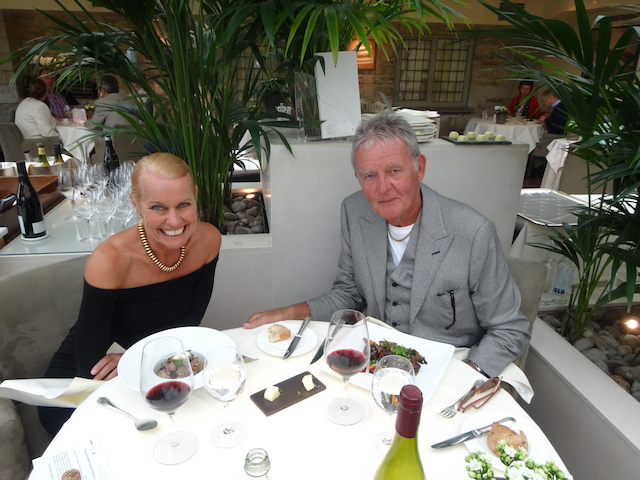 For the main course I had an off the scale mushroom risotto with a side order of vegetables all grown in the kitchen garden. Talk about fresh ! Bob had beef – I think he chose this because he knows that I don't eat meat and so was safe from me just trying a taste ! – yeh right !!
After we had eaten this I asked the maitre'd if it would be possible for me to pop my head in the kitchen and say thank you to the fantastic team who had produced this wonderful food.
Better than that he offered me a proper tour of the very extensive kitchens ! heaven…..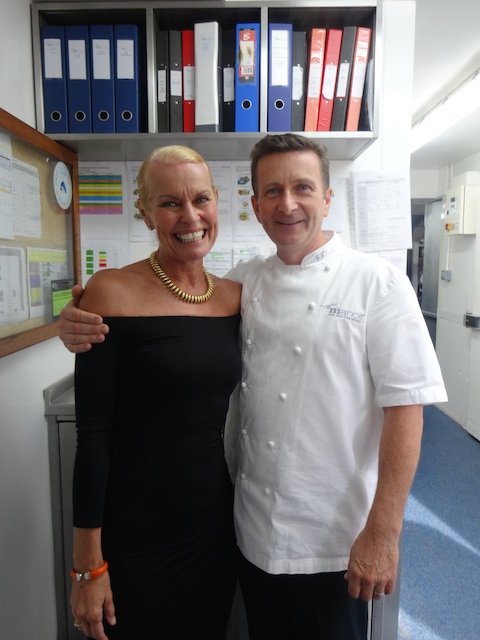 I met the Executive Head Chef there – the very talented Gary Jones – and it was lovely to see that he appreciated my gushing feedback about not only the food we had eaten that day but also a mushroom capuccino that we had enjoyed 11 years before !!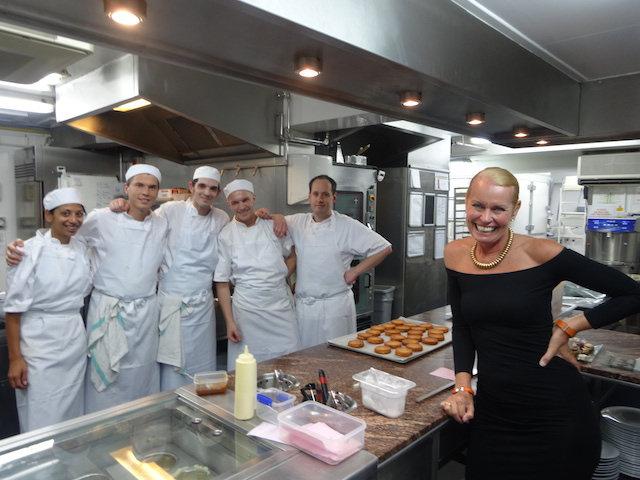 The kitchens are calm and needless to say immaculately clean. The staff are all friendly and charming and very happy to meet visiting nosy eaters !!  Their dedication to their craft as well as the obvious atmosphere of friendliness was a joy to see and feel.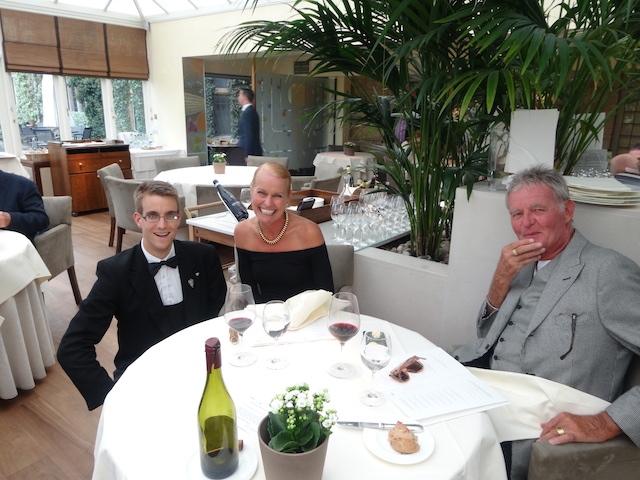 There is a cookery school in the same building and I am currently plotting a visit there for one of their courses.
As a parting gift the kitchen staff gave us a box of freshly baked bread rolls in case we got hungry on the short journey back to London !!!
If you ever find yourself in England with a special occasion to celebrate I most highly recommend the Manoir……