Out of season – as we are in Eleuthera right now – is a time to enjoy the quiet of the island.  Most restaurants are either closed or closing this week – there are still some visitors but nothing like the usual amount we see throughout the rest of the year.
Instead we are cooking delicious fresh caught fish and lobster tails and finding out who are friends are – we visit each other for meals at home rather than meeting up in the usual haunts !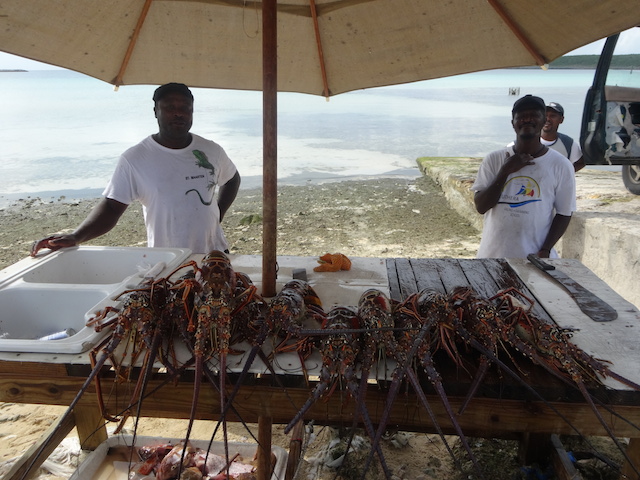 A delightful exception to this was meeting up with Joy Pyfrom to celebrate her birthday at Sunset Inn.  We went for lunch on Sunday and had a good time enjoying grouper fingers, conch fritters and Miss Jay's fries – which as many of you know – we consider to be the best on the island !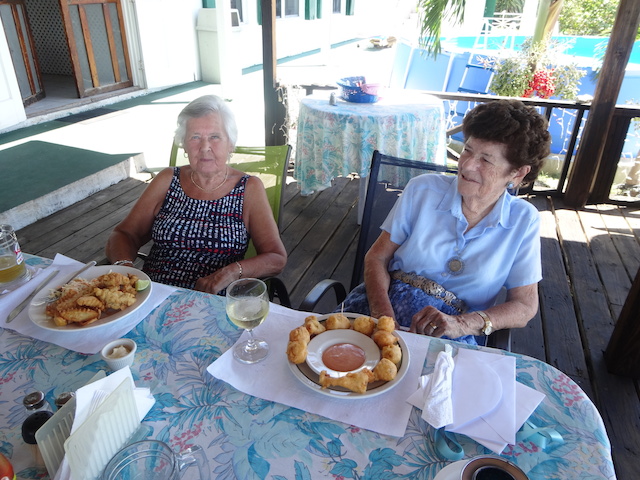 The atmosphere here around Governors Harbour is relaxed and easy – it is hard to put your finger on why it feels like this – but believe me it does !
The weather should be cooling down soon – I say should because you can never tell – but Monday this week was breezy and a little overcast – definitely a few degrees lower than it has been – but today on the dock clearing a shipment I was as hot as ever……
Evenings are relaxing – I am really enjoying reading the new Donna Tartt novel – The Goldfinch – I highly recommend it although I am not quite halfway through yet….,
Some evenings we are watching a new box set on DVD – The Honourable Woman – it is about the Israeli / Palestinian conflict. It is a little confusing for the first few episodes but gradually it builds into a picture that shows all the complexities of the situation. Maggie Gyllenhaal plays a fantastic part and it is a very good cast throughout. It is quite bloodthirsty as you may imagine – and I am not normally a fan of violence but it is a vital part of what is going on …… It is not released in the US on DVD until the 14th October – but it is available as instant video through Amazon.
Next week, Monday is a national holiday – it used to be called Discovery Day but is going to be renamed National Heroes Day – a good day for going to the beach for a good walk and a swim then some serious reading !