This week I thought it would be fun to tell you about the blogs I like to read here in Governors Harbour.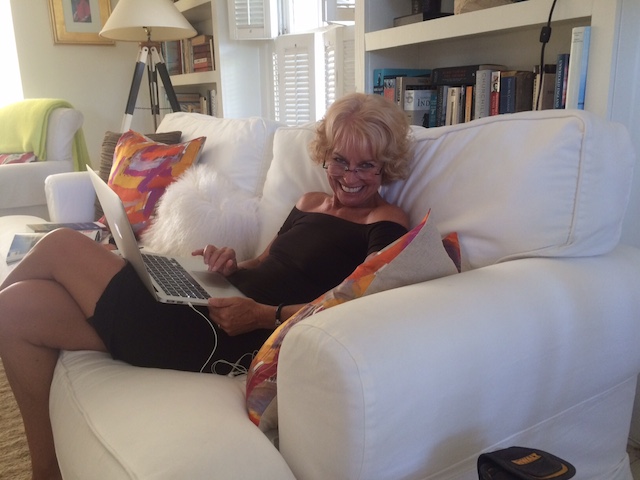 One of my favorite blogs is written by our friend India Hicks who lives here on Harbour Island . She is a really funny natural writer who manages to make you laugh out loud in recognition of the things that go on living here in Eleuthera. The balance she strikes of writing quite a lot of personal stuff but without totally laying her life bare is one I really admire and like….. Plus of course the remarkable family that she comes from makes for riveting reading. A lot of her current blogs are about her crazy travels with her new business – it makes you feel dizzy just reading her schedules ! Plus there is the added bonus of a little on-line shopping at the same time  !  Check it out here …. http://blog.indiahicks.com
Another blog I really enjoy is The Laundress. This is a fabulous company that specialize in laundry detergents – surprise surprise ! I met one of the founders – Gwen Whiting – when she came with friends – to stay in Governors Harbour. She totally endeared herself to me in many ways – not least by bringing me a range of The Laundress products – and that was it – I was hooked. Their Cashmere Wash and Stain Solution are two indispensable products for me. There are often great tips on cleaning and laundry – actually much more fun than it sounds !!
Also very entertaining is  Women Who Live on Rocks !! This site has some very funny stories written by all sorts of women who live on various islands in the Caribbean and of course many have them have a particular resonance for me …… There was one a few weeks ago about the humidity and sweating – too real ……  It is great that different women from different islands all contribute to this one…..
Finally – I just love That's Not My Age  – the grown up guide to great style. Written by an English journalist and former fashion magazine editor who has just published a lovely little book called Style Forever. Sometimes it's about clothes, sometimes books, movies and art galleries – all sorts – another one that keeps me in touch with what is happening of the rock of Eleuthera !
Whilst not blogs I also love to follow some of these on FaceBook – Cargo Furniture, Raymond Blanc , Headspace , Houzz , and of course The Eleutheran
Tell me some of your favorites – we are all always looking out for a little diversion and inspiration – right ?