So the Colmans did Las Vegas and lived to tell the tale as well. But it did snow – yes snow !! That was a shock and it made it very cold and miserable as well…. It was not lovely powdery snow – it was sleety and messy and pretty miserable – but as I always say – we were not there for the weather.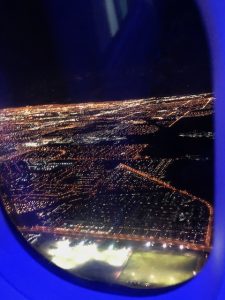 We flew out of Fort Lauderdale on Jet Blue after a leisurely lunch at the Ritz Carlton – very good fish and chips by the way. Arriving at night to Las Vegas was pretty spectacular – suddenly seeing all those lights appear in the desert was an incredible sight that just makes you laugh out loud at the improbability of it all…..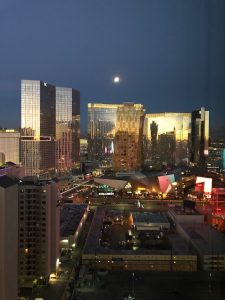 The hotel where we stayed was not on the Strip – but it was only one block back and was very convenient.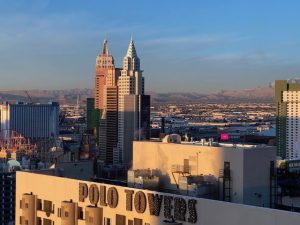 The Building Show – the reason of course that we were there was vast. Anyone who has ever been to a trade show knows how tiring these things are – we saw some very useful stuff – good contacts for new suppliers and some exciting new products. Two days traipsing around is enough – the brain can only take in so much – well mine anyway !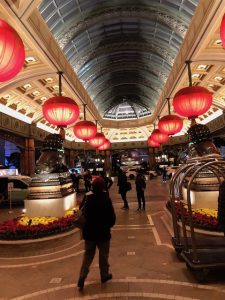 Now the important after show stuff ! Like eating and gambling ….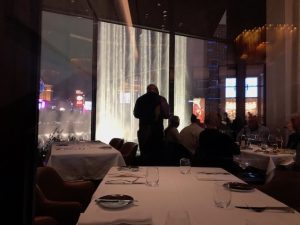 The first night after the show we ate at Spago in the Bellagio. It was a really great meal ….. and we got to watch the dancing light show which the restaurant looks out on to. The light show was not as good as it usually is as it was snowing during our time there….. The meal was fabulous. The three of us – we took Percy our Bahamian architect with us – shared a house speciality as an appetizer. Smoked salmon and dill cream pizza with caviar – so very good ! Of course it was pretty much gone before I realized that I had forgotten to take a picture …..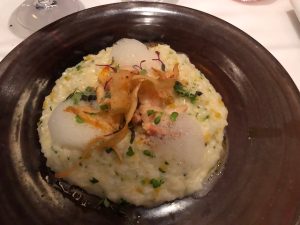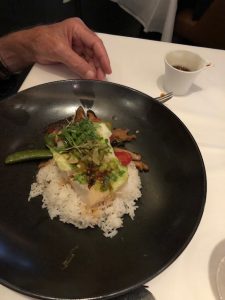 The service was great and the food was worth every penny – I heartily recommend this place. After dinner we strolled around the hotel and I had already decided that I couldn't say I had really been to Las Vegas if I didn't have a little flutter in the casino. Roulette is totally a game of chance – no skill or real understanding needed – so right up my street. I hate card games and cannot understand the machines that used to be called one armed bandits – so roulette it was ! Bob and Percy were game for it so off we went.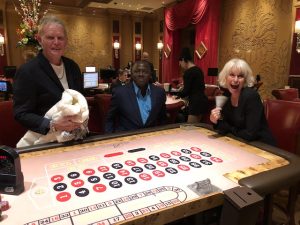 I had read when googling tips for beginners at roulette, that a European roulette wheel gives better odds than the traditional US ones as it only has one zero instead of 2. So we were directed into a room that honestly was just like Casino Royale – all red and gilt and glitz ! The staff could not have been more helpful or friendly – they told me that despite our meagre $200 stake money at a table where the minimum bet was $100 it didn't mean we could only have 2 bets. With $25 chips the game went on for about 10 minutes or so – the first 5 minutes were fun – spreading the bets meant that we were not wiped out at all and when the boredom set in I said let's go while we are still ahead – stake money back plus $200 winnings – not bad for my first ever time gambling eh ?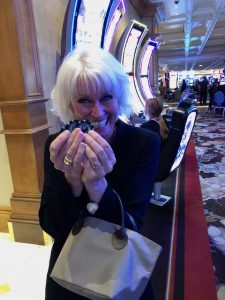 The next night we ate at Mizumi at the Wynn. Thank you Kay Addiss for the recommendation – so good and a lovely spot. The decor at the Wynn is something else – over the top or what ? And the range of shops is astonishing – Gucci, Chanel and Prada everywhere ! I suppose if you come out of the casino having won big then it is easy to go in one of these stores and go crazy…….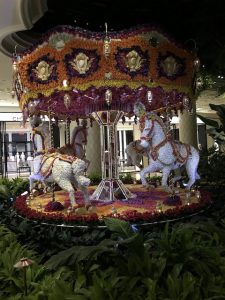 Then later that night back on the red-eye to Fort Lauderdale arriving on Friday morning at some godforsaken time feeling like a total zombie. A long weekend was spent trying to recover from it all.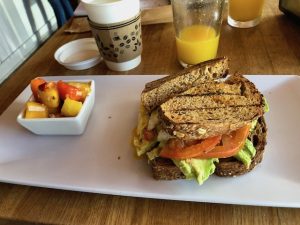 It was a great trip – utterly exhausting but such a lot to see. All the time we were in Las Vegas I was so painfully aware of how it is a city built on the money and the misery of people who get gripped in the addiction of gambling and throw so much away. It was a real experience and we did have some fun – but I won't be rushing back to do it again…….