When your bank is in Harbour Island, Eleuthera it is not the most convenient thing. It means that there are times when internet banking just will not help. Such as when you have to collect replacement credit cards – it means a visit to the branch to pick them up.
RBC has closed it's branches in Governors Harbour and Spanish Wells so visiting Harbour Island is the only option. It is a story of bank closures throughout the world really – more automation and less places to get actual personal service. I know it is inevitable but I feel for the people who do not have their own transport or indeed internet access.
And so Jane and I drove up to 3 Island Dock and jumped on the water taxi to hop` over to Harbour Island. It was a Tuesday – not nearly as busy as a Monday or Friday in the bank and so within 5 minutes of going in there I had the cards in hand. One of the advantages of living here for 18 years is that people know me – even if I am not sure who they are. It was lovely to be greeted by staff in the bank calling out – Hi Mrs Colman.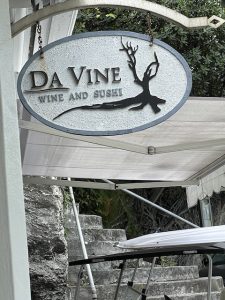 Whilst we were there we had decided to have an early lunch and DaVine Sushi was open and calling our names….. The meal was so very good and the staff and service just great. We started with a crab and cucumber salad – we shared every dish  – followed by 2 types of sushi roll. Then finally a noodle dish with seafood – all washed down with a lovely icy cold beer . It was a great reason to go to HI – and I got the replacement credit cards too …..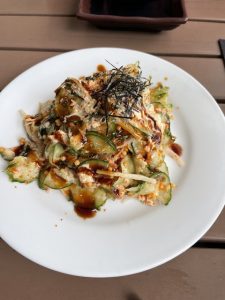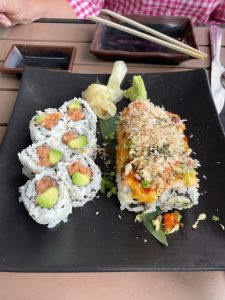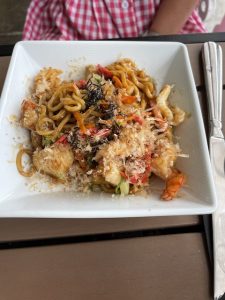 This has been quite a  stressful time for us with selling houses and apartments and so I have taken to some mindless scrolling on Instagram. I follow quite a few panda accounts – it makes me laugh just watching them rolling around and eating bamboo all day – so I have started saying that I want to come back in my next life – if I am so lucky – as a panda ! Laying around eating your own bodyweight in food – sounds good – right ? So Bob had picked up on this and bought me the loveliest panda backpack as an early birthday present – I absolutely adore it – the only problem is that it makes me so hot – but rest assured I will be using it so if you spot an eccentric woman of a certain age in Eleuthera carrying a baby panda on her back it is me …..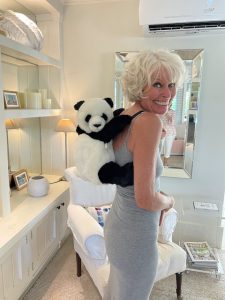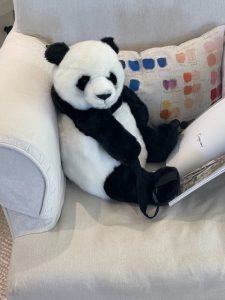 Good friends Angelika and Sandy from BFF took a trip and brought us back the most delicious box of chocolates – I thought I should share a picture before we dived in and ransacked them. They are absolutely delicious ….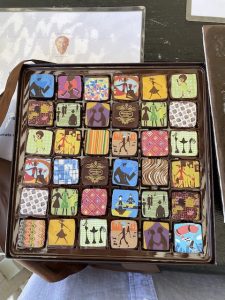 We have watched a couple of movies that we really enjoyed so I thought I would tell you about them. Not the full plot line obviously – but just titles and who is in them….
The first one was Father Stu – starring Mark Wahlberg , Mel Gibson and Malcolm McDowell. We watched it on Netflix. The second one was The Duke starring Helen Mirren and Jim Broadbent – I have been waiting since last year for this to be streamed and really enjoyed it. It is a British film set in the early 1960's . Now we all know that other peoples recommendations can sometimes be not to our taste so all I am saying is that we enjoyed them both. Most of us are looking to hear what people have enjoyed so see what you think !
Next week Bob and I will be tripping back to the US but I hope to have a report from Dr Claire Verden about the children's summer camp which finishes this weekend. In the meantime here are a couple of pictures of some of them having a lovely time …..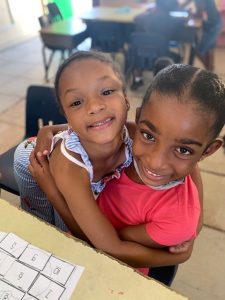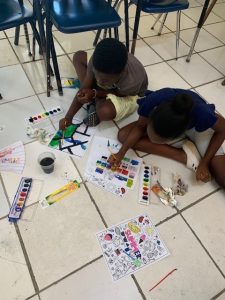 And finally I had to stop and take a picture of this building just north of Gregory Town. You have to admire the bravery of the person who picked these colors – right ?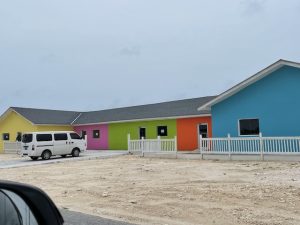 Have a good week and be kind where you can……