Last Friday Bob had the idea that Jane deserved a day off from the relentless work of moving in to Sprawling Towers so we all took a trip to Harbour Island for a lovely leisurely lunch. Of course it is a long drive and it is a work of major concentration missing all those darn potholes but the lunch we ate at Da Vine Sushi was definitely well worth it.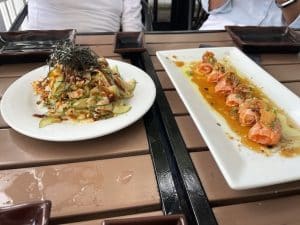 As we were sitting outside the owner – Paul King – turned up and recommended the dishes we should try. And they were a great selection I must say. Of course , probably one too many but better that in my book rather than one too few !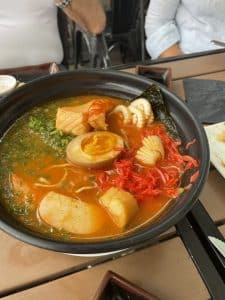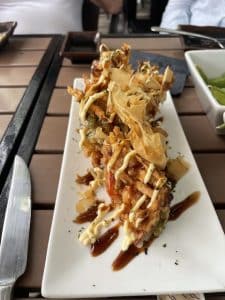 Jane left on Saturday to return to England after a grueling couple of weeks helping us move – and finally we are in the new house permanently. I have written before of how grateful I am and how much we both miss her when she leaves – but I will say it again !! We miss you….
Last Thursday night we cooked our first meal in the new kitchen and I have to say that I love the induction hob I chose. It is easy to control and unlike the gas cooktops here you can get it to the lowest simmer point. The other thing I absolutely love is the pop-up outlet set in to the island countertop. I can lay my phone on it to charge without needing a cable and then push it down when I want to use an appliance on the island. I am sure there will be other things that I regale you with – oh yes – I just remembered to thank lovely Ebee Tullos who recommended an LG dishwasher which I also love. Thanks for the top tip !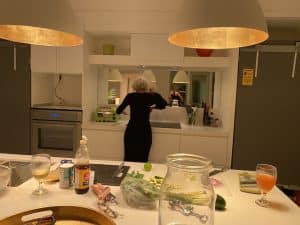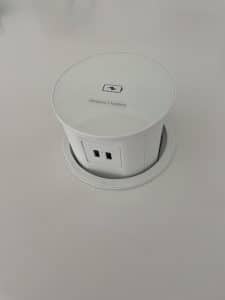 The beach is looking fabulous at the moment – it has been stripped clean of a lot of the seaweed that had been there for a couple of months and a huge amount of sand has been shifted around. It is amazing how the beach changes – as anyone who has a beach side property can attest to. Steps that reached down to the sand now find themselves 4 feet up in the air after all the stormy weather.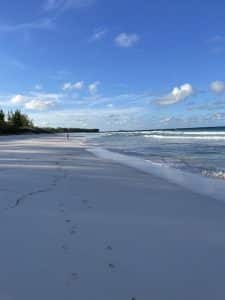 The Island Farm is now baking bread on Tuesdays and Fridays – back to the original baking days. We had some lovely homemade sandwiches using the Cuban white bread from them this week. I also popped a couple of different breads into the freezer which will be useful.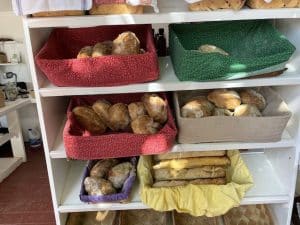 I have been told about a great new store called Location – it is next to Judy Simmons store just north of Governors Harbour. It sells Resort wear and gifts. Sorry I just have not had time to check it out yet but hopefully by next week's blog I will have had a good look around . In the meantime if you use Instagram you can see them at location_elh
The island is getting busy with visitors already – looks like it should be a very good season……
Take care and make time to have the occasional long leisurely lunch.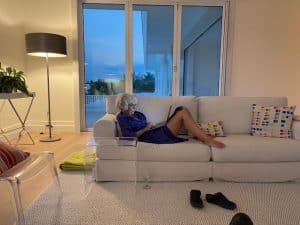 And finally – a great shot of the rain out at sea passing by one morning this week…