Hello to you all – a few updates from Eleuthera this week. Firstly we had a technical hitch last week and for some reason the blog would not post. Obviously it did get fixed and hopefully all our lovely subscribers received the blog later in the day. Apologies for that and a big thank you to those of you who contacted me to ask if everything was OK with the Colmans – it was very much appreciated…..
Now for the updates – firstly Tippy's did not open last Friday as I was told they would – I am now told it should be this Friday – but that will be confirmed one way or the other next week ! neither did the Buccaneer open yet – again I will confirm when it actually has opened.
The Island Farm at Palmetto Point is due to open on Monday 7th November – I feel confident that this will happen and again I will confirm next week that it really has !
Highway Service Station will be closed Friday, Saturday and Sunday this weekend. This is because of a family funeral in the US. Dear Jean Griffin's mother died recently at the amazing age of – I think she was – 97 – she was a wonderful woman who I clearly remember dancing at parties we attended a few years back. The whole family will be in Miami for the service and we wish them well and send both our condolences as well as joy in a life so very well lived….
Halloween passed us by this year – the first time for many years that we haven't celebrated with the local children paying us a visit. Since moving out of Buena Vista and being in a rental house these events have passed us by. Actually I have to say it was quite a relief not to be bouncing up and down handing out huge amounts of tooth rotting candy ! But I did celebrate it being a year since dear Brian appeared on our doorstop to take up residence….. Picture below is from last year ! I have hung up my hat ……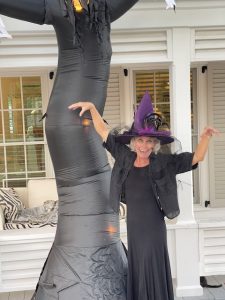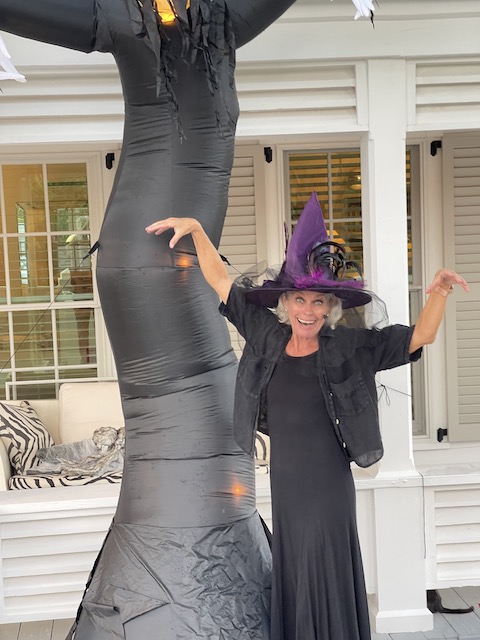 Jane , my sister , arrived safe and sound late on Friday last week and has not really stopped working since ! We have moved quite a lot of stuff into the two kitchens and the latest thing has been to apply the opaque film to the bathroom windows for a little privacy ! We are doing a steady amount every day so hopefully by the middle of next week we will be able to move in…..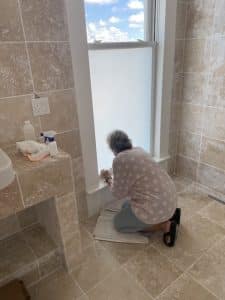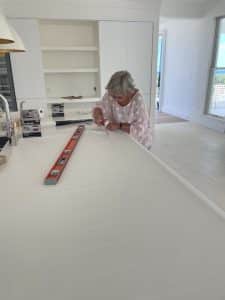 And now for something completely different as they used to say on Rowan and Martin's Laugh In. Of course you have to be a certain age to remember that show – it ran from 1967 – 1973 but some of us do remember it very well – right ? Anyway – we have received a letter from the Chief Superintendent of Police for Eleuthera – a lovely woman called Shanta Knowles – about raising funds for  a Christmas Tree Lighting and Gift Giving Initiative for the children of the island of Eleuthera. It is such a good idea to start this now – rather than leaving it to a couple of weeks before Christmas as usually happens. The island will be divided into three areas for this – Rock Sound for the South, Governors Harbour for the central area and Harbour Island for the north of the island including Spanish Wells and Harbour Island. It will be for children aged 3 – 11 years. Of course we will be contributing and I encourage you to as well. As I always say – if a lot of people give a little it amounts to a lot – and if you want to make a generous donation then even better.
Donations can be made directly to the Governors Harbour Police Welfare Fund – they bank with Royal Bank and you are very welcome to contact Chief Superintendent Shanta Knowles on 242 332 3500 or by email  – shanta.knowles@rbpf.bs – for bank details.
It is only about 7 weeks until Christmas so do please give this a thought. There are many children here on island that will not be celebrating Christmas in the way that most of us do so please open your hearts to them ……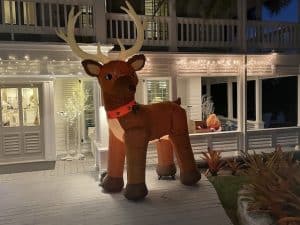 We will be donating our Christmas inflatables as well to the cause – not sure that Sprawling Towers is the place for them and it will be fun to see them in the town. Bob has convinced me that my recent non – attachment practice needs another boost so after an initial hesitation I am up for it.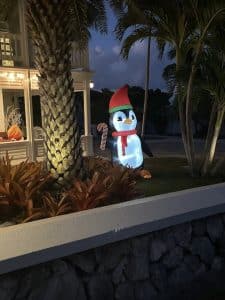 OK – that's all for this week , take care and open your hearts to what is needed around you ……