Another mish mash this week – news of progress at the health clinic in Palmetto Point and news of some cooking parties at Colman Towers !
First the cooking parties – always when Jane comes to visit we cook a Sunday roast dinner together.   And so we did last weekend. When the two of us are cooking together it is always a jolly occasion and this was a particularly jolly one.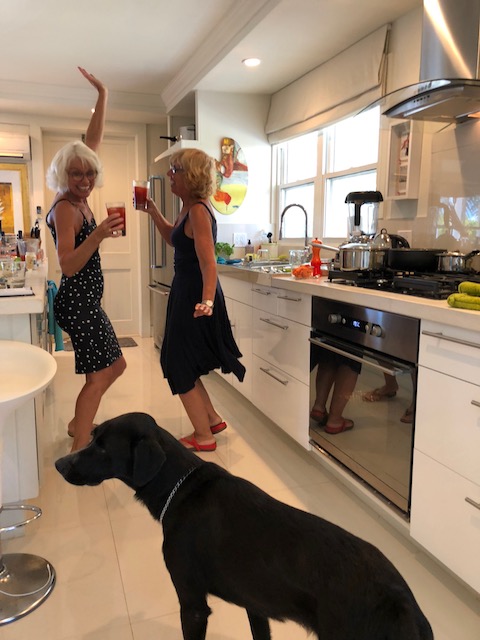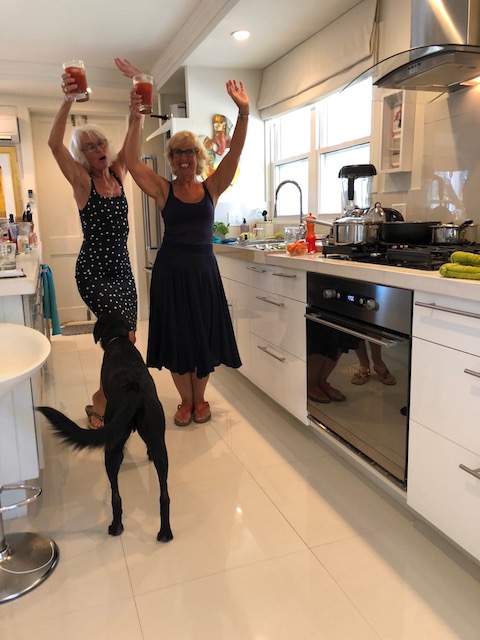 Roast chicken with Jane's secret recipe – made from scratch – stuffing, yorkshire pudding or as they are called in the US – popovers ! , roast potatoes and parsnips, cauliflower au gratin, buttered baby leeks from the garden, peas, carrots and gravy all followed by delicious apple pie baked that morning by my Mum – Mary .  …. There's nothing like a nice light lunch and believe me this was NOTHING like a nice light lunch !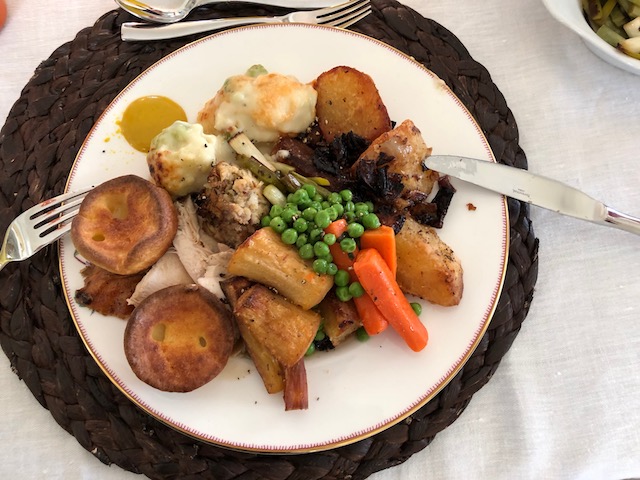 So while we preparing it we had Abba's greatest hits playing and we danced around and drank a stellar Bloody Caesar as well. Such a great time – nothing that special really apart from precious time together , making delicious food and having fun – all my favorite things ……
Monday was a holiday here in The Bahamas – Emancipation Day – and we spent it in the kitchen again – this time making 2 curries to share with good friends that evening. Jane brings me out jars of Waitrose curry paste as I know I have mentioned before and I use this as a base for the curries I make. One was with lobster and shrimp and the other was vegetarian with mushrooms, potatoes and spinach. We had poppadoms with cucumber raita and a delicious onion tomato and cilantro salad. All followed by individual fresh fruit pavlovas made by Jane – totally decadent and divine !
We did forget to take any pictures of the day or the meal so you will have to take my word that this was not a figment of my imagination !!
Now on to the progress at the Eleuthera Community Healthcare Initiative ……. I was asked to help make the clinic a comfortable setting for people visiting it. It can be a very stressful experience seeing a doctor when you have health problems so after a discussion with Dr Arlington Lightbourn my brief was to make visitors feel as relaxed and comfortable as possible instead of sitting there with blood pressure rates rising by being in too clinical and spartan an environment.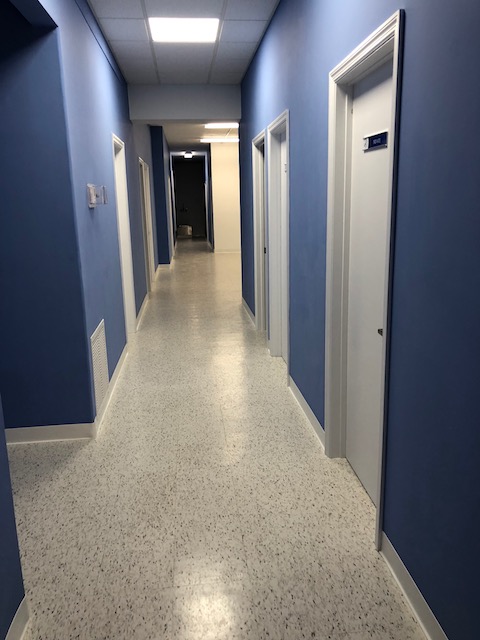 So my brilliant contact in the business section at Ikea in Ft Lauderdale worked her usual magic to get the items I had ordered – drapes, mirrors and pictures – shipped out here in record time. A huge thank you to the lovely Pauline St Hilaire who gives the very best service imaginable ! The drapes had to be pre-washed and pressed before having to avoid future shrinkage. And a couple of the large pictures came rolled in tubes with a frame they had to be fitted around.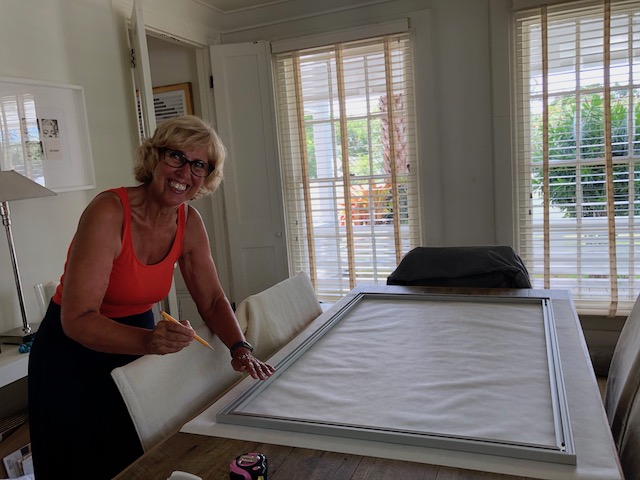 Dear Jane made short work of both interpreting the instructions and actually putting them together – another huge thank you to her as well …..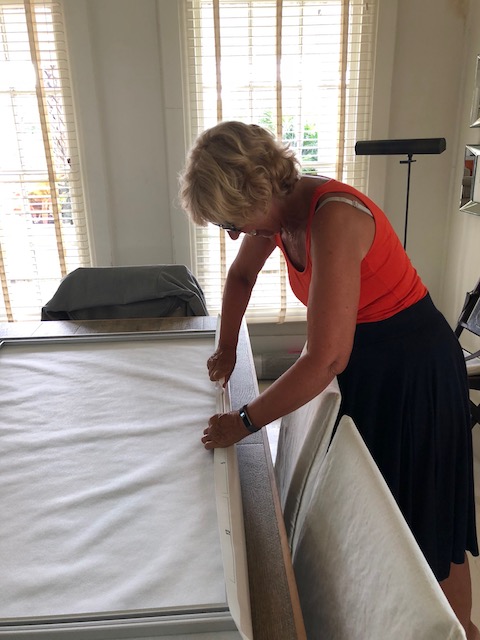 I designed a shelf unit to fit around the TV screen and again to give the waiting area a more relaxed and domestic feel and this was made up by Bob and our carpenters on the holiday weekend. Now it has to be painted in situ – getting this large piece in was a real team effort. It was very very heavy and at 82″ wide just fitted through the front door which is barely 83″ high !!  Many thanks to Cecil Petty and the laborers who worked with him to get it inside and in place …..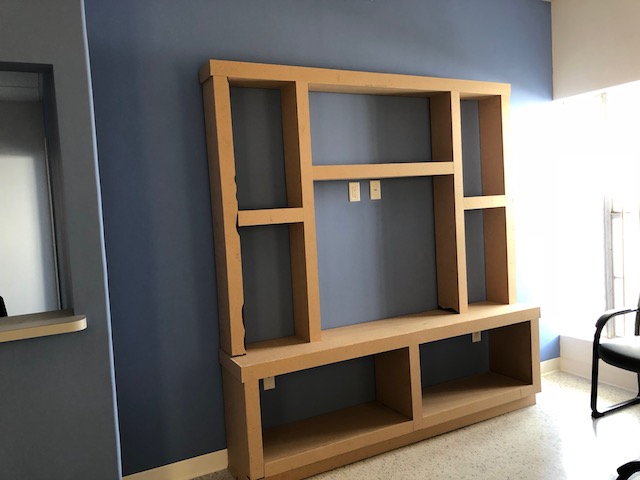 So this really is a community project – people helping to make this place a success – coming together to make it all happen. Not long now until opening time – watch this space for details ……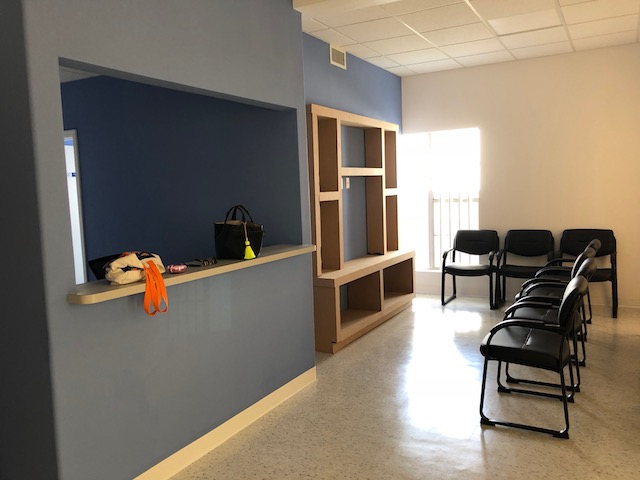 'Most of us can remember when they were inspired to that first creative thought – that moment of fear and anticipation when you tread a new trail of thought and the exhilaration when it becomes manifest.'  – this is a quote that Bob has on his website and it seems particularly apt for the creation and manifestation of the new clinic……
We look forward to many people supporting and using this wonderful new facility…..