So I am embarrassed to tell you dear readers that after living here for 14 years I have only just finally found my way to Navy Beach – up towards the airport on the Atlantic side. With my sister Jane here I decided that we needed to break the routine and try other beaches rather than just French Leave and it was a total revelation…..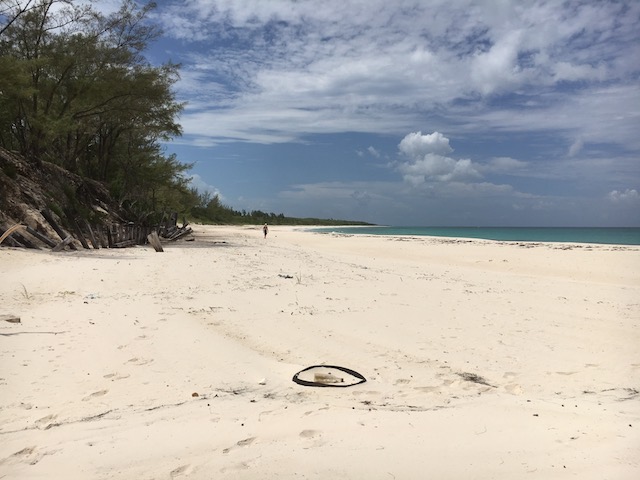 Navy Beach is apparently 3 miles long , pretty much deserted and simply gorgeous. We followed the directions in the Beach Book. As it's name suggests – it is the beach situated where the Navy Base used to be and there are still remains of the base there. All in ruins of course but interesting to drive around. Do be careful when exploring the site as part of the large area used as a water catchment has collapsed down onto the beach in one spot……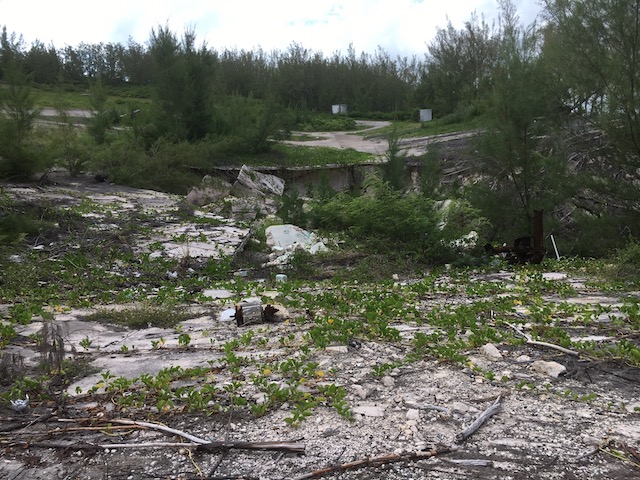 This is also the site where a new boutique resort is planned on 40 acres of the property. At this stage we haven't seen any plans but we will keep our eyes open for more news …
The Philautia Group are proposing a 20 room boutique hotel, a number of villas , spa, restaurant and various other facilities. It sounds like it could be a great asset to the island – of course much of the infrastructure is already there – so I will keep you posted with future developments.
We walked Rudge for a couple of miles and floundered in the water while he swam fetching sticks and coconuts ….. Absolutely heavenly……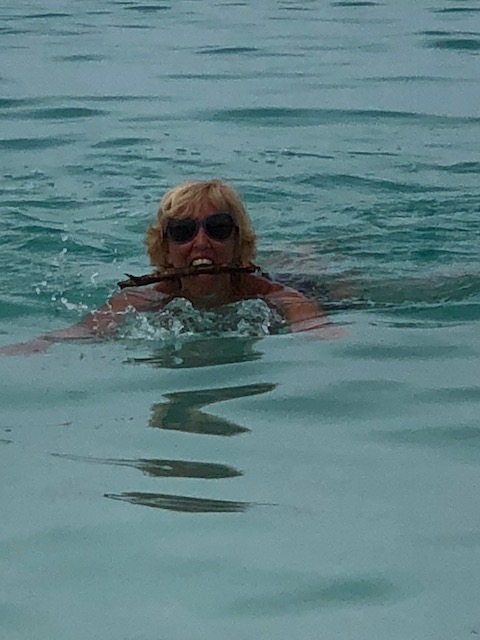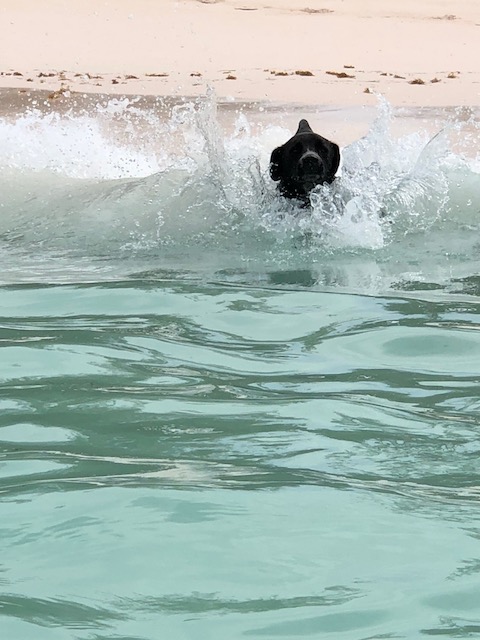 Now the trip to the vet in Gregory Town for Ceci…… So getting her in the carrying thingy was not a problem at all. This is not a kitten that needs catching – she comes up to you for a little cuddle and a little affection when you appear so she was popped in the carrier very quickly. A few quick and puzzled miaows – then within a couple of minutes she had settled down and enjoyed the ride up to the clinic.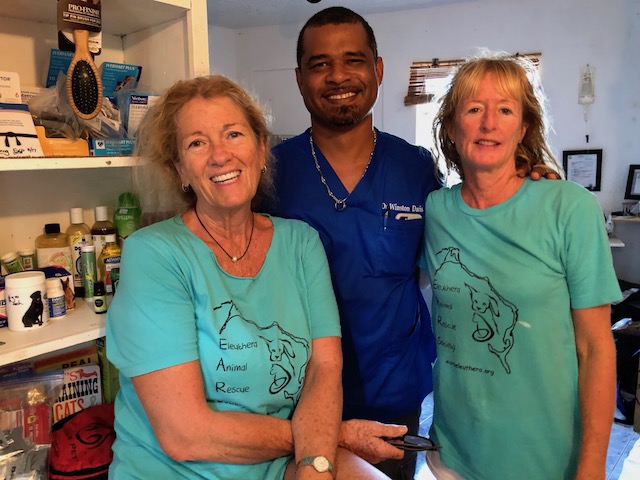 For those of you who do not know the where the Eleuthera Animal Rescue Society  is – it is situated in the building next door to where the Laughing Lizard restaurant used to be. At the moment it is a small facility but there are plans afoot to have more space fairly soon.  It was a sociable affair – we met up with Tanya and Tavares Knowles – she is the very talented baker who makes all sorts of fabulous cakes to order. They were having a couple of puppies checked over and neutered.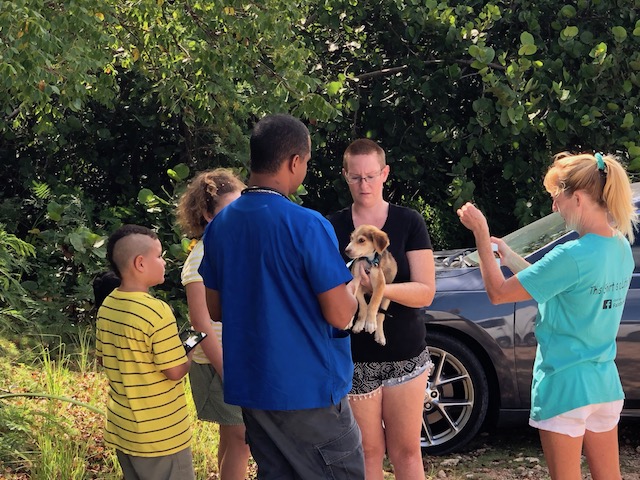 In fact there were a total of 9 cats and dogs for spaying and neutering. Ceci just got her first vaccination and was wormed – she will go back in 2 weeks for spaying.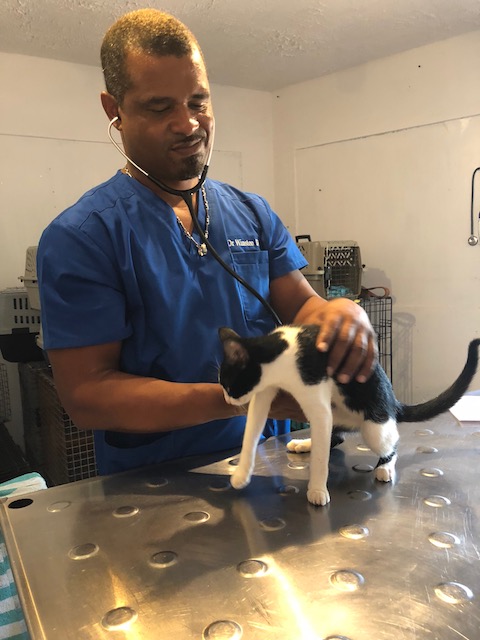 The clinic is run by Erica Mowen, Sally Gamble and Ann Glucksman- truly dedicated animal lovers who have worked tirelessly to get this clinic up and running. The visiting vet who comes over every 2 weeks or so is Doctor Winston Davis from Nassau – he is based at the All Creatures Animal Clinic.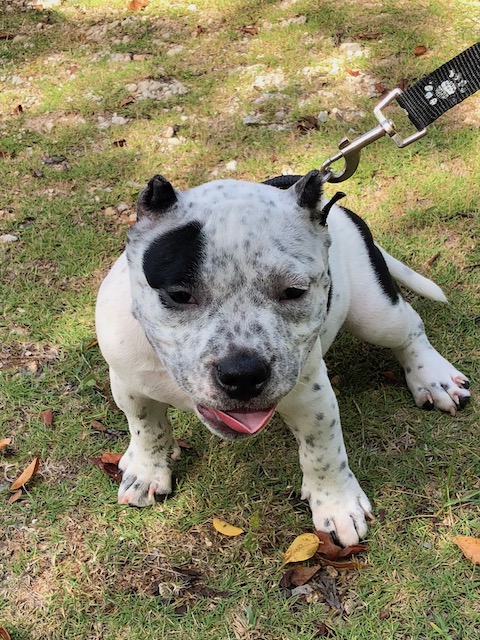 If you are on the island and wish to make a donation to the Eleuthera Animal Rescue Society then you can go into the branch of the CIBC First Caribbean Bank in Governors Harbour and pay your donation – small or large – into the account in their name.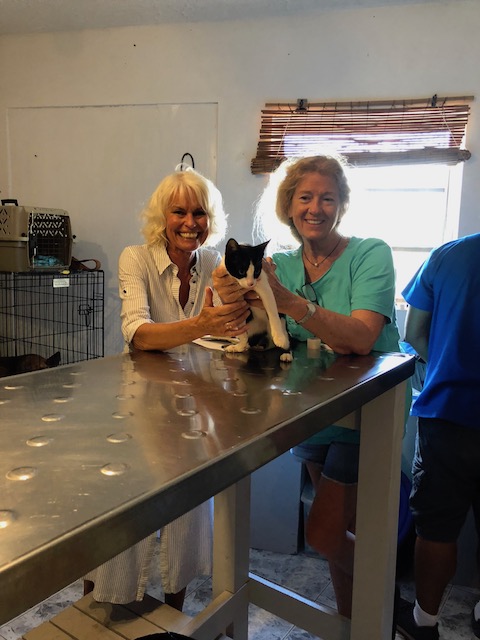 I am currently trying to find the US site on Facebook where you can make a tax free donation……
This is a wonderful facility run on the determination and grit of 3 women on the island. It is the first time I have been there personally and I am really impressed with what they offer. Let's support them as much as we can…..