So off we went from GHB – Governors Harbour of course – to JFK New York and then back home again – but what a great trip we actually had. We met with some wonderful, kind, friendly people in all sorts of circumstances and had some truly memorable experiences.
We were traveling to NY to meet up with Bob's son Cassius who some of you will know has an art gallery in London. Nelly Duff – as the gallery is called – was exhibiting at an art fair called Moniker in Brooklyn so it was a good opportunity to see him. It was our grandson Indi's 13th birthday as well – May 4th – the star wars baby as I called him – I have always remembered his birthday because of that. May the 4th ( force ! ) be with you – get it ???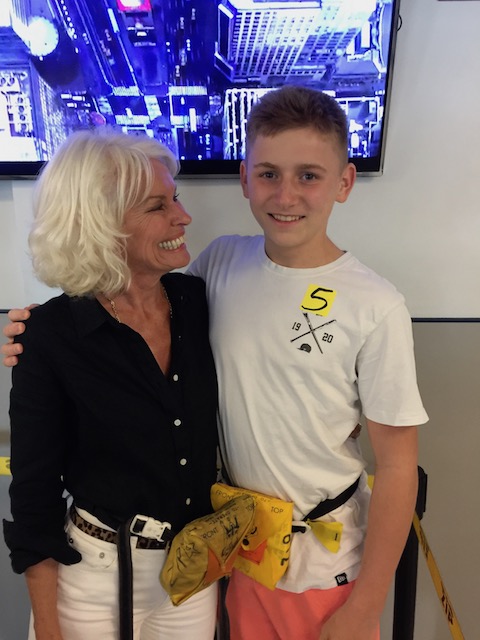 Anyway I decided to book a helicopter tour of New York as his birthday present – so we all met up on the morning of his birthday – Bob, myself, Cassius, Jessie – Indi's Mum – and the Indi himself. Well what a fabulous time we had. Everybody at the heliport was friendly fun and kind – they really do make it feel like a special occasion even though they are doing it umpteen times a day – every day ! We had an absolute blast. Indi sat up front with the pilot Adam – a lovely young chap who actually only looked about 15 himself !! Anyway he wasn't 15 and he did a great job. The helicopter was a beauty – very sleek and modern – a real luxury job. And the tour was spectacular. The trip we took takes you over all 5 boroughs of New York and you see all the sights you want to…… I highly recommend Zip Aviation – we booked through a company called Viator on line and it was all handled perfectly. Very safety conscious , efficient and friendly.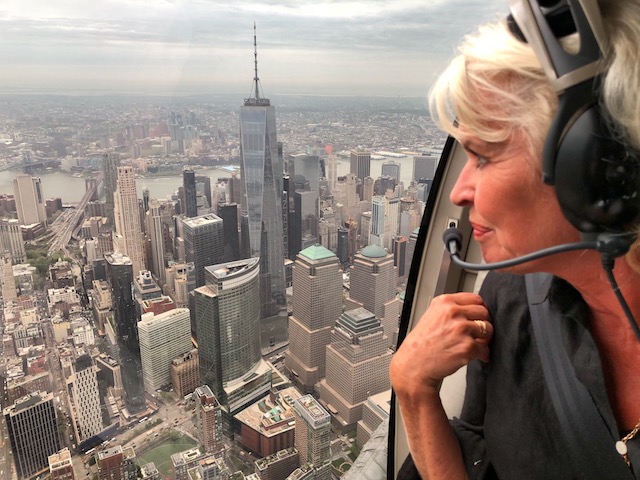 It was truly memorable for all of us and I am sure that Indi will remember his 13th birthday for a long time to come.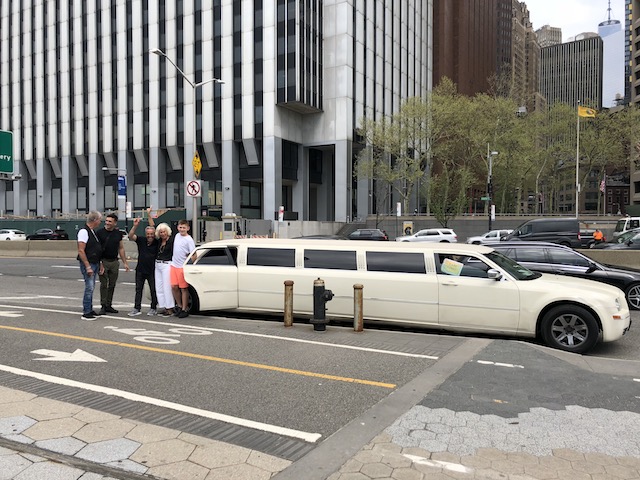 As we came out of the heliport there was an old limo waiting there to try and pick up some customers – so instead of taking a cab we jumped into the limo and the driver Tom took us up into SoHo to have a brunch at our favorite hotel – The Crosby St Hotel. Delicious and so lovely to be remembered by some of the staff who were there when we stayed there nearly 2 years ago !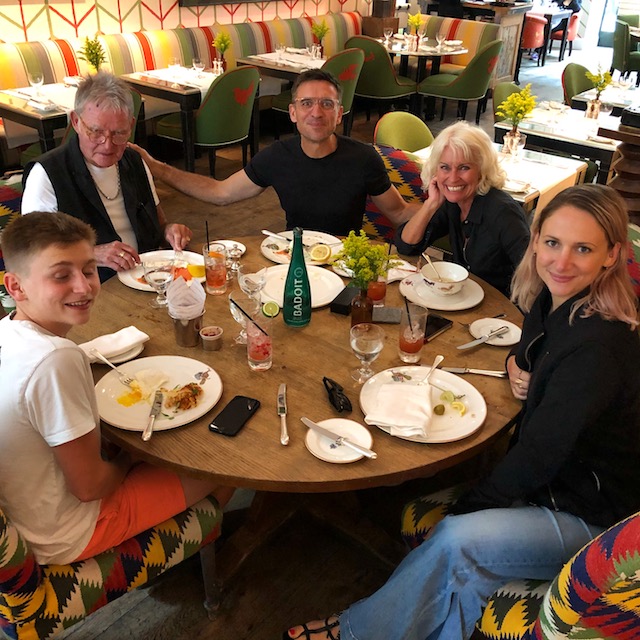 The next day Bob met up with Cass and Indi to go to a baseball game at the Yankee Stadium – what an experience. While they were doing that I went off for a little unsupervised shopping and a haircut – always a priority when you live on an island !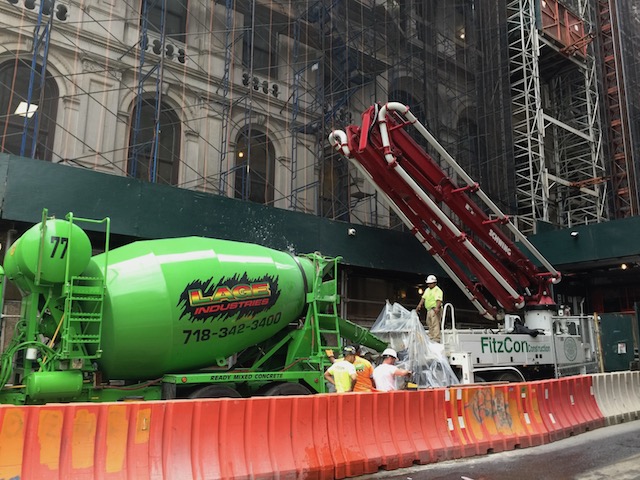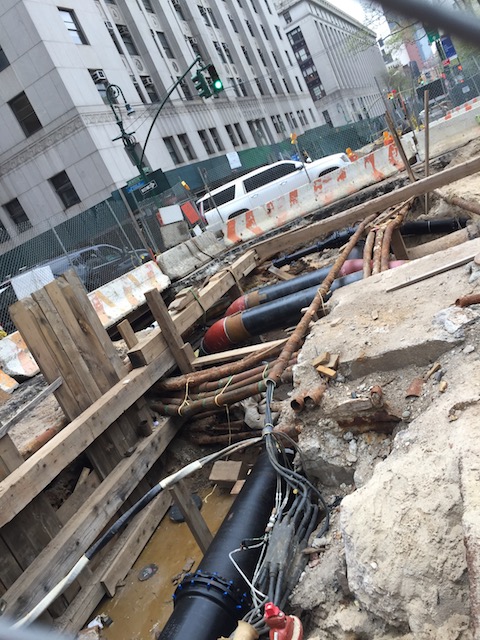 Of course I had done some research about restaurants in the city and had a list that I had made from the Conde Nast Traveller review of the top 30 restaurants in New York. On Saturday night we ate at a very small but exquisite Thai restaurant called Uncle Boon's in Spring St SoHo – walking distance from where we were staying. I tried to book but couldn't so we just did an early walk in. We had a drink at the bar while we waited about 20 minutes for a seat at a bar table. The American waitress gave us her top recommendations and the dishes were superb. We started with the best grilled octopus we have ever eaten, followed by snails in a green curry sauce, crab fried rice , and their northern style golden chicken curry- now all of this food was absolutely delicious – but the light in the restaurant was not good and they did not photograph well at all – so no pictures from there I'm afraid !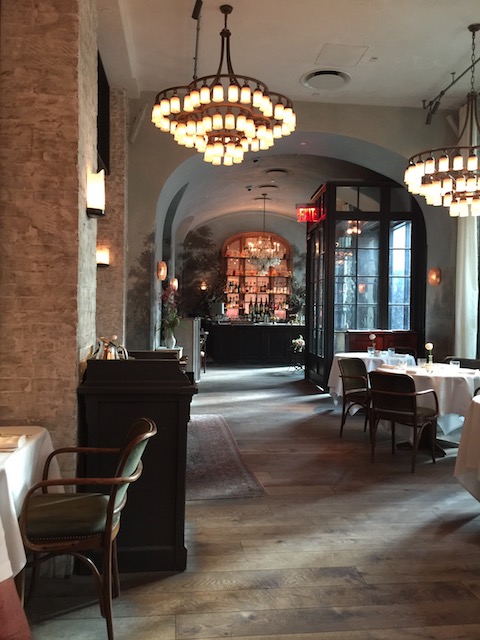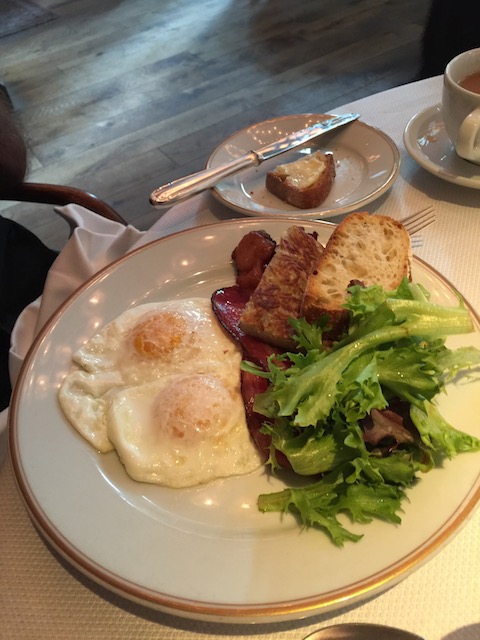 Another great place we ate was called Jack's Wife Freda. This is on Lafayette St – I had Bloody Mary Mussels – very very good and Bob had a lasagna – also very good.
The last night we ate at Le Cou Cou – also on Lafayette St. This is a fancy French restaurant and we had a terrific meal. Apart from a slight hiccup – Bob's appetizer of skate was not very good – and they removed it from the bill without question. To me – as I have said before – it is not about getting everything right every time – it is about how you deal with it – and they dealt with it without fuss and with charm and grace.  I had champagne and oysters – oh my ! – followed by a monkfish and lobster fish stew – delicious. Bob had a pike quenelle with a champagne beurre blanc sauce. Now it's not very often that I think someone has chosen something tastier than mine – but this was one of those times !!! It was off the scale of delicious ….. Next time ! Desert was also just fabulous – one of those really memorable meals even if it part of it wasn't mine …..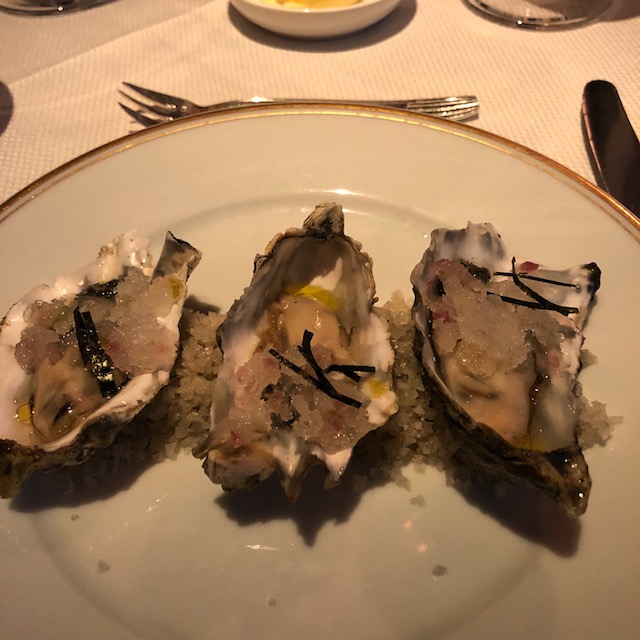 There is something else that I want to write about our trip – but this much more than I usually write so I am going to save it for next week – and keep you in suspense !
For more pictures do follow us on Instagram – bestofeleuthera …….