Yes friends – Happy Easter to you all who celebrate it and happy day off or 2 to those of you who don't….. Over here we have 2 days off – Good Friday and Easter Monday so a lot of people are looking forward to that break.
Traditionally Easter Monday is the day when a lot of Bahamians go to the beach and take their first dip in the water. Well I am happy to report that Jane and I have braved the sea and taken a dip already – actually it was only on Tuesday of this week – but it felt good ! A little nippy when we first went in but really calm and perfect for floundering about. Even Rudge  did a lot of swimming – racing Xena to fetch the bumper that Jane was expertly throwing for them !
The Atlantic has been pretty choppy and rough for the last few weeks so it is lovely to see it looking so calm and inviting.
I know that some of you do Wordle on a regular basis – the rest of you won't be interested in this bit at all – but listen to this – last week I was doing my usual early morning session on Wordle – Jane was there – in fact she was the one who got me hooked on it. Anyway – she always uses the same 5 letter word to start it – and I said – OK Jane I am using your starter word – bread – in your honor – and just look what happened !!! Such a treat – never ever happened to me before – but it made my day and still makes me smile when I think about it. It is the little things in life that lift us isn't it ?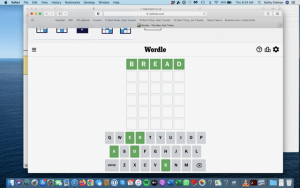 While Jane has been here we have tackled sorting out the garage – lots of boxes to be gone through – some stuff thrown away – some stuff retrieved and some put into the for sale pile ! But I have been shocked at how I just cannot work for the length of time I used to be able to. A few hours and that's it – I have to stop , eat , rest and resolve to go back to it the next day. But we are getting through it and can now actually see parts of the floor !
The work on the house is continuing – the 2 downstairs rooms are now tiled and the bathrooms are coming on. The small kitchens in Bob's studio , one of the downstairs studios and the gardeners cottage are underway – most of the cabinets have arrived but still waiting for assorted bits and pieces to get them fitted. It is heartening to see the progress that is made. One day I will write that we are all done and dusted – but don't hold your breath on that one !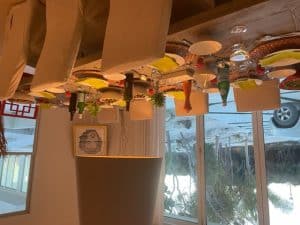 One night this week we had 6 friends round for supper – so 9 of us in total which actually is a substantial number to cater for when I am only used to 2 or 3 of us. But we had a great night and the slut's kitchen came into it's own as the perfect dumping ground for all the dirty pans. Jane and I cooked a great vegetarian pasta dish as we had so many of the baby sweet tomatoes I showed you last week. So pasta with pesto sauce, baby tomatoes, wilted spinach , fresh asparagus, and butter fried mushrooms. Oh and some lovely island grown broccoli. It was delicious – and a salad with island grown greens and some beautiful peppery nasturtium  flowers and leaves.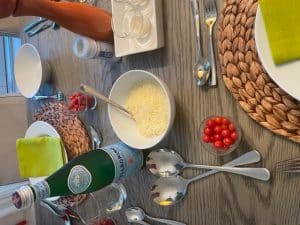 Jane made a brilliant salad dressing – you know one of those that you make up as you go along and can never be repeated ! It was a lot of work the results were definitely worth it…..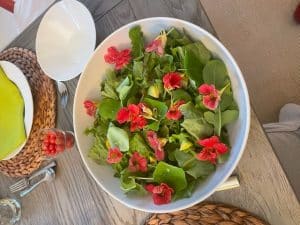 Good times with good friends and good food is one of life's pleasures to be treasured and valued – these times make up precious memories – even better if you have a few photos to remember it by.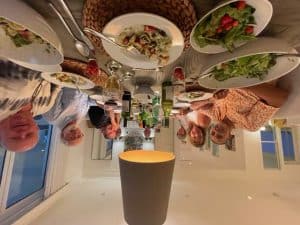 Does anyone else find that their pictures on their phone is the modern version of a diary ? I so admire people who do write in a diary or journal on a regular basis – but I am not one of them. Although I suppose that this blog is a bit of a diary as well….
OK then dear friends – have a lovely long weekend but do remember the lonely and bereaved, the ones suffering from depression or any other illness and be kind whenever you can to them……