A quick trip to Florida for the Colmans this week. So guess what – a few details of meals we have eaten and things we have done. We flew on Monday – of course with Aztec – and let me tell you it was a long and bumpy ride. There was a weather system over Fort Lauderdale and the surrounding ocean so out trusty pilot Arther had to detour a bit to the north to miss the worst of the weather. But of course we landed safely and we were soon on I95 heading north to stay in West Palm Beach.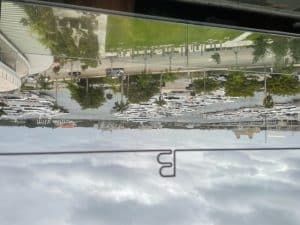 We decided to stay here because I wanted us to head north on Tuesday to Vero Beach Outlet where there is a RH Outlet store, as well as a Design Within Reach store and a Mitchell Gold & Bob Williams outlet as well.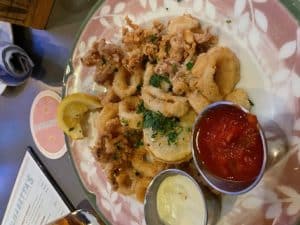 Let me tell you about dinner on Monday night first ! We went to an Italian restaurant directly in front of our hotel – The Ben. The restaurant is called Elisabetta's. It was fun and vibrant, a large seating capacity and plenty of people there. We ate at the bar as it was a 45 minute wait for a table and I was not up to that …..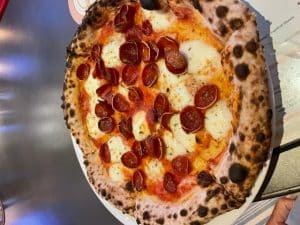 The staff were friendly and very efficient and the food came quickly. I had fried calamari with a divine garlic aioli – tender, tasty and just perfect ! Bob had a pepperoni pizza and I ate all the crusts dipped in the garlic aioli. A couple of glasses of draft Peroni beer for me and a large rum on the rocks for Bob made for a really great evening.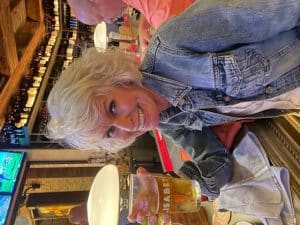 A leisurely breakfast in the hotel and we set off to Vero Beach. We didn't find anything that we couldn't live without but I am glad we made the journey and had a really good look around. That is the thing with outlet stores – it is the luck of the draw – sometimes you hit the lucky button and find something that can work for you – but other times not – and this was a not !
Tuesday early evening and dinner at Sant Ambroeus – we came here a couple of years ago and loved it so back we went. Once again we met up with Bob's nephew Dean – the artist – who is staying in Palm Beach Lakes. It is always fun to catch up with him and hear his news whist enjoying a lovely meal.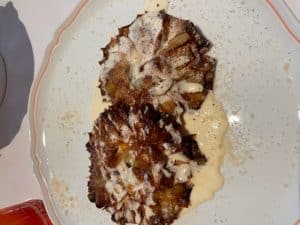 I started with a sensational artichoke dish – they had been made into a sort of fritter but were incredibly delicate with a mornay sauce that they were laid on. Bob and Dean shared a fritto misto that also delicious. I have to admit that I tasted some of it – purely in the interests of research you understand.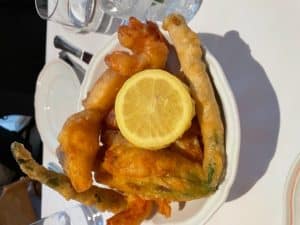 I had looked at the menu on line prior to arriving and already decided on my main course. I had linguine with crabmeat which was as good as I hoped – but even I could not quite finish it – which is very unusual for me ! Bob had one of the day's specials which was bucatini with an arrabbiata sauce. This is a great restaurant and it was a delight to be there. I absolutely love the people watching in there – a few of those amazing Palm Beach older ladies – or matrons – lifted within and inch of their lives with immaculate hairdos and perfectly turned out. There is a younger set as well – but it never fails to entertain between mouthfuls of sensational food just taking in the mixed clientele …..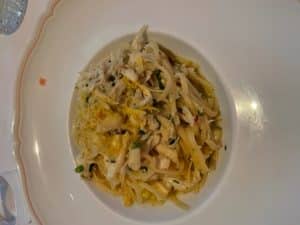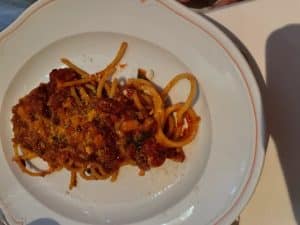 On Wednesday – today as I am writing this – we are heading back to Fort Lauderdale for 2 free nights at the Conrad Hotel. Bob has always laughed at me for joining the loyalty schemes that the hotels run – but to find out that we were going to get the 2 free nights made him think again !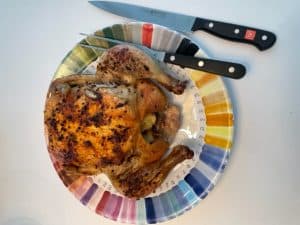 Well I hope that you all had a nice break last weekend – we all sat down to a lovely roast chicken lunch which Jane and I prepared together and then devoured ! Have a lovely weekend  dear friends and spread a little kindness where you can ….