If you are renting a house in Governors Harbour Eleuthera or nearby and want to have a dinner party – take note !
Bob and I decided to have a dinner party recently for 11 people – and whilst I love cooking myself-  at the end of a busy working week I decided to ask 2 local ladies to do the cooking.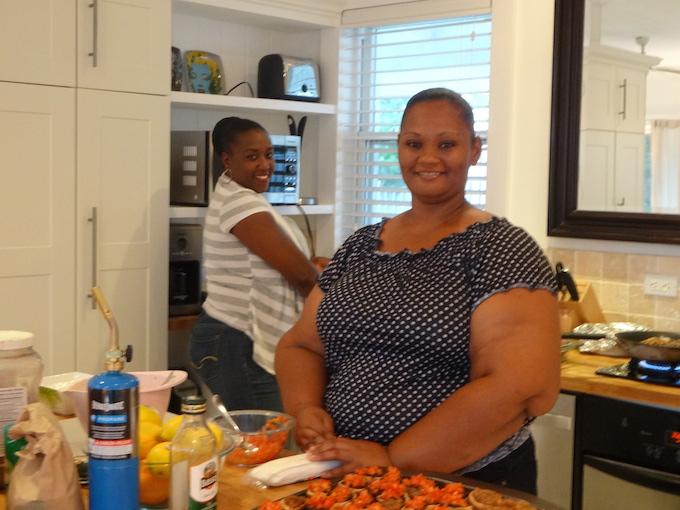 Neshia Micklewhite and Elka Green are both very experienced in the catering business and so it was fun planning the menu with them.
They came to  Sweetcorn House – where we were holding the party- during the day to prepare a lot of the dishes and were very brave about being on full display with our guests later on – the kitchen, dining and lounge are are all open plan !
Remember this is down time in the season here in Eleuthera so even the food stores are not bringing in as much variety as they do not have the same turnover as later in the year.
However the fish available is fantastic as always so grouper and lobster were the main central part of the menu with chicken for any non fish eating guests.
To start we had crostini with home made pesto and finely chopped tomatoes and also crostini with caramelized onions and goats cheese.
I just looked up the difference between crostini and bruschetta which I had never understood before and found out that it is crostini when you cut the bread into small slices and bruschetta when it is a topping on a larger slice of bread – so now we know !
I made clam dip as well –  my only contribution to the meal !
The girls made a seriously good scalloped potato dish – one of those ones where you look carefully at how much is going to be left over because it seems even better the next day ! – and also a lovely big dish of fresh broccoli and fresh carrots. A large mixed salad as well was on the table as encouragement for a healthy eating ….. ha !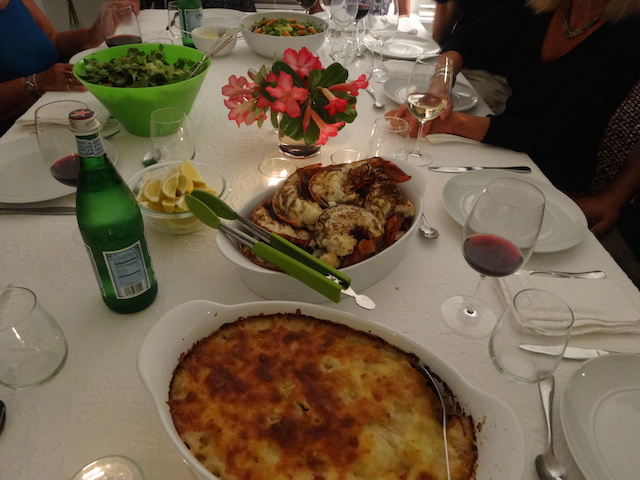 The grouper was baked with a herb and breadcrumb topping and the lobster tails were cooked by Neisha – somehow she sealed the lobster to keep all the flavor and succulence in – not dried out as it sometimes can be. Usually when I cook lobster I steam it to keep it tender but I am looking forward to my cookery lesson with her to find out how to do it her way !
They stuffed the chicken breasts with mushrooms and spinach and then baked them – also absolutely delicious.
Desert was a choice of warm chocolate brownie cake with ice cream or coconut creme brûlée – this is also on the agenda for my cookery lesson !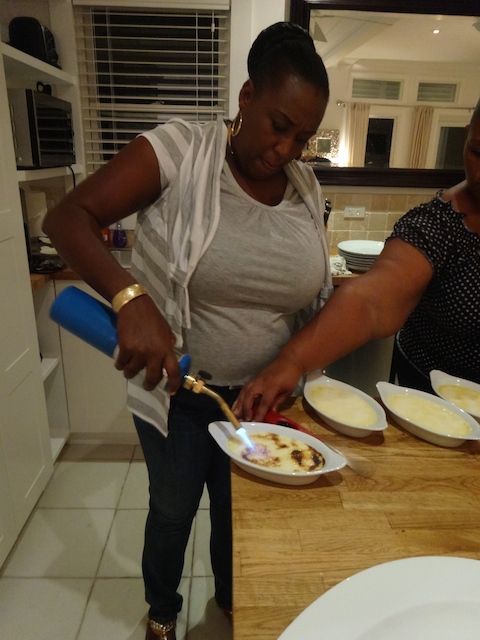 I love to cook savory food but as I don't have a sweet tooth my repertoire of deserts is limited to say the least so a lesson in creme brûlée will be a welcome addition ….
Well the party went with a swing – everybody ate way too much and had a lovely time and Neisha and Elka cleared up everything and left the kitchen looking as if nothing had happened there …