Many of you will already know that this blog site – Best of Eleuthera has been infected with a virus. I have had WordPress Support work on it repeatedly to try and clear it. It appears that it has been cleared now and hopefully that is the end of it – but do please be careful and whatever you do if it takes you to anything other than the blog – do not click on anything !
Why anyone would want to hack this site remains a total mystery to me but who knows ??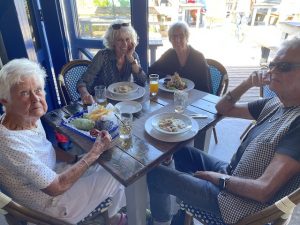 In other news,  the virus I have personally is a horrible common cold – a throat that felt like it was covered in razor blades , a runny nose and a hacking cough. And yes on Monday morning I hotfooted it off to get a Covid test – thankfully negative….
Last week Jane and I took a trip up to Harbour Island. I had to go to RBC bank to collect a couple of debit cards so of course we decided to have a nice lunch up there at my favorite spot – The Dunmore. I love the decor of the place as well as the restaurant setting and the food itself. Service was great and we thoroughly enjoyed the treat of a meal together with no talk of what needs packing up in the house next !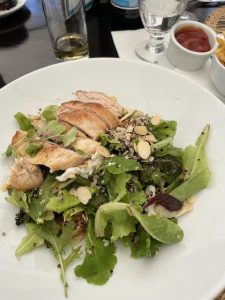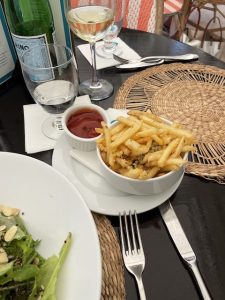 We are gradually working through all our possessions at Colman Towers – sorting all our books was the first task. Deciding which books we could happily leave behind and those we would pack up and take with us to the new house. Well all of that is done and with some nice rearranging it all looks good.. The books for keeping have all gone into our storage unit and I swear that I hear Buena Vista give a sigh of relief at such a weight removed from her shoulders ! Before Jane came , Bob and I sorted through our DVD library as well – around 800 we had ! and we have kept about half of them – the other half will stay in the house.
The linen closet is partly done but don't even mention the attic – the stuff of nightmares …..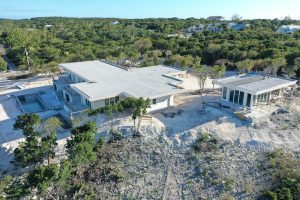 Sprawling Towers now has a completed and watertight roof – such a relief to get that done – so bring on the rain whenever you are ready – let's get this water cistern filled. The windows are all trimmed and detailed on the outside and I love how they look. the paint color for the exterior has to be decided soon – trying to get the perfect shade is never easy and we cannot afford to make a mistake on that amount of wall. But it is a joy to be facing these decisions whilst feeling poignant about the leaving of Colman Towers – our home for nearly 18 years …..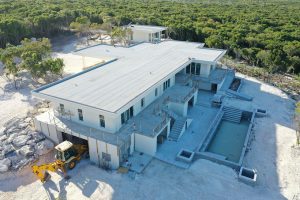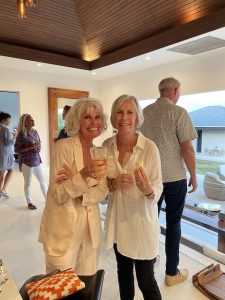 Have a great week , stay safe and keep the people of the Ukraine and all areas of conflict in your thoughts and prayers …..