I recently went to chat with Governors Harbour resident Bill Burrows to hear his memories of the Potlatch Club in Eleuthera. Bill was born and bred in Governors Harbour and he worked at the Potlatch Club from 1961 until 1971…..  Potlatch for those of you who don't know was on the Banks Road – just before Tippy's restaurant and Pineapple Fields – you can see some of the old run down buildings still – just about standing. Both Tippy's and Pineapple Fields are on the parcel of land that once was the Potlatch acreage.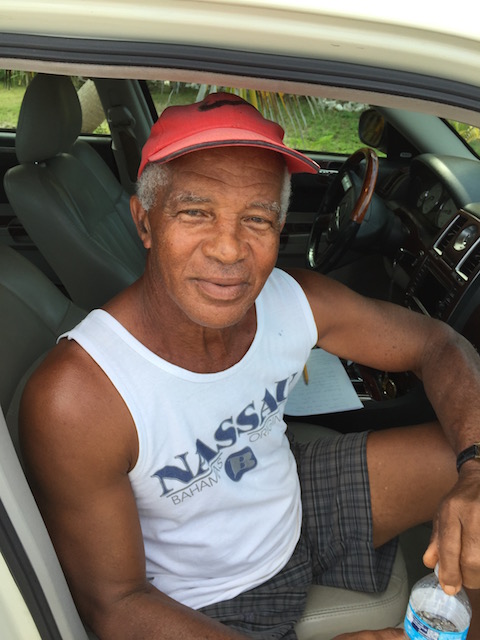 It was a hotel / club that grew in an amusing organic way – more of which later. There had been a private house on the 60 acre site since the late 1940's but in 1958 Elizabeth Taylor from the East Coast of the US visited Eleuthera to play golf and was captivated. She immediately contacted a friend of hers – Mrs Diane Adams and told her she needed to get down here ! Diane Adams, Marie Drakes and Elizabeth Fitzgerald then set up the Potlatch Club. Local contractors James Gaitor and Richard Rolle did most of the building work.
Potlatch is a term derived from a North West American Indian ceremonial feast – where possessions are destroyed or given away to display wealth or enhance prestige !
Bill Burrows commented that it was not run in a very business like fashion – they would invite their friends down who would stay for weeks and bills were often not presented for the visit ! He remembers a sign which used to be hung at the club which read – " This is a non-profit organization – it wasn't meant to be so – but it is ! "
Bill quickly learned to wait at table as well as becoming head barmen. He rapidly read up on how to make some of the more exotic cocktails they demanded and offered a great service to all the guests there. He became very well loved and was tipped generously. He fondly remembers Sir Harold Christie from Nassau who used to tip him one English pound during the sixties – worth the equivalent of around $50 now ! As an aside Sir Harold Christie from Nassau owned the house that we live in – Buena Vista – it was his vacation home !
Bill worked with the late Charles Sands and the pair of them used to enjoy serving early breakfasts on trays to guests who wanted an early start to go bone fishing – the kitchen didn't start serving breakfast until 8am. Lunch was a buffet served around the pool and dinner a much more formal affair served in the restaurant. Guests would often arrive for dinner from Cotton Bay south of Rock Sound. French Leave was also open at this time and and the 2 places co-existed and were on very friendly terms.
Potlatch Club was perceived as an exclusive and sophisticated resort and according to Bill paid the best wages ! The club began to suffer financially given their un- business like approach so the ladies came up with a great scheme to raise much needed money. They sold off building plots to guests who would then have their own houses built which would be their home but also would provide accommodation for more hotel guests – a way of bringing in much needed capital but also in effect growing their business. These houses are still here on the land that used to belong to Potlatch. The architect Ray Nathaniels – living in Nassau at the time was a popular choice for designing several homes here in Eleuthera as well as having been involved in the design of the main building at Potlatch.
Sadly in 1971 Bill was warned by the hotel's accountant that the business was about to fail – and he suggested that Bill look around for alternative work.
The place did founder and fail in the early seventies but was bought in 1979 by Robert Joiner but it never was open again as a hotel. Ros, his daughter , told me they would often be sitting around the pool and people would turn up and ask to see a lunch menu -only to be told that it was no longer a hotel !
The Potlatch Club had plenty of famous guests – all treated with the same quiet privacy that all their guests enjoyed.  Richard Widmark, Raymond Burr, Rita Gam, Greta Garbo and perhaps most famously Paul McCartney came on his honeymoon with his first wife Linda in 1969
After Bill left the Potlatch Club in 1971 he began a long career as a very good painter and decorator – but that is for another blog !
Many thanks to Ros Seyfert from Haynes Library for the Potlatch Club brochure. What a treasure trove she has !