This week I want to introduce you to the newest member of the team in Governors Harbour up at Governors Estate. The new member is Ceci – a feisty little kitten who has wriggled her way into our hearts ! I have never written about a cat before – mainly because in the 14 years we have been here we have never had one. Bob and I are both dog people through and through – and I have only ever had one cat in my adult life. His name was Wilmot and it was many many years ago……. a story for another time.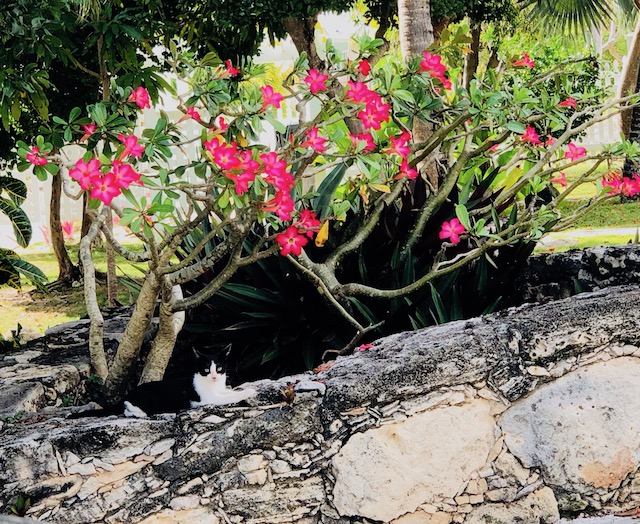 Anyway back to Ceci …… She was first bought back to Sweetcorn House by some of our renters who found her on one of the local beaches. She was tiny ! Anyway – they fed her and played with her for the week they were here – and then seamlessly she was taken under the wing of renters staying in the Yellow House. One of the ladies there was called Ceci and she particularly fell in love with her. She was fed on fresh cooked salmon, chicken and all sorts of other luxury foods – the kitten I mean ! Ceci the renter was desperate to know that the kitten would be cared for and so I promised her I would make sure that she was …. And of course named her in honor of her protector !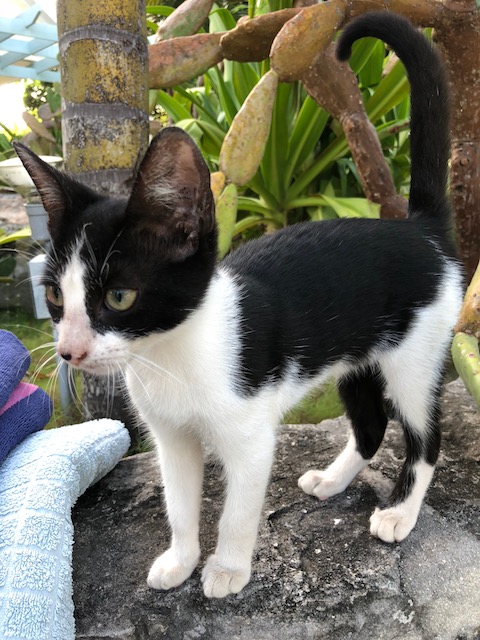 Well a couple more weeks have gone by and she is totally established here. She travels from one rental house to the another being fed and feted and fussed at every place. Unlike all the other feral cats around here she loves to be picked up and cuddled and played with – she is an absolute sweetie and she now has the grand title of Official Estate Cat. In another couple of weeks I will take her to be spayed and generally checked out – although I can tell you now she is very hale and hearty ! However she is most definitely not house trained as I discovered after she accidentally got shut in one of the empty houses overnight ….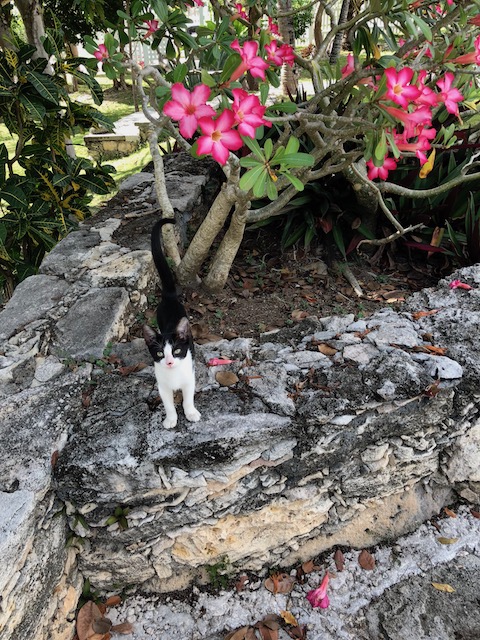 She has not been introduced to Rudge just yet – that will come in due course.
This week on July 10th it was another birthday for the Bahamas ! 45 years since the Bahamas became an independent country and the reason why there is a day off for celebrations …..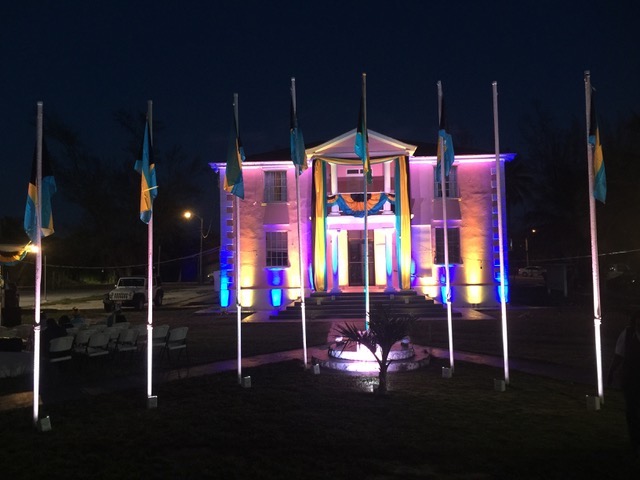 Bob drew in a great couple here who do all the staging and lighting for the Jazz Festival – the very talented husband and wife team Bruce and Shannon Curran from NYC – and they staged all the lighting of the Administrators Building here in GH for the official service on the night of July 9th. The building looked absolutely terrific don't you think ?