Hello to you all dear readers – I hope that all is well with you. Here we are in September and the island is getting quieter and quieter. So not much happening here at all apart from our own building project which is moving on apace ….
Last week as I think I told you Bob and I had a 3 night trip to Ft Lauderdale. I had to have one of my top front teeth filled which I was dreading. Normally I am very laid back about any treatment but I must admit this one was worrying me. Of course it was totally painless and it is very hard to actually see it – Dr Stone is such a great dentist and I made sure that I told him that several times ! All that time spent worrying was a total waste ….
We went back to the newly re-opened Timpano Las Olas as it is now called. Very good Italian food but my goodness the place was incredibly noisy. We asked to be moved to the quietest spot and it was a big improvement. I love a buzz in a restaurant but this was beyond the pale – next time we will ask to be sat in the quiet room from the get go .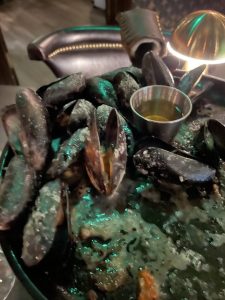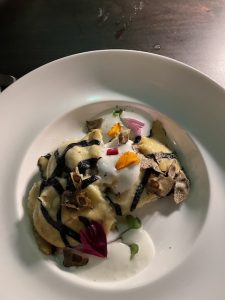 Jane, my lovely sister is with us until this Friday – she has been a help beyond measure in the 8 weeks she has been here. Not least because we have taken 2 short trips to Fort Lauderdale in that time and of course she has dog and cat minded as well as being here for my Mum. I will miss her so much when she leaves. Always plenty of tears shed – but at least now that she has retired she can come back soon.
And so onto a good few pictures of Sprawling Towers. There has been plenty of outside planting going on – I love large agaves and you can see from the pictures that they look very grand and architectural…. Palm trees have gone in as well – in our book you can never have too many…..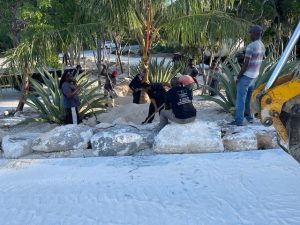 The drawers and shelves and doors are going on to all the kitchen units and the countertops are all measured up and in production in Miami. Should be ready by the time we get back from London at the beginning of October.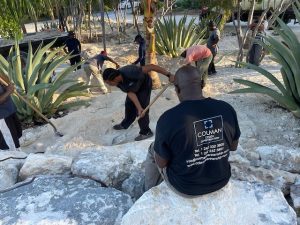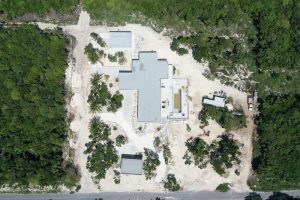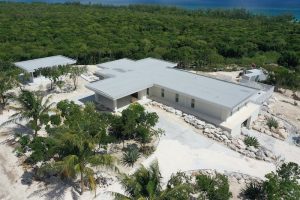 Hope that all of you in the US enjoyed your Labor Day weekend and that you enjoy this coming weekend as well. Take care and as I always say – be kind wherever you can whenever you can…….