This week I am looking back over what I wrote about in some of the years gone by of blog writing. At this time of year it is hard to find much to write about as everything has wound down so a little nostalgia doesn't go amiss – does it ?
First one I looked at was in August 2016 – the year and month that we found dear Rudge as a tiny puppy – we didn't actually get him home until late September of that year but it is lovely to see the tiny cute puppy we fell in love with in Tarpum Bay – here is a link to that blog ' Our new Potcake Love Story '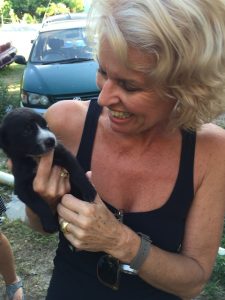 Then in August 2017 I wrote about progress at Anchor Point – and said that the apartments should be ready around the end of November . And now we have just agreed the sale on the last of those 6 apartments – a lot has happened in those 5 years. They have been a great success – many people have enjoyed vacations there – in fact my sister Jane is staying in Apt 2 – that last one that we own – although I think I may have told you that already. Please forgive me if I have !!
Back to 2014 and I found one of my absolute favorite blogs – nothing to do with Eleuthera but about my over enthusiastic liking for the color orange ! 'How to go from liking to obsession in a few easy steps'  
I am happy to see that I am still using a lot of the items I photographed for that particular blog …..
And now a little catch up on Sprawling Towers. This week we had the frames made on site for the vanities in the 2 bathrooms. They will be tiled when they are finished and of course I will show you the final pictures when they are ready.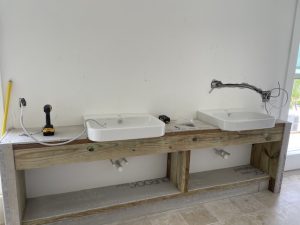 Outside we are getting ready for the planting of palm trees – there are some lovely big deep holes just waiting for the trees to go in. Shouldn't be long now I hope…..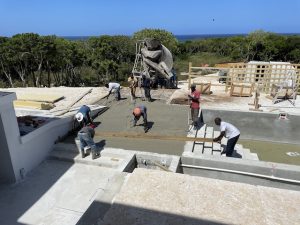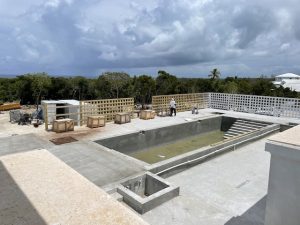 Sunday lunch at Tippy's with a side order of rain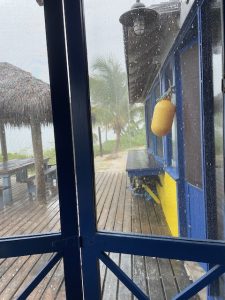 Now here is that gorgeous girl I told you about last week….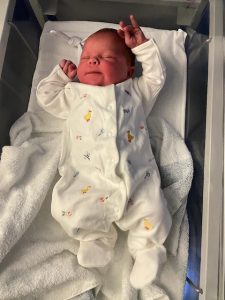 Have a great week and be extra kind to those people who unbeknown to you are having a tough time……
Now this is absolutely the last picture – take a look at a woman's little finger – or pinky finger to all our US readers – and believe me when I tell you that this teeny teeny frog was only that big ! Thanks to my lovely sister Jane who had her phone ready to catch this picture.