So last week I left it that we were heading back to Fort Lauderdale – and the heavens really opened. Talk about a downpour – or two or three ! It was torrential in Fort Lauderdale. I am sure that a good few of you will have heard and seen the pictures of the closed and totally flooded international airport. 25 inches of rain in one day – absolutely biblical. The picture at the top taken from our hotel room at the Conrad gives you and idea of how grim the weather was – can't see the difference between the sky and the sea and it was just driving rain.
However it did not stop us eating – we had a really great meal in a Thai and Sushi restaurant on Sunrise Blvd – called Heart Rock. I will describe the interior as very budget friendly and maybe spartan – formica topped tables and all very utilitarian – but the food was absolutely delicious. We had vegetable spring rolls, shrimp pad thai and a massaman shrimp curry. On a bleak , howlingly windy and excessively rainy night it was just perfect.  Very budget friendly in every way ….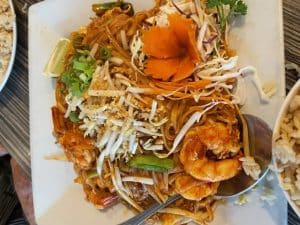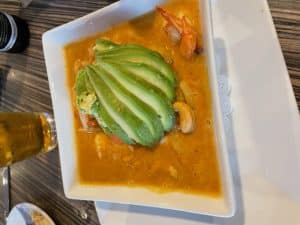 The next night was even rainier and I had foolishly booked for us to go to Timpano – an old favorite on Las Olas Blvd. The flooding was crazy and the traffic was horrible – but eventually we arrived and enjoyed another good meal. They have a house speciality of baked mussels which we shared followed by rock shrimp risotto for me and another daily special of pasta for Bob ….. Thankfully by the time we left the flooding had subsided a good bit and we made it back to the hotel without incident …..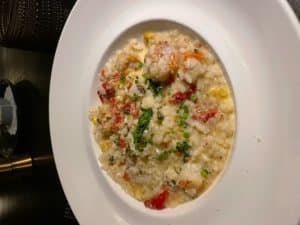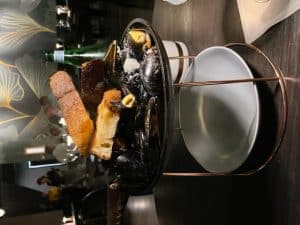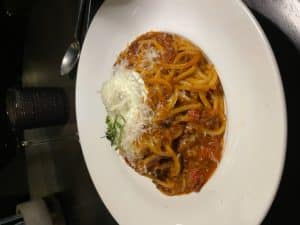 Flying back to Governors Harbour on Friday went without a hitch and it was lovely to get back home again. Trips away are good for the soul and the tummy in my case – a bit of variety is necessary sometimes.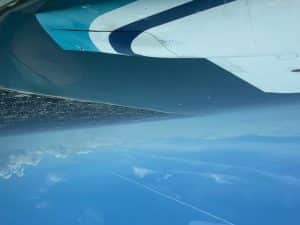 I didn't mention that we had a visit to Ikea while we were there – I will show you pictures when our purchases arrive here on island.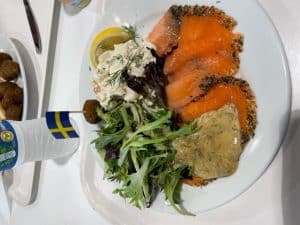 Back here in Eleuthera there was also a lot of very much needed rain – our cistern sighed with relief at the sound of the rain pouring in to it. And the gardens all so very badly needed it too. Unfortunately this week the very heavy rain has caused some damage to the newly finished up hill and down hill – but thankfully the workers are still here and are now repairing it.
On Sunday we invited good friends John and Judy Nussbaumer to join us for lunch at Sprawling Towers. We first met them several years ago when they rented Tops – one of our houses back then. We very quickly developed a great friendship which has continued through the years – they return every year for six weeks in March and April. We had such a lovely time with them that I absolutely forgot to take a single picture – and I so wanted one of us all together. Never mind – there is next year to look forward to …. Enduring friendships are a beautiful gift to treasure – and we do.
On Tuesday Bob and I were filmed for a short testimonial for Cable Bahamas – as very satisfied customers of their fibre optic service. We had fun doing it with their lovely team pictured below. I will let you know when you can see it on social meeja ! We have this service at Sprawling Towers for the internet and for a telephone system as well as internet at the office. I don't want to jinx it by talking about it – you know the Bahamians say – don't put a mouth on it – but it is a fantastic service. Really reliable which is what we all want. It is an investment – but worth every penny….. – as you will hear in our testimonial eventually.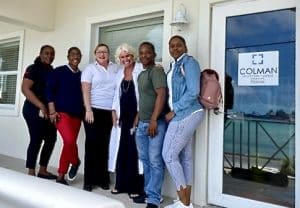 Jane leaves the day that this is published so I will be trying to be a big girl and not sob uncontrollably until she has left. We have had a lot of fun , good times cooking together and just being in each other's company – never mind all the help and assistance she has given me over the last 4 and a half weeks. She will be back in the summer – but in the meantime a huge thank you to her XXXXX