Not a lot of exciting news this week so a few snippets including the cat who likes to walk with the dog !
Firstly though congratulations to Kris and Alishia Johnson on the birth of their first son – August. So this means that dear Michele Johnson of the Buccaneer is now a very proud grandmother. It is always lovely to hear of the safe birth of a lovely new life in the midst of what is for so many people a dismal time…. Of course we are very much looking forward to seeing him some time soon. he was born in Canada so he needs his passport first ….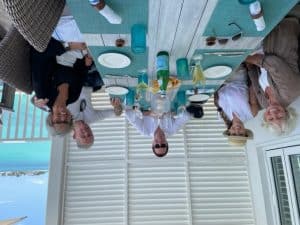 Jane left last Thursday afternoon and we enjoyed a great lunch at 1648 – French Leave Bar and Grill with good friends Justin Tipler and Lindy. It was just what we both needed to stop us moping around and getting too emotional ! For once the Southern Air flight to Nassau left promptly on time at 3.30 and all travel went well. It is a long and tiring overnight flight back to London but Jane is getting used to it after coming for so many years and seems to bounce back quite quickly. Now we are planning the dates for her trip out here in the summer…..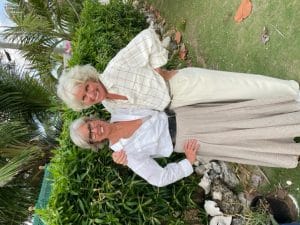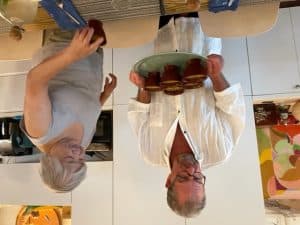 Well I pulled up my big girl pants and have been getting on with life here. I now take Rudge for a walk on the lead at about 6am each morning – he roamed back up to  Buena Vista and was racing around up there generally causing a bit of mayhem with cats and whatnot early the other morning – so I decided to be a responsible pet owner and walk him on the lead. We turn right out of Sprawling Towers and walk on the new road that runs at the back of us. Down to the bottom of the hill – turn right along the very bumpy bit of old Banks Road then back up the hill to Sprawling Towers. Well Brian , our cat , decided to follow us – or rather walk with us all the way round. It is a 20 minute walk – allowing for Rudge to do a lot a sniffing around as well as marking his territory , and now Brian is joining us every day. It is a delightful start to the day – something special that she chooses to walk with us. Lots of scampering about on her part with the occasional run up a tree just to show us that she can.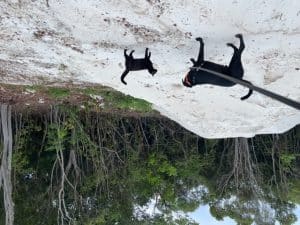 Bob says that she must think she is a dog as well – all I know is that she is a delightful character who more than holds her own with Rudge and has firmly found her niche with our little family.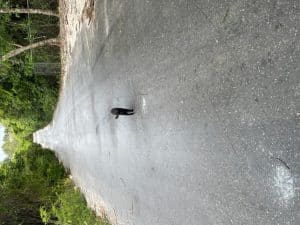 The furniture that we bought on our trip to Florida arrived and so we had a shuffle around moving the 2 white sofas into the screened veranda where they were always intended for. They look great there – now I just need a nice outdoor rug to complete the look as I envisioned it.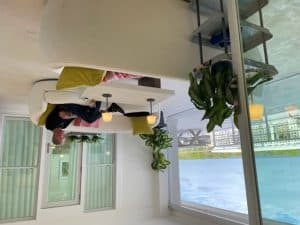 We have the 2 new sofas in the living room which are lovely for lounging about on. Some new throw pillows are in order – so watch out Joy – fabric coming your way soon…..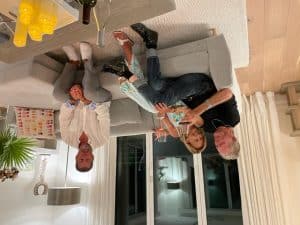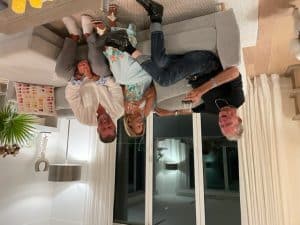 And so dear friends – that's all for this week. Hopefully a little more rain on the way I have been told ,but who knows – we are busy doing the rain dance you know ! Have a good weekend and as always spread a little love and kindness wherever you can. And treasure the time you can spend with friends  – they are our greatest riches in life… – well along with our dogs and cats !!