Great news this week that both Tippy's and the Buccaneer are re-opening for the new season. Tippy's is opening on Friday this week and many of us are looking forward to that.
The Buccaneer does not have a definite date for opening – but if it not by this weekend then I am assured it will be early next week.
We had a lovely treat last week – dinner at Dan and Larry's on Cupids Cay. Not a single picture taken that night – but plenty to remember…… I drank my first ever mojito and I loved it – but to be honest I am not good with hard liquor. Forget the fact that it makes me think I am highly entertaining – when actually in reality I am probably highly irritating – but the next day it shows in my face and it is not a good sight. Plus I just feel slightly under par – going out in the evening is pretty tiring anyway I find – but a drop of hard liquor and being out on a school night makes me feel that it was maybe not such a good idea. My body is obviously used to a couple of light beers in the evening but it seems that anything more warrants a day off afterwards.
Any way back to the dinner. Larry had made his exceptionally good conch chowder which I love. He cuts the conch very finely which personally I prefer to chunky lumps of conch – and his secret – well not so secret now – tip is to make it the day before so the flavors have a really good chance to develop.  I have no idea what his secret ingredients are but I am telling you it is delicious…..
My 2 ( small) bowls of conch chowder were followed by some delicious grilled chicken breast – tender and juicy – and a great salad. The others had steak but of course there is always one awkward customer who doesn't eat meat. The company was fun  – lovely to spend an evening with Sam and Mike who own the two villas on French Leave Beach and of course Dan, Larry and Mark.
A good evening with friends and great food is a joy to be appreciated and savored and I continue to be grateful for all the times we share. Oh – and there was apple pie and ice cream to follow !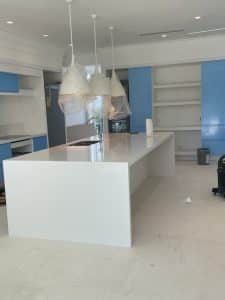 And so a quick update with Sprawling Towers ….. The worktops are in and the island in the main kitchen is just spectacular – I am so thrilled with it. The pendant lights are fitted over the island – although they are still shrouded in plastic until the painting is finished. The induction hob is fitted – now I have to watch a video on how to use it plus just waiting for the sink faucet to be connected up then we are away !
We had Danny Naranjo from Miami come out to fit the countertops and he finally brought his lovely wife, 12 year old daughter and 5 year old son with him. We all went out to Sunset Inn to eat one evening and had a lovely time with a beautiful family. Danny first worked for us around 10 years ago and we love him – so it was really good to meet the rest of his family for the first time. By the way – Sunset Inn has just closed until late November – we wish them a relaxing break .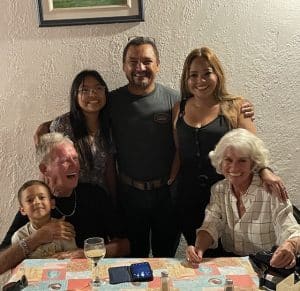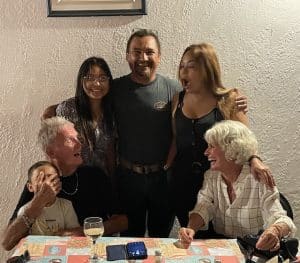 Jane arrives tomorrow (Friday) so it will be all systems go on the quest to move in and fill those kitchen cupboards etc. As I have said before she is the most amazing help to me as well as being the easiest going person to have around. Only 2 weeks this time so I must not burden her too much – yeh right !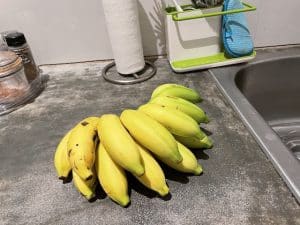 Have a great weekend and be good to those around who are having a difficult time….