So after all the holiday festivities have died down – just when we thought it was safe to relax again we were invited to celebrate the lovely Marcie Weber's birthday at BFF last week. There were 8 of us in total – including Angelika and Sandy , Bob and I , Linda and Peter – good friends from Canada of Martin and Marcie Weber. Marcie was the birthday girl and celebrated in great style with us all.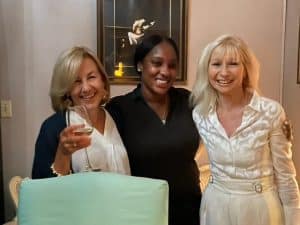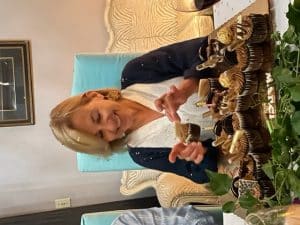 The food was delicious – fresh stone crab as an appetizer, crab cakes, a fabulous salad , gnocchi with Gorgonzola sauce – divine ! , fresh snapper – all followed by cupcakes with little shots of rum, I think it was, in them – washed down with a glass of champagne and plenty of other drinks as well. The music was great although Bob and I left before the dancing began and a thoroughly good time was had by all I must say.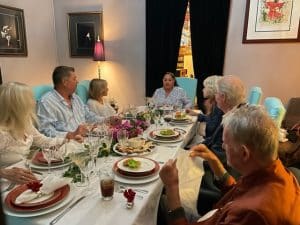 Victoria who works there had a glitter party popper which she showered us all with – not the tiny glitter but more like a sort of rose gold confetti which we have been finding for a good few days after – in the bathroom, hallway and all over the house – and that was just what we carried back unwittingly in our hair and clothes !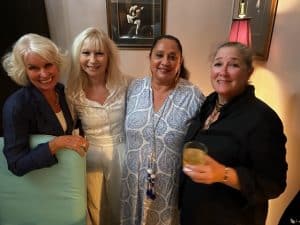 It is always a delight to be a part of a group of people who know how to have a good time and they certainly knew how to have a good time…..
On a slightly more banal note we are still making progress at Sprawling Towers – I found some really nice tapered plant pots on Amazon – they are made by Veradek – and a real bargain at $135.99 for 2 so I bought a few of them to have around the outside of the house – have a look at this pair outside the front door. Pretty good bargain I thought !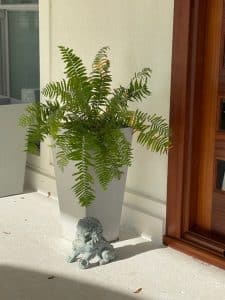 We are also putting up the curtain tracks in readiness for some elegant milk colored linen curtains which are being custom made as we speak in the UK by my dear friend and ace curtain maker Joy Agius. They will soften both the look of the rooms as well as softening the acoustics – in high ceilinged rooms with hard flooring both a rug and curtains create a much softer look and feel. Hopefully we will have them by mid February……
Not too much else to tell you about – the island is busy with lots of visitors which is good for all the local businesses – the food stores, restaurants and car rental firms are doing well – so good to see money going in to the local economy.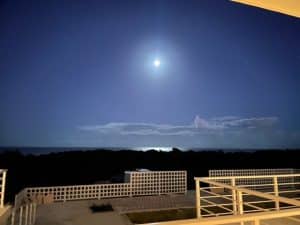 I do want to give a shout out and big thank you to Ali and Tom Marten who own a house in Ten Bay ….. She is a very talented interior designer and he has a construction company – we met through the blog and they are a truly lovely couple with a son and daughter who are equally lovely. Anyway they popped round last week and bought us a gift which sadly I did not open until they had left. It was a specially commissioned ceramic Christmas tree decoration which as you can see below has a drone shot of Sprawling Towers on it – it is fabulous and commemorates our first Christmas here in the house. Well there is no way that I am tucking it away until next Christmas so I have it hung on my inspiration board in the slut's kitchen. Note to self – always open gifts if possible in front of the person who gives it too you so they can see when you truly love something !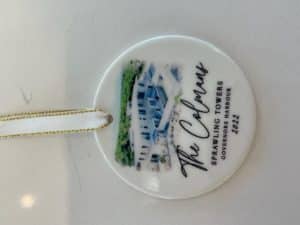 Take care and be kind and loving whenever you can……