Yes – here we are , halfway through the long month of January  and life is busy over here. Personally we are waiting on the delivery next week of windows and doors to finish Bob's studio and the two downstairs rooms at Sprawling Towers. In the meantime there are endless small jobs which all take a lot of time to get finished.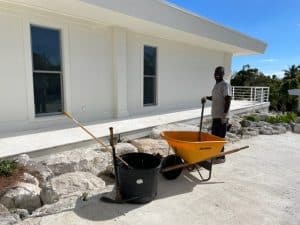 Bob and I decided to buy each other plants for Christmas and we just had them delivered this week and planting will be complete soon . There are 3 or 4 areas which they are for – of course there will be pictures to follow once they are in. We bought them from dear Dorothy at Awesome Blossoms in Savannah Sound – she is a remarkable woman and we are very happy to support her business – plus she has a great selection of the type of plants I love.  The landscaping is going to be a long , slow and expensive project – but it is a joy to start somewhere and do a bit at a time…..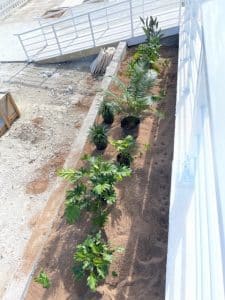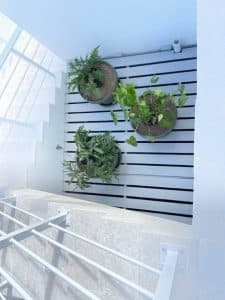 Back to what we have been watching on TV – we all listen out for recommendations right ? – so here are a couple from the Colmans. Firstly – Abstract – a documentary series on Netflix – well actually 2 series which we have watched back to back. Each episode is about a particular individual who is truly excellent and inspiring in their field. We particularly loved one about Es Devlin – an incredibly talented woman who does theatre , stage and arena design for shows. Also Tinker Hadfield who was a designer for Nike shoes – so inspiring I have ordered a pair of Nike slips ons – not that he designed these but he made me want to own a small thing that belongs to the company he worked so hard for…… Then there was a Danish architect who has done some incredibly innovative projects – anyway – you get the message and the recommendation…..
Then for those of you with access to Apple TV I highly recommend Bad Sisters – it is a sort of muder mystery type program – 5 sisters who all had good reason to want the husband of one of the 5 dead ! It is a black humored drama – some describe it as a comedy – but be warned it is black humor ! Personally I am loving it but see what you think…..
Last week we had Martin and Marcie round to eat with us and I made a proper comfort food meal. I buy the Beyond Beef vegetable protein stuff – they sell it at both Burrows and Bacchus Fine Foods and it is very good. I make a shepherds pie with it – sorry Mum I know shepherds pie is made with lamb and cottage pie is made with beef but I call it shepherds pie – so there ! Anyway here is a quick recipe for it. I thaw and cook the Beyond Beef over a low to medium heat on it's own , then set aside while I do all the other bits. I fry finely chopped onion, celery and grated carrot with seasoning of salt and pepper, once that has softened well but without browning I glug in a good sized slug of red wine and turn the heat up high to burn off the alcohol. Then I add finely chopped garlic and small diced mushrooms that have been fried in butter . Next add the BB and gently simmer. I add a good desert spoon of Colman's English mustard and leave the whole pot to simmer over a low heat. I add a little vegetable stock as needed and then thicken the whole thing – I use Bisto which is an English product- but just use whatever you normally use to thicken a dish. Ideally leave this to cool overnight and allow the flavor to develop. The next day before serving I make the creamy mash – I always add horseradish sauce to my mash to give it a little bite. Warm the shepherds pie mix in a moderate oven and then spoon the mash on the top and bake at a higher temperature for about 25 minutes – ideally the mash should have browned tips to it. Has to be served with peas in our house – serve up and enjoy. Sometimes I make extra and freeze it as it makes for a quick and comforting meal.
So there we have it – TV and comfort food – just what we want in January – well most of the year actually in our house. have a great week and news next week of a flying visit to Ft Lauderdale. Not much shepherds pie being consumed over there !!
As always – take care of yourselves , look after your health and be kind to yourselves and others …..