So last week we took a trip to Fort Lauderdale which I am going to tell you about along with other stories.
The first day after we arrived meant a trip to the dermatologist for Bob – I have written before about the lovely team at Z-Roc where Bob has had many treatments. They treat us like long lost friends and we always have a very good time with them. On this visit we met a new assistant to Dr Matthew Zerraga – his name was Alex and we had a great conversation with him about what attracted him in to the medical world after he had qualified as a personal trainer. Of course it was because of personal experience with the medical profession and he is a very caring and compassionate young man. People share such moving stories when they have an opportunity to open up in conversation and as you know I absolutely love to be a facilitator for these stories.
Bob had his treatment and then I went across the road to the pharmacy to get a prescription for him and proceeded to have another wonderful chat with the pharmacist who told me a fabulous story about traveling as a young man in Thailand and buying an alms bowl from a hidden family business in the heart of Bangkok.  It is the luxury of having a little time to engage in conversation and the interest and knowledge that pretty much everybody has great stories to be told that lead to these life enhancing moments.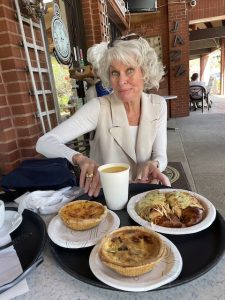 From there we went to a French patisserie – Croissan' Time for breakfast which was so good we went back for lunch a couple of hours later ! Also very life enhancing…. and finally breakfast on Saturday before we flew home.
Then on to the orthodontist to get fitted with my invisalign trays – all sorted very quickly and efficiently – sad really , how excited I am by the whole procedure and the prospect of straightened teeth ! I had to laugh when they put a mouth stretcher in – anyone who knows me will know that I have a very big mouth anyway and the thought of even temporarily making it bigger was enough to make me laugh out loud !
After going back to our hotel I had a luxurious couple of hours reading the English papers online and came across such a great and funny story that I have to share it with you. It was the story of how a dog was saved from potentially drowning on mudflats by a drone dangling a sausage on a piece of string which guided it to safe ground. I recommend reading the whole story from the following link as it is quite hilarious !
https://www.theguardian.com/lifeandstyle/2022/jan/20/stranded-dog-saved-from-drowning-after-rescuers-attach-sausage-to-drone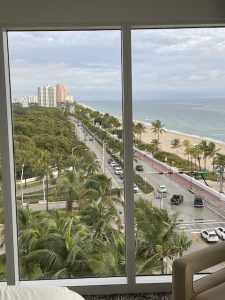 We returned after a gap of 2 1/2 years to stay at the Sonesta Hotel and were greeted like long lost family. Of course some of the staff we knew had left – but it was a real treat to meet up with several staff who have made it through these Covid times.
Thursday evening we went to the first of two great restaurants recommended by my hairdresser Chadwick at the Ouidad Salon. It is on US1 in Fort Lauderdale – just north of the Davie Blvd turning – it is an Italian place called Osteria Acqua E Farina. Oh my goodness – superb quality food in a very unassuming setting and very reasonable prices. Neither of us ate pizza that night but from the looks of the pizzas passing our table they will definitely be on the agenda next time we go there. The place was buzzing with guests despite the torrential rain – always a good sign…..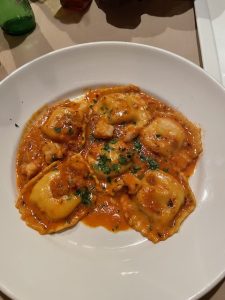 Friday evening we went to Bubbles and Pearls in Wilton Manors – this is a very vibrant area and the small restaurant was an absolute delight. As you may deduce from the name it specializes in champagne and oysters but is by no means restricted to just that. Although we did enjoy a bottle of champagne and I had a couple of oysters to start – well it would have been rude not to – right ? We shared a great bowl of mussels , a fig, fontina and speck flatbread and a sensational Caesar salad with delicious grilled shrimp.  The staff are very friendly and the service is great. This is a no frills place but the food is divine and the staff are a delight. It cheered us up no end after a frustrating day of being stuck in slow moving traffic plus the bill was incredibly reasonable . We will definitely be making this a regular venue when we travel again – thanks to everyone at Bubbles and Pearls.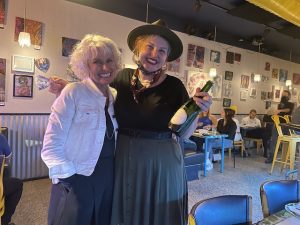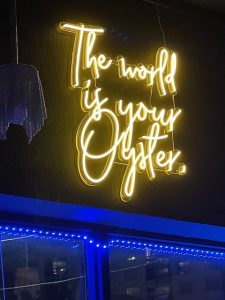 We flew back on Saturday with Aztec Air of course and had time to reflect on a great trip…. It is the connection with people who want to share their stories and knowledge that can make or break a trip and this was one trip that was a joy because of the people we came across – as well as the great food we ate. Plotting now for another trip in a few weeks. Sometimes we all just need a short break away from where we live to gain a new perspective on life and to make us appreciate what is good for us…..