So just a week of updates here in Eleuthera – mainly about Sprawling Towers, Bob and the ice cream parlor Coco and Cream.
I went in to the ice cream parlor the other day as the rum and raisin ice cream is being administered to Bob as a medication !! It was wonderful to see a large party of French people all getting a waffle cone and then several local children also buying assorted flavors to enjoy as an after school treat. It looks like a rip roaring success – it is certainly filling a gap and we hope that that it's success grows weekly. I can't find a FaceBook page for them but do follow them on Instagram at #cococream.eleuthera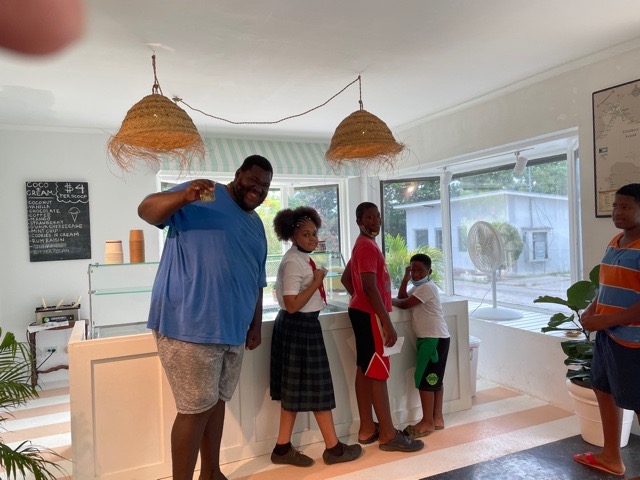 Bob is gradually improving day by day – it is a slow process but the good wishes and prayers that people have sent us has made it a very heartening experience. Of course I do keep impressing on him the need to take it very gently – the weeks ahead are very important in the healing process if he is to avoid having to have surgery as we hope will be the case.
And now on to Sprawling Towers. The work is continuing – Bob has video calls from the site and that is a great way for him to be able see what is going on.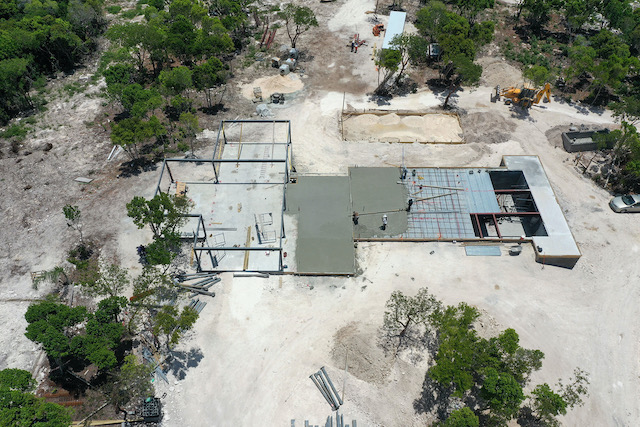 We had the second section of the house slab was poured at the end of last week so now there is a larger section to walk around on with the risk of tripping over the corrugated steel that is laid over the water cistern area. A little digression now….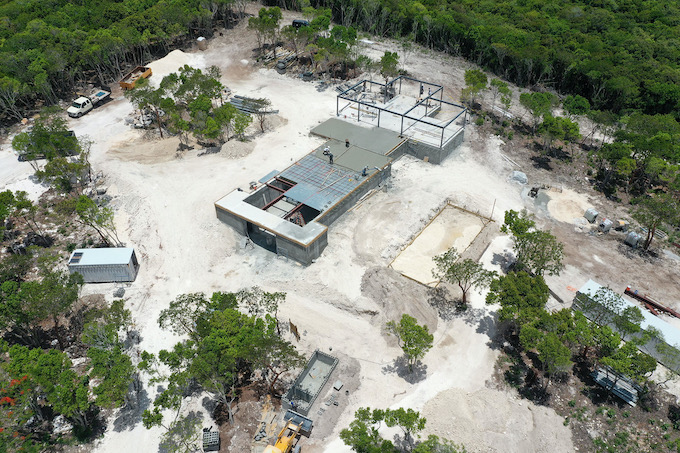 Many years ago – in fact about 40 years ago – I was living with someone else and we were renovating a very old thatched house in Leicestershire. It was dated at as early 17th Century – which means anytime from 1600 on ! Anyway it was a cruck cottage – called Mill Stone House – and when we took the walls in one section back to the original brick we found 3 half bricks that were loose. As we pulled the bricks out – one had a lace bobbin in it, another had a few grains of corn and the third one was empty. When I consulted a local historian I was told that the empty one should have had a coin it. It was a tradition at the time that they placed these items in the new construction of the house so that it would always provide food, money and a way of making a living – lovely idea isn't it ?
Anyway I decided with Sprawling Towers that it would be a good idea to not do the same thing but to write the qualities that we both want the house to embody on stones that would then be cast into the foundation slab. Just a few examples are – kindness, appreciation, gratitude, fortitude, courage, compassion, friendship, love, happiness, good health, creativity, abundance – you get the idea I'm sure. There were over 30 of them and our workmen were fascinated and very supportive and positive about the exercise. No-one will ever see these stones but they are cast in the entrance hallway and so everyone who comes in to the house will walk over them and the house will be imbued with these intentions. I might get a nice list of the words done by a calligrapher and hang it somewhere where in the future, long after we have gone people will know what we did.
So on we go – the pool has been started , the septic tanks are nearly finished and progress continues to be constant.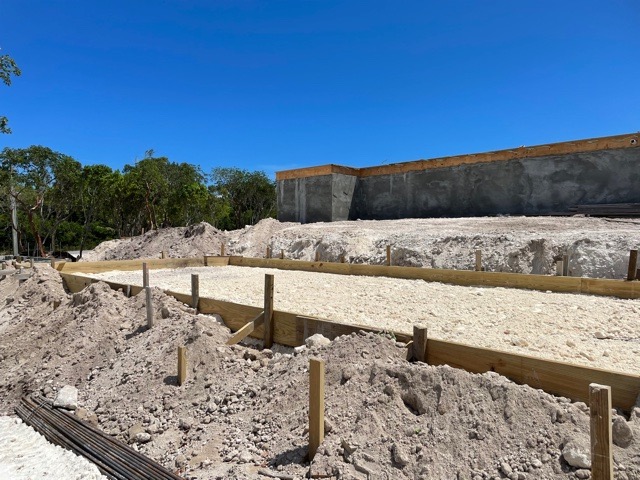 The poincianas are in full bloom and the island looks gorgeous – and so life goes on ……