Well this is one of those weeks where there is nothing too much to tell you so we are just cruising through February in  Eleuthera. A couple of book recommendations and a couple of programs on the TV which we enjoyed and not too much else actually !
Although I do want to recommend Midway Cost Cutters in Savannah Sound to those of you who are not aware of them. This food store is always immaculately clean and has a good selection of fruit and vegetables as well as all the usual frozen and dry goods. It is on the right hand side of Queens Highway if you are driving south- and it is painted a very bright pink color – but it is easy to miss coming south as it is hidden somewhat by the bend in the road. It is right as you just get in to Savannah Sound so if you get to the crossroads turn around and go back – then it is easy to spot. My favorite thing in the whole store is the Magnum ice cream on a stick in the freezer at the back. They don't always have them in stock but when they do I buy 6 at a time !
The appeal for the firetruck is gathering some momentum with over $70,000 pledged so far. Please keep this in mind when you are feeling generous ! Enthusiasm is high for this initiative and really it is something that we all desperately need to have up and running.
OK – so now on to a couple of programs we have enjoyed. One is a British movie called Fisherman's Friends – it is set in Cornwall in a beautiful little fishing village called Port Isaac. This is a real life place by the way – and the movie is based on a true story. It is a little bit corny at times but there is some great music and the scenery is beautiful. We once went into a pub in Port Isaac  – about 20 years ago – for fish and chips and discovered that they only took cash – no debit or credit cards and no ATM in the area for miles around. The rather drunken landlord yelled out to everyone that we were cheapskates as we could only rustle up enough cash for 2 plates of fish and chips and the bottle of wine that we were already drinking – there were 4 of us ….. It was funnier telling the story afterwards but the fish and chips were divine ! We watched the film on Amazon Prime ….. By the way please do let me know if I have already told you our Port Isaac story as I may be repeating myself !!
Then the next program is a documentary series we watched on Youtube – featuring a great British seafood chef called Rick Stein- and it is filmed – guess where – yes Cornwall ! There are 2 series of 15 episodes each  so plenty to learn about Cornwall, Rick Stein and his love of good food and cooking. And the scenery is just stunning. On the same visit to Cornwall as the one I mentioned in the Port Isaac story we went to Rick Stein's own restaurant in Padstow and I had soup de poisson as a starter. Foolishly they left the tureen on the table and I finished up having the lot. I figured it was only soup – just like having a drink right ? Wrong – very filling so after I had eaten my main course I had to sit perfectly still for about 30 minutes as I was so hideously full !
Now the books – I have just finished reading Wish You Were Here by Jodi Picoult – I love reading these new books that are set during the Covid pandemic. It is a great read and I have already passed on to good friend Claire who was the one who told me about Fishermans Friends. Quid pro quo !
I am currently reading These Precious Days by Ann Patchett – a collection of her essays – perfect bedtime reading when you know you won't stay awake for too long. Other good books I have recently enjoyed are – Kit Kemps Design Secrets – she is an inspirational designer and I love her work.
 Don't ask how I finished up with the large print edition – just didn't pay attention I suppose !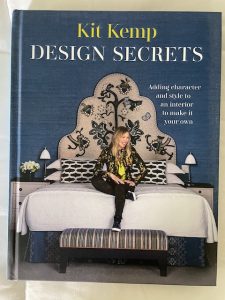 Miss Dior by Justine Picardie – a biography of Christian Dior's sister. I love Justine's writing – she is not afraid to bring herself and her thoughts and experiences into a biography which makes it much more personal.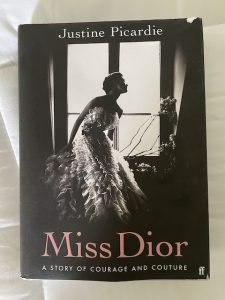 OK so that's all for this week. I have had some problems with the WordPress site that I use to write the blog which were not fixed until later on Wednesday afternoon  plus we had a power outage and a problem with the generator – so this is all a bit last minute. Apologies for that but amazingly it has been sorted and I haven't missed my own deadline !!
By the way – the picture at the top of the blog is of the sand on French Leave Beach – just lovely ……
Have a great weekend and take care of yourselves.