Yes dear readers – great news that Bacchus Fine Foods here in Governors Harbour is starting a Wednesday evening Bottles and Boards night. That means delicious pizzas, charcuterie boards and of course bottles of whatever takes your fancy – beer , wine or a drop of the hard stuff !
Seating is outside – either on the beautifully refurbished deck area or down in the larger area under the sun shade. The hours are from 5pm – 8pm on Wednesday evening. If you have any enquires then you can call on their new phone number – 242 332 3111 or you can WhatsApp message them on 242 470 9019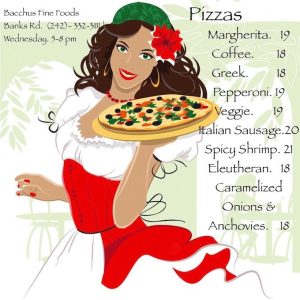 And don't forget that they are also open on Sundays for brunch from 11 – 4 . Check out the shop inside as they have lots of new  lines in the grocery department. I particularly  like the Stonewall Kitchen  selection. Their roasted garlic aioli, truffle aioli and caramelized onion mustard are my particular favorites. And I going to remind you about their fresh baked bread as well – absolutely delicious  and available usually from Monday – Friday – do note that they are closed on Saturdays.
We did not actually go this week as my sister Jane was arriving from London on Wednesday afternoon. Much excitement and anticipation as you can imagine – she will be her for just over 4 weeks and of course we are both looking forward to spending time together.
This Sunday – 20th February – will be my Mum Mary's 95th birthday – so Jane and I have decided to cooked a Sunday roast for 14 people at our house. Going out would be nice – but actually for Mary to be able to relax in the comfort of our home will be a better option. So I had better start peeling the potatoes for mountains of roasties along with the 3 chickens we are going to roast. Full and frank reporting next week of who ate too many roast potatoes, who danced naked on the table and who was passed out on the floor before lunch was even served !!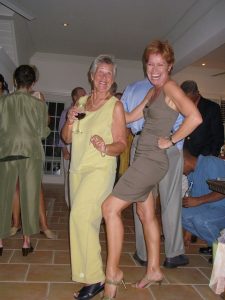 I am putting in some pictures now of a party we gave for Mary's 80th birthday ….. A few days before her birthday we had a young man and his girlfriend stay at one of our houses. He was a German pilot and asked if we would like to trade accommodation for a tour of the island in his small plane. Mum was hugely excited at this prospect and as you can see he allowed her to take the controls for a couple of minutes – she really loved it and it made a great birthday treat !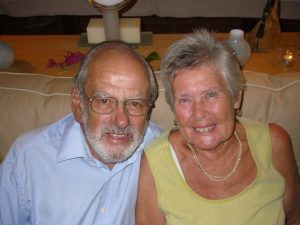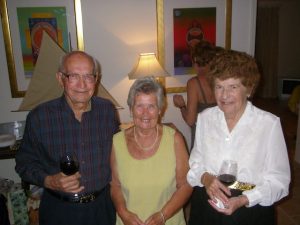 The weather is pretty cool and very windy at the moment. Wouldn't you just know it – we have the roofers down at Sprawling Towers working on getting the roof watertight. But as long as it isn't raining then we will be fine. And if it does rain then we will just have to wait until it all dries up.
The house is coming on slowly but surely and it is a joy to see it coming together. It is looking very elegant now and I absolutely love the lines of it…..
I mentioned to you last week how I was enjoying reading These Precious Days by Ann Patchett – well I have finished the book now and I must say it is one of the most moving and enjoyable books I have read in a very long time – and I cannot recommend it highly enough. It is non – fiction  –  an anthology of essays she has written about her own life. Autobiographical but not an autobiography in the usual sense of the word. Read it for yourself and see……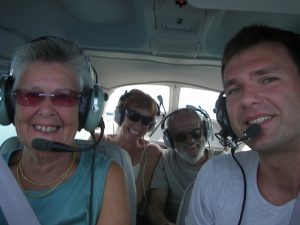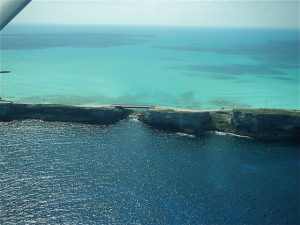 No pictures of Bob on that flight as it was only a 4 seater including the pilot – but he did take Bob up the next day for his own private flight  – I think he was trying to impress Bob with his maniacal maneuvers who swears he did experience weightlessness at one stage !
Have a great week and stay safe .