I am very happy to tell you that the Educators for Eleuthera are here and their Summer Camp is underway at the Emily Petty Primary School here in Governors Harbour.
This is the first week for the camp but even within the first couple of days it became very apparent that the children are in desperate need of basic tuition in their academic work. So the mornings – from 9 – 12 are spent doing maths and reading – albeit in a fun format. Then they take a break for lunch and then do a variety of subjects – exercise in the form of yoga, arts and crafts , games etc
The classes are very well attended – between 50 and 60 children have enrolled – and it is clear that they need the socialization that has been missing from their lives during the pandemic. They are boisterous and joyful to be with their peers but still have a great discipline when it comes to lining up for their apple and water breaks …..
More news as the weeks go by and to make a donation simply go to Paypal and use the same email address – educatorsforeleuthera@gmail.com
I wanted to give you a quick heads up on a great new enterprise called CoCoJo – they do a mobile delivery service of fabulous cocktails and mocktails – so if you are having a party or celebration or just a gathering of friends and would like a selection of cocktails delivered to your door then do contact them on the details shown below…. I will be doing a more in depth feature on them soon …..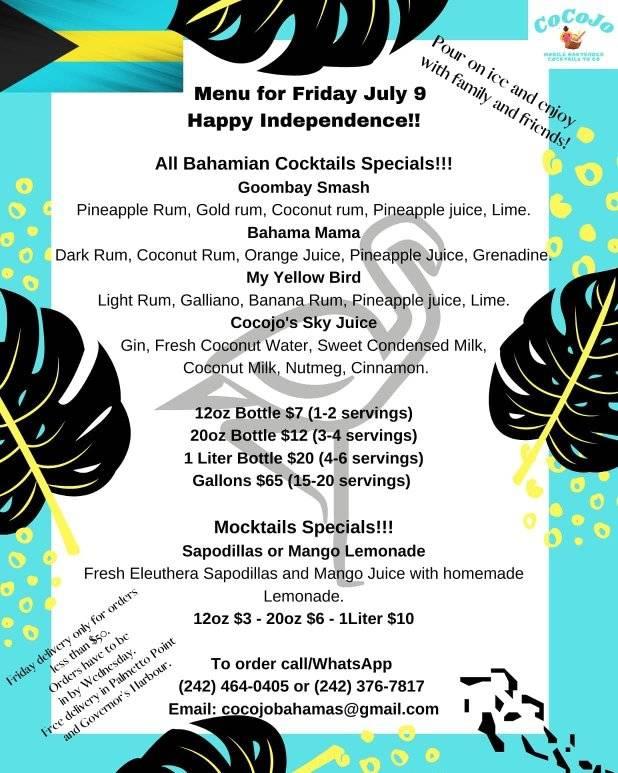 In other news we are now working on getting some walls up at Sprawling Towers. The heat of course is fierce now in July so hats are the order of the day along with plenty of water for the workers. I have planned the pantry and laundry area – now it is time to mark it out and see if it does in fact all fit ! The main kitchen and bathrooms are also all planned out and it is a question of adapting to those missing few inches that inevitably seem to happen.
Bob continues to make progress towards his recovery and many thanks to all of you who have emailed and messaged to find out how he is getting on. It is very much appreciated…..
Counting down the days until my sister Jane arrives – fingers, legs, arms and eyes crossed that nothing happens to stop her visit – we are all so looking forward to having her here instead of just on FaceTime ! Monday 26th July is when she is going to arrive here – absolutely cannot wait !
Finally I just want to tell you about a brilliant documentary that we watched on Amazon Prime – it is the Bee Gees – How Can You Mend a Broken Heart. Fabulous music , heartbreaking and joyous stories – so good we have watched it twice. Highly recommended …..
Have a great week and happy Independence Day to all our Bahamian readers – whether by birth or inclination – Happy Independence Day – Saturday 10th July with Monday 12th as the official holiday.