Plenty to tell you about this week with news of the Governors Harbour Fire- Rescue Department as well as Judy Simmons new home goods store just north of Governors Harbour. The GHFRD as I will now call it is the brainchild of both local man Ricardo Pinder and home-owner Martin Weber.
I am going to start with Martin's own words from the proposal document……
"Currently the community of Governor's Harbour has no local means to protect its community and people in the event of fires, serious car accidents, marine emergencies or serious weather-related threats such as hurricanes.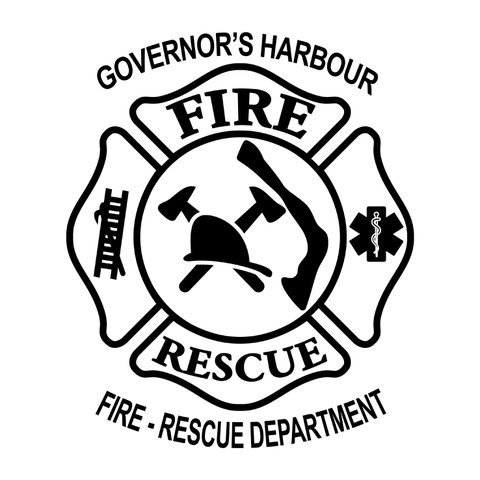 The people of Governor's Harbour are currently relying upon assistance from the Palmetto Point Fire Department. We are grateful for their support, but this is not a viable long-term solution and needs to be rectified. For the safety of our community and it's people, Governor's Harbour needs to have its own Governor's Harbour Fire-Rescue Department (GHFRD) complete with its own firefighting and rescue equipment.
Members of the GHFRD need to be shown respect by the community for volunteering their time and putting their lives on the line around the clock to help their fellow community members. These firefighters deserve and require equipment to keep themselves as safe as possible while protecting the lives, livelihood and possessions of others."
Of course there is no government funding available for this initiative and so there will be major fundraising done in order to both deal with the initial setup of the organization as well as the vitally important task of making sure that there are sufficient funds to maintain the equipment , ensure that members of the GHFRD have sufficient training and that all future needs will be met. It will be set up as a Bahamian Non-Profit Organization – full financial transparency is of paramount importance in order to gain and maintain donor confidence.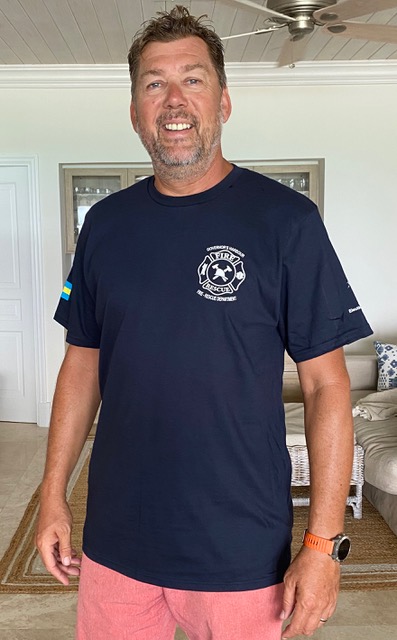 So the very first step has been to get T shirts printed to raise awareness of what is going to be happening – and I am delighted to say that both Tracey Knowles and Michele Johnson have agreed to sell the shirts in both of their respective stores – Norma's Gift Shop and the shop at the Buccaneer. It is the first baby step of raising awareness for a really important cause.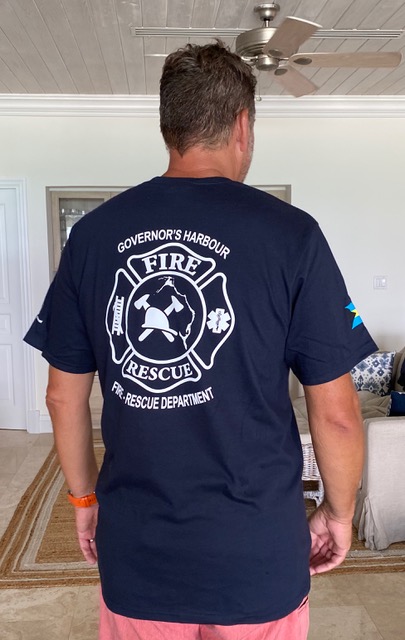 Martin Weber – who with his wife Marcie divide their time between their home in Canada as well as their home in Eleuthera – has 18 years experience as a volunteer fireman in Germany and has been a real driving force in getting this initiative going. Ricardo Pinder has long campaigned for Governors Harbour to have it's own dedicated Fire and Rescue Department and is very keen to really get this off the ground. Peter Fletcher from Nassau is on the board as well as Arthur Turnquest and Bob Colman.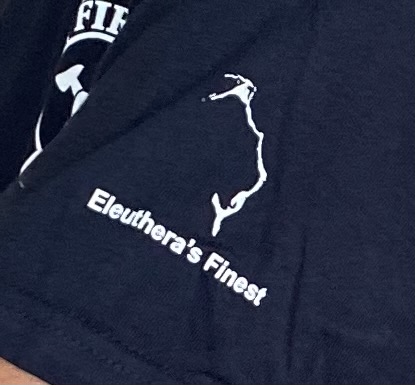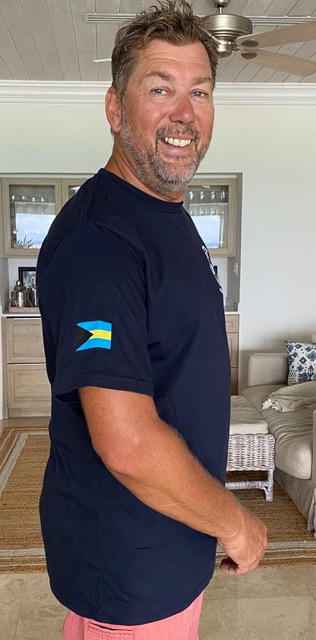 I will bring you more news – rest assured ! – as this vital organization gains ground. There is plenty of local support from lots of other people which I will let you know about in due course…..
And now news of Judy Simmons new home goods store at their property just north of Governors Harbour. The store in called Pacino's Variety in memory of their late son, and let me tell you it is packed with all sorts of goodies ! It has been open just about a month now and is very well stocked with rugs, towels, mattress covers, as well as both men's and women's clothing , jewelry, kitchen ware, decorative items, gifts – in fact it is like a mini department store ! Oh and by the way – one of the most welcomed stands is one selling all sorts of cards – birthday, anniversary, get well – you name it they have it .
Judy has plans to have a tented area outside sometime in July to hold a used goods sale which will be very welcome I know. The adjoining shop space is opening as a beauty spa – called Natural Glow – it should be open in a few weeks and of course I will bring you news of that as soon as I hear it is open.
Judy's store is open Monday to Saturday – from 10.30am – 6pm. If you arrive there and the store looks closed just call Judy on either 332 2518 or 551 1317 and she will appear !
I found a great plant pot and saucer set in Judy's shop which was just what I was looking for to put a beautiful orchid in that I bought at Bacchus Fine Foods !
Bob continues to improve a little every day and more news next week on what is happening at Sprawling Towers.
Have a great 4th July weekend to all our American friends and be kind wherever you can …..