And yes – we went back to the US for a quick trip last week. Just 3 nights – flying in on Wednesday and flying out on Saturday. Never quite enough time to do what we want to but the days of cramming in way too much are over thank goodness.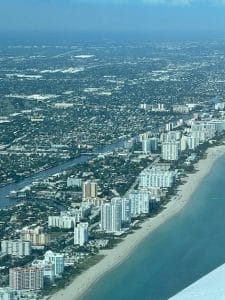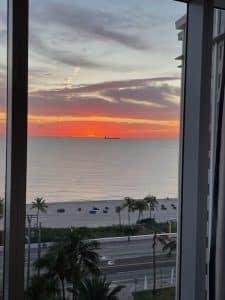 One of the reasons for going was that I have now finished my Invisalign treatment – just about a year in total from start to finish.  So it was heavenly to have the 'barnacles' removed. There were about 6 of them – they are what the retainers are held in place by while they are straightening your teeth. So now my bottom teeth are not crooked any more and I am very happy with the results. It felt so good when the bumps were removed and now I can smile without my lips getting caught on them ! I had my teeth scanned again for a night time retainer to keep them from wandering back to where they were….. All in all I am very happy both with Cooper Orthdontics on Broward Blvd Ft Lauderdale and Invisalign.
I also got a much needed haircut at Ouidad – I have told you before about them as they specialize in curly hair. Chad not only cuts my hair but gives me his top tips for various restaurants. This time we tried his recommendation of an Indian restaurant called The Indian Harbor. It is on SE 17th St in Ft Lauderdale. It was good – but actually not quite up to the standard of Bombay Darbar on Las Olas Blvd. We had a tandoori chicken, shrimp rogan josh and mutter mushroom masala plus all the usual like papadums and garlic nan bread. Plenty of variety there – it was a little too hot for our taste even though we asked for it to be medium – I find that it masks the flavors when it is too hot. Having said that we ate plenty of it and it was nice for a change.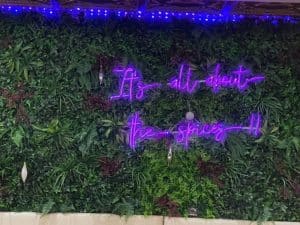 This was not a trip of startling food experiences – one of the best things I ate was a salmon poke bowl from Wholefoods one lunchtime. We do love to pick up a little lunch from Wholefoods when we are there – it is great to be able to choose just what you want from a vast selection.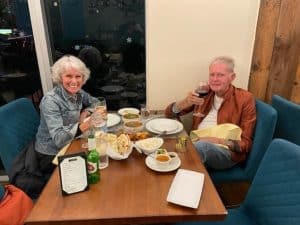 In the Indian Harbor with plenty of food…..
Bob enjoyed himself because we had a good browse around Home Depot and stocked up on a few necessities and the following day we had a spend up at Harbor Freight Tools – I wanted to get a leaf blower for use around Sprawling Towers which will be here next week. I remember when it was new shoes I was lusting after – not leaf blowers ! Speaking of shoes though we went to the new Nike Outlet Store just off the I95 at Stirling Rd and both got set up with new trainers.
It is a treat to be in the land of plenty – but for us 3 days is a good amount of time. Any more and we seem to get hooked into the shopping for a hobby style of life. Of course Aztec Air did us proud – we were very lucky – only 3 of us on the plane going over and just the 2 of us coming back. Like having a private charter but without the cost !!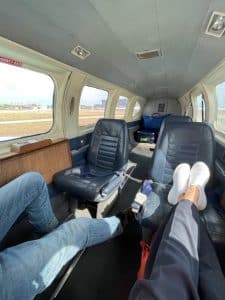 On Monday of this week we went to The Hub in Rock Sound to be judges at the Eleuthera Training Entrepeneurial Programming Pitch Competition. The entrants had to pitch their idea for a business under strict time guidelines to a panel of 5 judges. We then got to ask them questions about their business and scored them on various aspects of their presentation. Disney put up the prize money – the first place won $10,000 , second place $7,500 and third and fourth both won $5,000 each. There were 7 entrants – all female by the way – and there were some interesting ideas.
The winner Ms Patricia Thompson won with her business plan for an organic egg farm – she has already ordered the one thousand chickens which she will get at point of lay from Nassau. She intends to supply mainly businesses and restaurants and I for one will be seeking out those eggs when she gets underway.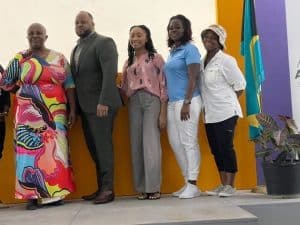 It was tough watching these 7 women giving their presentations – not easy for them to stand up and tell us of their dreams and ambitions and then be cross examined about them – but it is a great opportunity and I commend all involved for setting the whole thing up.
And so dear readers I wish you a good weekend – I hope that January has not been too tough on you. Health issues , financial worries and a million other things can fill our heads – so again a reminder to find those little everyday joys than can elevate your day – or someone else's …..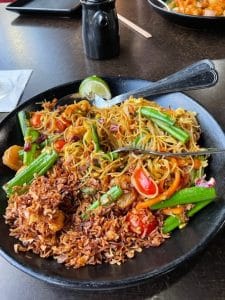 Now this next picture is an extremely rare sight ! – me sewing the hem back up on a pair of pants I wanted to wear …