Wishing you all a very Happy Easter from Governors Harbour here in Eleuthera. In the Bahamas both Good Friday and Easter Monday are public holidays – so this is a lovely long weekend for those of us who live and work here. The island is very busy with visitors and the bars and restaurants, food stores and car rental businesses have geared up and prepared for a bumper time.
Traditionally a lot of Bahamians go to the beach over the weekend – there are church parties as well as families just enjoying the beautiful waters of the islands. For many this marks the time when it is OK to go into the water and claim that the warmer weather is here.
Of course there are still many Bahamians – both young children and adults – who cannot swim which is why I am reminding you again of the great initiative by the Eleuthera Sailing Academy to teach as many young Bahamians to swim as soon as possible. A healthy respect for how dangerous the seas can be at times is obviously a good idea but to teach them how to enjoy these beautiful waters that surround us is a joy and delight that must not be ignored.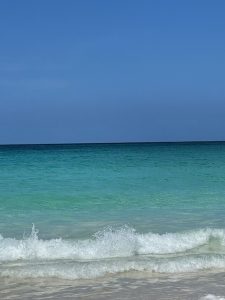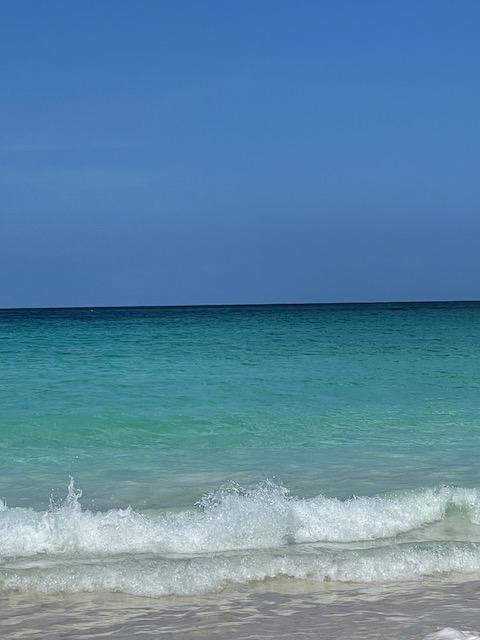 Here is a link to the website of the Eleuthera Sailing Academy where you can make a small or large donation to support their initiative. Their function is on April 21st and if you can come along that would be great …… Of course there will be pictures and reporting the following week on the blog as you would expect.
Many of you regular readers know that we take my Mum Mary out for lunch every Sunday – one of her favorite places to go is 1648 – not so much for the food but because she rates their pina colada cocktail as her absolute best on the island ! So off we went last Sunday and as she and Bob were sipping their pina coladas and I was swigging at my beer – the delightful young man in the picture below came over to the rail looking down to the swimming pool with his impressive camera around his neck and began taking pictures of the seagulls perched on the edge of the pool. When I asked his mother if it was OK to take a couple of pictures of him it turned out that they were a French family. Of course she said yes – otherwise it would just be a story right ? – but such a delight to see this young boy with a great eye and interest in capturing images. I watched him afterwards and he was taking pictures of his parents as they sat at the table as well as taking pictures from underneath the table looking up through the slats. So often these days when you see children in a restaurant with their parents they are looking at iPads or phones – how refreshing and uplifting to see someone so young with such an interest in the world around him……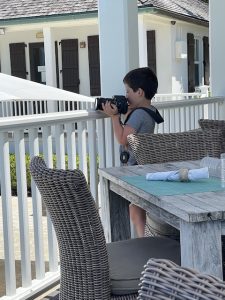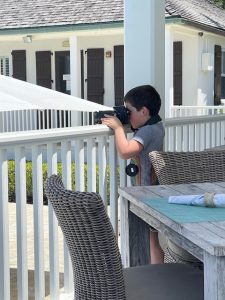 So have a lovely long weekend whether you celebrate Easter or not and don't forget to look up from your device of choice and take in the world around you. By the way – anybody else hooked on Wordle ? Did I tell you that Jane introduced me to it when she was over – now it's heard so much in people's conversations and not least ours ! – have you done Wordle today ???
Take care and stay safe ……