This last week or so I have been doing some sorting out – you would have thought with moving house that it had all been done – but thinning out what we have and getting rid of things that we no longer need or want is a very cleansing experience.
As we have family coming soon I decided to put together a suitcase full of clothes that hopefully our granddaughter will try and sell online for me. I have a couple of beautiful John Galliano jackets from the 1990's which should attract some interest – as well as some unlabelled samples of his which I bought directly from him. Before he went to Paris and really made it big time I went a couple of times to his apartment over a gas station at the end of the Kings Road in London and rifled through a rail of samples that he had and tried things on on the staircase – you couldn't write it ! Anyway it is time for these vintage pieces to have a new life along with a couple of Vivienne Westwood garments – yes it does include the very itchy sweater that I wrote about the other week as well as great white blouse that again is way too retro for me to ever wear again.  So let's see how it goes – frankly I just relish the extra space.
The garage here is a whole other story ! We vacated one of the 2 storage spaces that we had and everything was moved willy nilly into the garage – so now – a little bit at a time I am working my way through the boxes and plastic containers full of goodness knows what !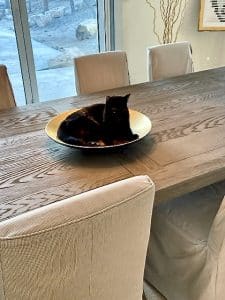 Last week we went with good friends Martin and Marcie Weber to La Bougainvillea for pizza night on Thursday. We had a wonderful time but maybe it is just us – actually I know it isn't – the live music was excruciatingly loud and so we retreated in the main house to eat. We were joined by several other couples who also found the noise level so uncomfortable. We actually often avoid going out at night to places where we know there will be live music because we want to hear each talk and engage with the people we are with. It is such a shame and unfortunately for us pizza night at La Bougainvillea also means live music. Are we turning into a pair of old miseries ? – I don't actually think so as plenty of other people have also talked about it. There are only so many times you can ask for the volume to be turned down – right ?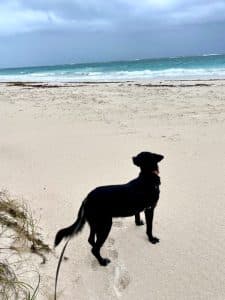 This last weekend we had an enormous rain storm – good for the new plants and the cistern I know – but it was stupendous. Very windy and torrential rain coming directly off the Atlantic Ocean – it was time to batten down the hatches and get a good book to read which we did !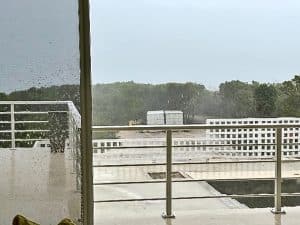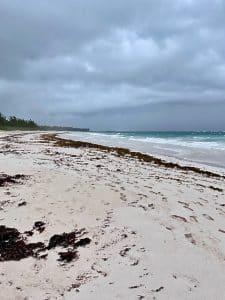 One of the things we love about Sprawling Towers is that we have a good few different places to sit – and I am delighted with the little area just inside the front door where I have just had 2 small side tables made to sit either side of a french cane daybed which is a great spot to sit and relax. Our guys made them for us and I had them painted in the color that we have used for the walls in the powder room. It is a perfect pale knicker elastic pink ! It is a Farrow and Ball color – this is a British paint company that I buy from a paint store in Boca Raton. It is ludicrously expensive to buy here so I only use it in small spaces. But there is something unique in the dusty quality of their colors and sometimes it is the only option for me ! It is actually called Pink Ground – not knicker elastic pink as I have christened it ……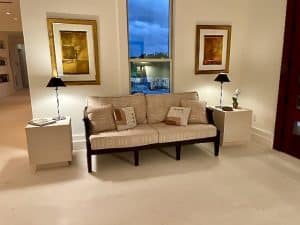 And so dear friends – enjoy your weekend whatever the weather and take good care….. And as the sign in our office says – Be Nice Or Leave !