This week I want to bring to your attention a great national campaign working towards a plastic free Bahamas. It is a government initiative that since January 1st 2020 has made the importing of single use plastic bags, drinking straws, plastic utensils and styrofoam containers illegal. Of course many places throughout the Bahamas already have a stock of these items – but come June 30th 2020 there will be a total ban on the use of these items. They are being replaced with cardboard containers, bio-degradable utensils and drinking straws.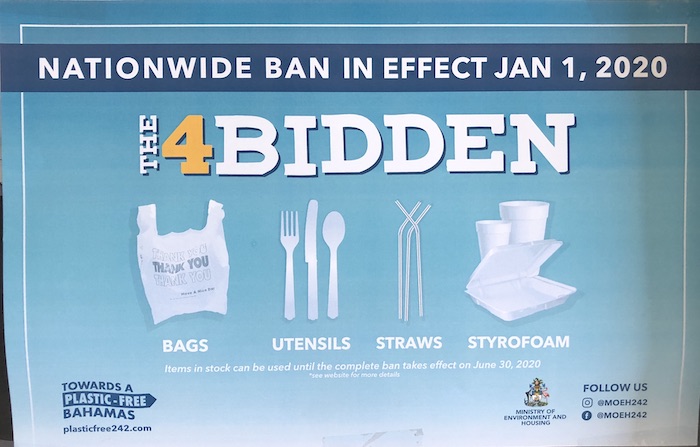 The following words are taken from the website – plasticfree242.com
The Bahamas is a string of islands scattered across hundreds of miles of vast, pristine turquoise seas.But there is a flip side to this "paradise" that we call home. Our delicate ecosystem, which is fundamental to our health and livelihoods, is in danger if we don't break our habit of plastic & styrofoam use.
This is not a new problem. For decades, we've watched plastic trash accumulate in our waters, on our beaches and all around us. In an effort to develop an effective solution to our crippling landfill and dump site issues, the Ministry of Environment & Housing is working to eradicate one of the largest and more burdensome contributors.
IT'S TIME TO WAKE UP. THE BAHAMAS IS JOINING A HOST OF ENLIGHTENED COUNTRIES THAT ARE BANNING SINGLE-USE PLASTICS AND STYROFOAM. BECAUSE WE ARE GOING TO MAKE IT EVEN BETTER IN THE BAHAMAS.
Anyone who has visited the islands knows all too well the widespread use of plastics and styrofoam – you see it all the time on roadsides and especially on our beaches.
So I welcome this ban and will support wholeheartedly the initiative. We are doing our own first baby steps by supplying all of our rental properties with re-usable shopping bags – just a small gesture – but you all know I am all for individuals making their own small gestures that add up to a lot ….
Personally I am very much against single use plastic drinking bottles of water – so if you are visiting the islands please do think about bringing your own refillable drinking bottles.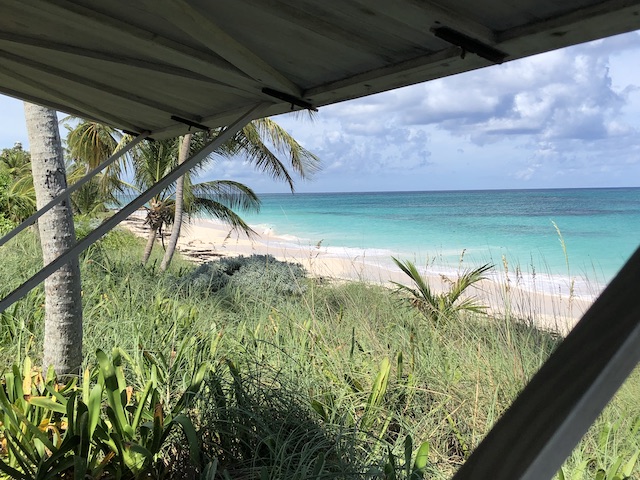 Do take the time to have a look at the website plasticfree242.com – there is a lot of information on there…….
On a lighter note news that Happy Hour is back on Wednesday nights at Bacchus Fine Foods. The pizzas are fabulous and the drinks are cold and plentiful – there is an updated larger seating area outside with a great new bar and covered roof – do check it out ……