All sorts of bits and bobs to tell you about this week to bring you up to date with what is happening here….. Well firstly the rain we have been waiting so long for has finally arrived. Plenty of storms and torrential rain as well as slow steady rain as well. Much needed and long awaited …. You can hear the plants and trees sighing with relief as the terrible dust is finally washed off them. Well that may be a figment of my imagination actually – but you know what I mean. And the cisterns are filling up as well which is great news.
On the other hand BPL – Bahamas Power and Light – is load shedding on a regular basis. I cannot find a schedule on line at the moment – but demand for power is getting higher and so various areas are simply cut off for periods of time. This week some areas were off for 3 1/2 hours. The one hour ones are more bearable but the longer periods are a pain to say the least. Those properties with a generator obviously do just fine  – but do check your fuel levels because it eats up the fuel fast …. Well it is something that comes with island life and as I keep on saying – we all take too much for granted so be thankful if you live somewhere where power outages do not happen on a regular basis.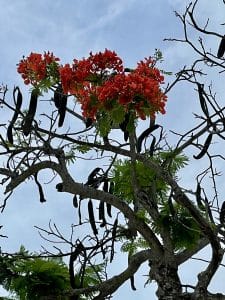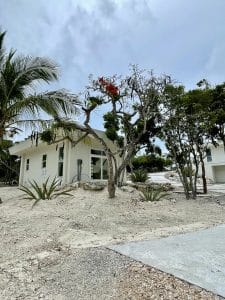 On a slightly jollier note Bob and I went to a great birthday celebration at Bacchus Fine Foods on Sunday. The birthday girl was Maxine Hussey – over from Nassau to celebrate. There were around 20 of us I think and it was a lovely way to celebrate. BFF do a wonderful spread of food – whether you want to go out to party or alternatively have it in the comfort of your own home – the service is great and you can concentrate on having a good time.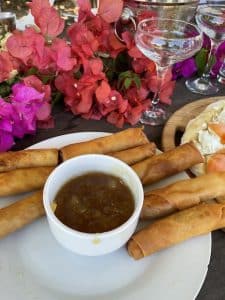 The food served on Sunday was delicious – the vegetarian spring rolls were particularly good , platters of hummus , pita bread and greek salad. Spicy shrimp with baguette, spanokapita, bruschetta, grouper tacos, smoked salmon pizza , yucca fries and more. Plus cupcakes with shots in them !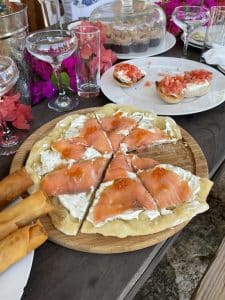 There was torrential rain in the morning – but by 12.30 when the party started the sky had cleared and the sun was out – brilliant ! A thoroughly good time was had by all…. Thanks to all at BFF for a great party.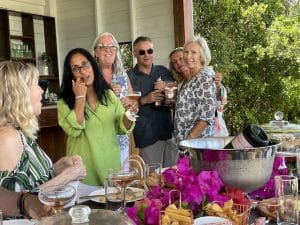 Now to tell you about a new place to eat that I haven't sampled myself yet but sounds absolutely great. It is called Phil's Kitchen and is set up at Ten Bay. This is a popular beach and to be able to buy fresh cooked food without having to bring your own picnic is a lovely facility to take advantage of and to support a local business.
It is described as a beachfront cookhouse serving up plates of savory BBQ.
Daily menu features include burgers, hot dogs, BBQ chicken snacks, and salty fries – served with a side of soda or local Kalik beer. Sunday dinner selections include BBQ chicken, ribs, pork chops, peas 'n rice, and homemade sides like macaroni, corn, plantain, pickled beets, and chef salad. No need to order ahead. Just swing by Ten Bay Beach Monday-Sunday (closed Fridays) between 11 a.m. and 5 p.m. (weather permitting). Delivery and on-site dining is part of the long-term vision, but for now, Phil's Kitchen is simply a prime picnic pick-up spot. Contact Phil's Kitchen at +1(242) 814-7908 or email philskitchen242@gmail.com. Also check them out on Facebook: @philskitchen242.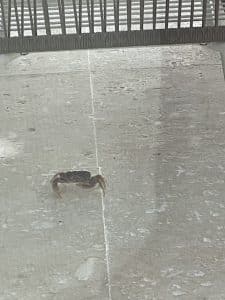 Well that's it for this week – we have another public holiday this Friday – Labour Day – so I am looking forward to taking it easy ! Have a great weekend and as always be kind wherever and whenever you can. A kind word is sometimes just what that person needs to lift them for a minute or two.