So here we are – one year on plus a week or two from the start of the pandemic here in Eleuthera and how much has changed for us personally during that time. Of course the biggest change has been selling the 4 rental houses and the easing of a lot of stress for me – although maybe stress is one of those things that fills up the space that the removal of one set of stressors creates. Although I must say I do feel a deep gratitude that I am no longer responsible for keeping those 4 houses up to scratch.
The new homeowners are all making their own mark on the houses – changing things to suit their taste and wishes and I am totally thrilled to see them all making such changes. The houses I know are feeling a little more pampered and preened and they look great ! We are so very lucky with all the purchasers who are a really lovely group of people – and the atmosphere at Governors Estate is everything we ever wished for. A quick word though to Roger from Canada who bought Tops and has not even set foot in the place yet…. Soon we hope …..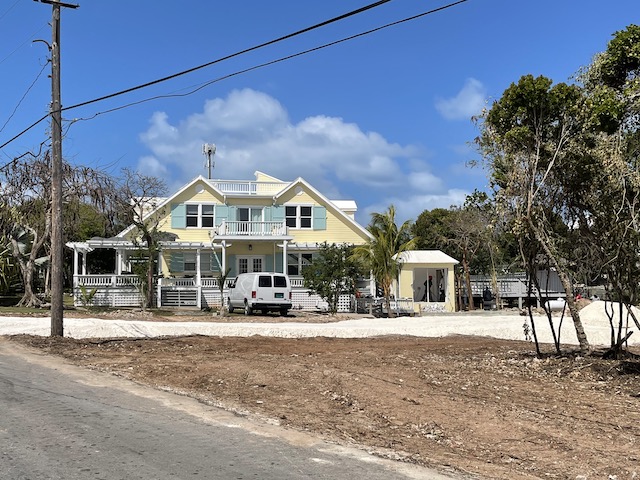 Joy and Dominic are doing a great job of managing the properties – not an easy task and I will do a blog on them and what they do very shortly !
Here at Colman Towers we are enjoying the both the garden room – well screened porch actually – which came as a direct result of lockdown and feeling a desire to have an indoor / outdoor space as well as the top roof deck with the spectacular views it gives us. The sectional furniture arrived this week and so far we have enjoyed a cold beer or a glass of wine up there late afternoon before the no-seeums start their evening assault !
Of course one of the biggest changes in our lives is the building of Sprawling Towers – the new house 600 feet down the road from Colman Towers. I am going to bring you up to date with what is happening there at the moment but before I do ramble off waxing lyrical about how excited I am I must take a moment to thank all of you who read the blog last week and made a donation towards the Summer Camp by Educators For Eleuthera.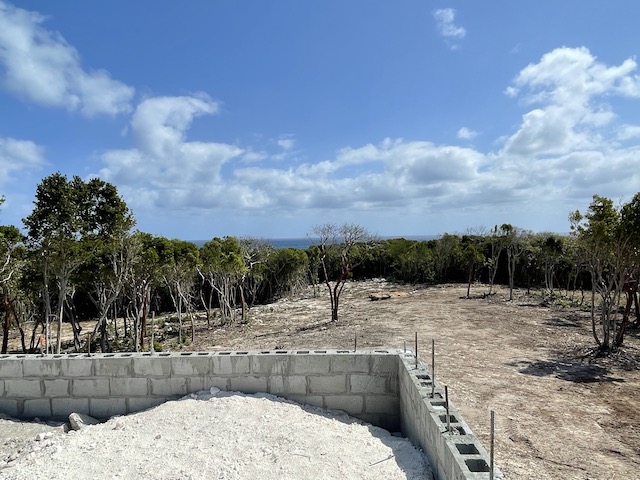 If you did happen to miss it – here is a link to the blog and here is a link if you meant to make a donation and then got totally distracted ! It is going to be a great success and we are all looking forward to being a part of it.
OK – so now on to updates for Sprawling Towers ! Our workers are making a wonderful job of the foundations – and the interconnecting water cisterns are coming on a treat as well.
The floor level is taken from the highest point on the land – so it means that floor level in some parts of the house will actually be 15 feet out of the ground. This will be made up with fill to create some gentle slopes to drive up to the front of the house. it may sound confusing but you will see in time that it all works seamlessly !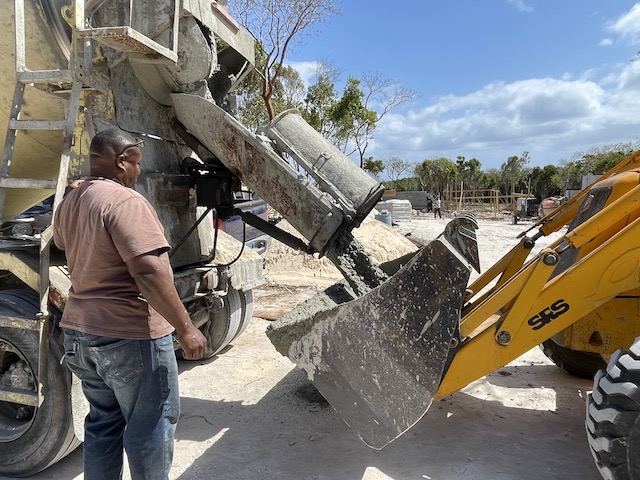 Of course the reason for building it all up to this height is so that we get a view of the ocean from everywhere in the house…..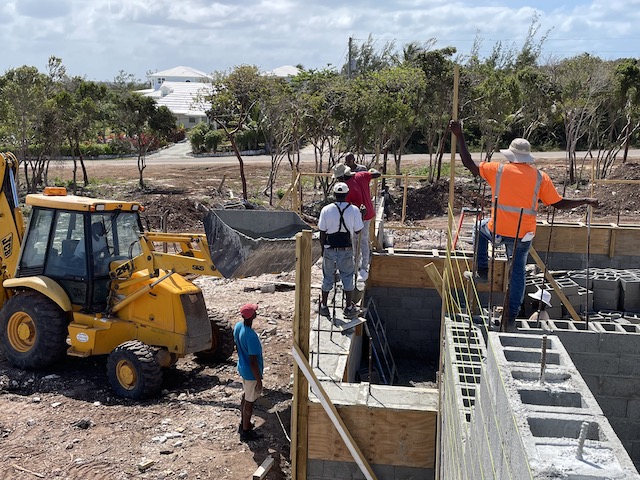 Sadly for now there are no new drone shots – Dom , who takes the pictures for us has got to buy a new one as his has gone haywire – so I think that by the time he gets the new one there will be a big difference ! So in the meantime just on the ground shots taken by yours truly…..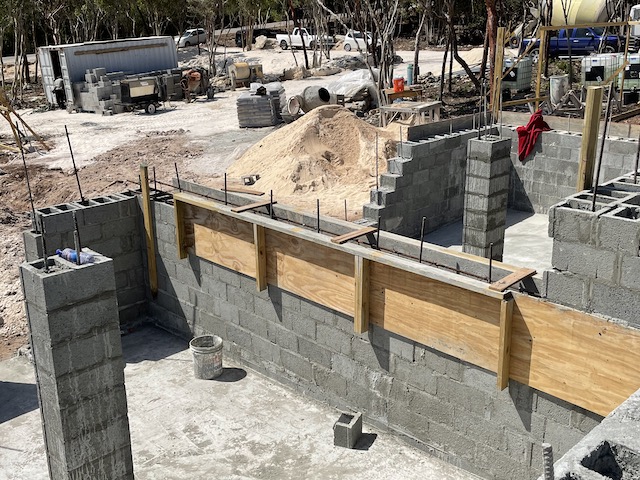 I had a really interesting conversation with a lovely young lady who works at the Forestry Unit the other day and she has sent me a list of all of the plants and trees that are either native or indigenous to the Bahamas and are protected species . It is a very useful tool to help us decide what we plant – absolutely cannot wait to get some Spineless Yellow Knickers ! – yes really – here is a link … It is officially called Caesalpinia Murifructa – bet you didn't know that one ! I have known for a long time that I do have a schoolboy sense of humor and this list is providing me with plenty of instances of indulging that !
She was very interesting and inspiring and knowledgeable – so I look forward to picking her brains some more ! In the meantime we are trying to get the water connected up so we can start some planting soon…..